A Story of Climate Change, Destruction and Global Solidarity
The little archipelago of Vanuatu in the South Pacific has been struck by a tropical cyclone of nearly unprecedented scale on the night from Friday the 13th (!) to 14th March 2015. With 165 MPH winds, the category 5 cyclone named 'Pam' is the most destructive tropical cyclone in Vanuatu's history and the second most intense tropical cyclone in the South Pacific basin after Cyclone Zoe of 2002. Zoe hit several small islands in the Temotu Province of the Solomon Islands with a total population of 1700.
Pam was much stronger than Hurricane Katrina. Now, Vanuatu must begin the long process of recovering.
Casualties and damages
As of 16 March, the National Disaster Management Office confirmed 24 fatalities in total, including 11 from Tafea, 8 from Efate, and 5 from Tanna. However, there are still no reliable casualty figures from the rest of the country.
The president of Vanuatu, Baldwin Lonsdale, told the Associated Press:
"More than 1,000 people have been evacuated to evacuation centers and will be returning to their homes some time later today, if their homes still stand. That's in the capital Port Vila alone. Confirmed dead in Port Vila is 6 and more than 30 injuries. I do believe the number of casualties will not be high. More than 90% of the buildings and houses in Port Vila have been destroyed or damaged. The state of emergency that has been issued is only for Port Vila. Once we receive an update on the extent of the damage in the provinces then another state of emergency will be issued for the outer islands. Despite widespread damage, Shefa remains the only province declared an emergency at this stage."
Climate change as suspect N°1
President Lonsdale declared that climate change was contributing to the severe weather his country is experiencing: "Climate change is contributing to the disasters in Vanuatu. We see the level of sea rise. Change in weather patterns. This year we have heavy rain more than every year." He added that his country had been "wiped out" by the catastrophe and would have to build "a new paradise again".
President Lonsdale received the support of Anote Tong, president of Kiribati, who declared:
"For leaders of low-lying island atolls, the hazards of global warming affect our people in different ways, and it is a catastrophe that impinges on our rights and our survival into the future. There will be a time when the waters will not recede. It is now time to act on climate change."
Kiribati is slowly disappearing under the seas and some of its population has been sent to Fiji as the first climate-change refugees of the world. Three islands of Kiribati have been struck by the cyclone Pam and Tuvalu is thought to have suffered extensive damage. 
International aid on its way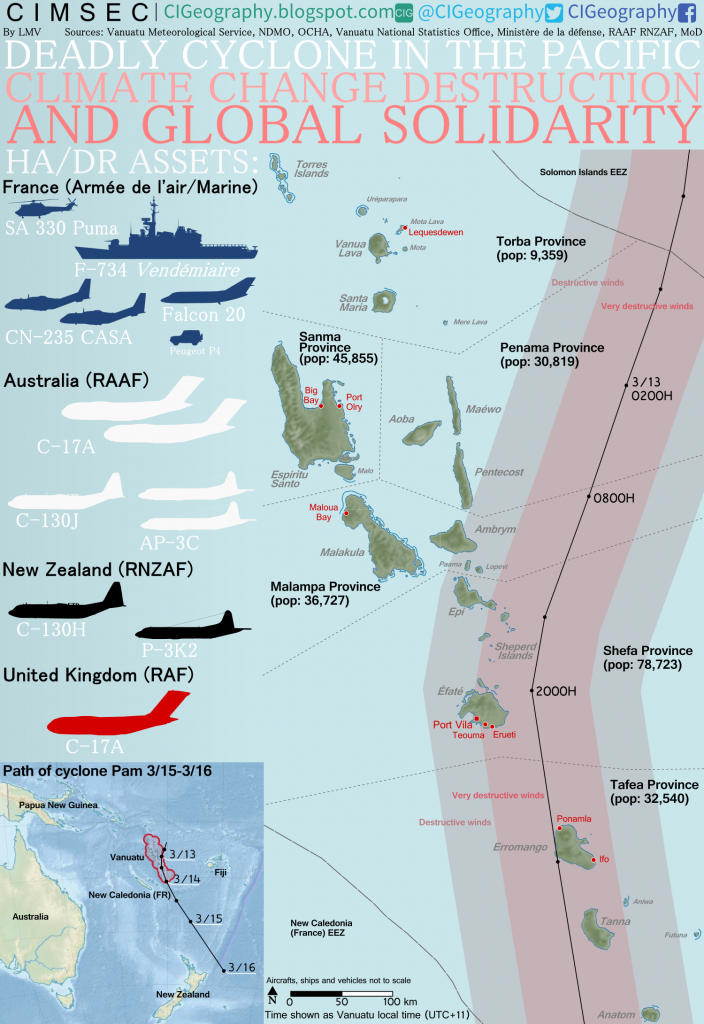 The first priority now is humanitarian needs. 90% of the buildings have been destroyed and people have nowhere to stay. President Lonsdale has been asking for help:
"Clothing, eating utensils, and bathing, most of the necessary items of the households, all this has been destroyed and damaged. I really request for humanitarian needs and assistance at this stage. Tarpaulins, water containers, medical needs, gathering tools, and construction tools, all these are very important right now."
Currently, 3,300 people are sheltering in 37 evacuation centers in Torba and Penama Provinces, and on the main island of Efate. UNICEF officials warned that the entire population of Tanna island faces starvation within days. Indeed, the cyclone destroyed all crops on the island. Islanders have just a few days of fruit and root vegetables left. There are very serious concerns about food stocks going forward.
Somewhat more positive, communications have been almost fully restored in Port Vila but other islands remain cut off from the world. People remain without power and ADRA Australia reported that most evacuation centers lacked even basic hand washing facilities. Another source of concern is contamined water supplies and the risk of the spread of dengue and malaria.
Aerial assessments have been carried out by military aircraft from New Caledonia, Australia and New Zealand. On Sunday, France sent a military plane, a Casa loaded with relief supplies, a vehicle to enable the recognition, a generator for a desalination plant, sheeting for shelters to protect a hundred families, the Route Opening equipment (chainsaws, and other tools),  satellite communications, along with a logistics unit to support the detachment for 10 days. The plane came from Tahiti and took off from Noumea (New Caledonia), which is only 500 km away from Vanuatu. The Casa carried three soldiers, a member of the Civil Security and a member of the Red Cross. A second plane was sent on Monday.
The Australian Defence Force sent two C-17A Globemaster IIIs loaded with food and basic equipment and a C-130J with an on-board evaluation team. Foreign Minister Julie Bishop pledged long-term support for the recovery effort and sent two more military aircraft. AP-3C Orion maritime patrol was positioned in Honiara, Solomon Islands and started aerial reconnaissance of the archipelago. A second AP-3C Orion launched reconnaissance flights in northern Archipe.
In Polynesia, the Air Force is operating with a detachment consisting of a transport squadron of two tactical transport Casa 235s (ETOM 0082) while in New Caledonia, the Air Force maintains the transport squadron (ET52) with two Casa planes and three Puma helicopters. The frigate Vendémiaire, currently in Noumea, will be deployed to the remote island of Tanna on Friday. It will carry a Puma helicopter on board. Another humanitarian C-17 transport plane with emergency supplies took off from RAF Brize Norton, Oxfordshire, UK as part of a growing effort involving countries from around the world.
The 268,000 affected people are spread over 65 islands, with security experts likening it to dealing with 65 simultaneous emergencies. Furthermore, the difficulty of travel from one island to another makes it incredibly hard to compile an accurate picture of what the situation is.
I remember going to remote islands of Vanuatu with the French Navy: Ni-Vanuatu had nothing but gave us everything. 
To those affected, we have everything. Let's at least give them something. It's up to us to make sure that these wonderful people don't die suffering from hunger, thirst, cold, fear alone on their ravaged island.
The French chapter co-presidents
Text: Alix Willemez
Map: Louis Martin-Vézian