A good measure of a military's intellectual health is it's dedication to firmly connect present procurement to future purpose. In discussions with peers in the American Navy, I often find myself a lonely voice of pessimism about our future and capabilities. However, LT Albaugh's article about LCS inadvertently highlights how our procurement vision has managed to stray so far from the path. The U.S. Navy does force-planning through a bureaucratic balancing act of risk aversion rather than making the hard decisions necessary to handle outside threats.
LCS is the perfect example of this inability to commit. When viewed alone, it is a vessel with relatively even capabilities across the board. However, having no relative weakness is not the same as having any strengths. LCS represents an unwillingness to take risks. It is too big to truly be a littoral/riverine boat (PCs would be better). It is too slow to make up for its weak hull and poor weaponry (European corvettes would be better). It is not fast or strong enough to penetrate areas under enemy control, nor advanced enough to perform high-end ISR in those areas(submarines and aircraft would be better). Its real purpose today is clearly as confused as it was 8 years ago. It almost seems like the sole justification for the project really is, as Mr. Albaugh indirectly implies, that it exists. This tepidness is indicative of the Navy's overall strategic planning. LCS's attempt to be everything has made it nothing, and is now designed specifically to not risk a weakness for a particular strength.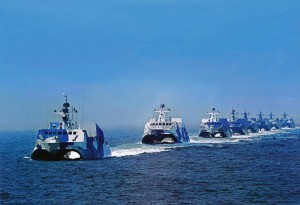 Compare LCS to the Chinese Houbei-class missile boat. While American defense planners are unable to commit to overly generic systems that are already on the factory floor (F-35), the Chinese navy has committed to a vessel perfectly suited to its area-denial mission. Smaller and of the same hull material and speed of the LCS, the Houbei is weak in many areas by design. However, it is specifically created as part of a particular strategy. With the ability to stealthily approach and then quickly deploy 8 C-803s into an enemy ship, this little mosquito packs a greater ASCM threat than any brawler American ship-of-the-line. When under the aegis of home-turf, the Houbei is an invaluable piece of a very recognizable operational concept. The firm direction of the Chinese investment outclasses by far the strategic waffling behind LCS.
While our competitors learn from and move past their mistakes, we fret over and defend ours. In the past, defense planners forgot that as in the commercial world one can only choose two of the following: cheap, fast, or good. Now, we have forgotten to decide what we actually want before we choose, ending up with: expensive, drawn-out, and poor. There are incredible ideas that the American Navy is capable of executing in the future: unmanned aviation, surface drone motherships, long-range rocket gunnery, REAL patrol boats, SSGNs that create strike opportunities in environments where enemies deny us the surface and air. However, our constant attempts to re-shape ourselves for a single weapon system we "like" or have sunk too much cost into is creating a force-planning disaster; it is becoming less writing on the wall, and more a wall itself.