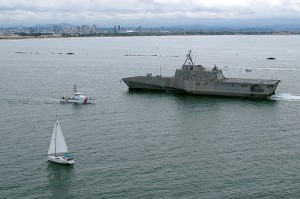 My esteemed colleagues Kurt Albaugh and Matt Hipple made some interesting arguments about the U.S. Navy's Littoral Combat Ship (LCS) in the past two days, although I disagree with each in different ways. At the risk of drowning our readers in the LCS debate, I'm going to make some brief remarks of my own and defer my own full analysis until I'm conflict-of-interest free, just so we can get it out of our system.
Mr. Albaugh highlighted a lot of good points about LCS. LCS is not meant to be the concept vessel formerly known as streetfighter and does a good job fulfilling a lot of low-intensity missions and niche combat roles. A less-threatening platform makes it easier to operate with partners in places like Africa, where cooperative engagement is more law-enforcement focused. And, as the Chinese and Philippine navies demonstrated by pulling out in favor of civilian vessels in the Scarborough Shoal, low-end ships can help ease tense stand-offs and prevent misunderstandings from escalating into conflicts. Few would like to see the U.S. and China in a dust-up, so there are benefits to be gained from the U.S. demonstrating to its partners a commitment to peacefully resolving maritime incidents.
However, I disagree with the argument that forward deploying only weak vessels will prevent China from hostility. As commentor Chuck Hill noted, being inoffensive does not always prevent aggression. In dealing with state actors like China with a "Realist, zero-sum view of the world," more capability is likely a greater deterrent of aggression than a perception of weakness. While deploying only low capability ships in sensitive areas would limit China's ability to claim a menacing U.S. naval presence as pretext for action, it would not prevent China from taking that action.
In addition to soft power missions like Pacific Partnership and America's commitment to its value system, the influence the U.S. maintains in the Asia-Pacific region is in large part derived from its partners' perceptions of defense assistance credibility. In a region with a rising power with uncertain intentions, purposefully choosing weakness lessens the United States' influence with friends and potential foes alike.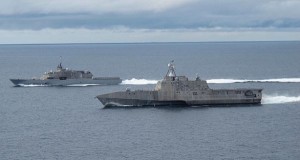 The good news is I continue to disagree with Mr. Albaugh. LCS can actually be used as an offensive asset, clearing the way for power projection. And I disagree with Mr. Hipple that the ship was designed without a purpose or strategy in mind. The very example of China's focus on anti-access/area-denial (A2/AD) capabilities are what drove LCS' design. The three official mission packages – anti-submarine warfare, surface warfare, and mine-countermeasures – are all meant to fill counter-A2/AD capability gaps. And the ship itself, with its shallow draft, is meant to open access to U.S. forces in precisely that area of congested waters, the littorals, where most hostilities are expected to take place. This is the reason just purchasing multiple HSVs, as Juramentado and Mr. Hipple suggested, would not work. It is the same reason the National Security Cutter would not work.
This is not to say LCS can perform every mission of a destroyer or frigate – but that's okay, that's not what the Navy meant it or needs it to do. Nor is LCS perfect. Rather than risk-averse organization Mr. Hipple portrays, if anything, the Navy took too much risk on immature technologies for LCS' mission packages, as Juramentado suggested. Budgets and politics also played a role in the program's history. And sure, I would love to see a better anti-ship cruise missile, but this is a failing across the entire U.S. Navy, not confined to LCS. Learning from experience, capitalizing on feedback, and tweaking things like manning and mission package equipment will help.
There are still wrinkles in the LCS program, but a question of the role of LCS within the U.S. fleet remains only if the technologies that enable the originally intended missions do not come to fruition. That is no small wrinkle, but it is a different one than finding a strategy.