By Wilder Alejandro Sánchez and Ryan Markey
The Southern Tide
Written by Wilder Alejandro Sanchez, The Southern Tide addresses maritime security issues throughout Latin America and the Caribbean. It discusses the challenges regional navies face including limited defense budgets, inter-state tensions, and transnational crimes. It also examines how these challenges influence current and future defense strategies, platform acquisitions, and relations with global powers.
"Whether [working] against COVID, transnational criminal organizations, the predatory actions of China, the malign influence of Russia, or natural disasters, there's nothing we cannot overcome or achieve through an integrated response with our interagency allies and partners." –General Laura J. Richardson, Commander, U.S. Southern Command
The United States Navy has announced plans to decommission two Littoral Combat Ships (LCSs) in 2024. The Independence-variants USS Jackson (LCS 6) and USS Montgomery (LCS 8) will be decommissioned and then available for foreign military sale (FMS) for U.S. allies and partners around the world. At the same time, new LCSs continue to be constructed; the 16th and final Freedom-variant LCS, the future USS Cleveland (LCS 31), was launched in mid-April.
The LCS program has offered mixed results for the U.S. Navy. That said, the LCSs have proven valuable for U.S. Southern Command (SOUTHCOM) and its naval component, U.S. Naval Forces Southern Command/U.S. Fourth Fleet, for operations across the Caribbean and Eastern Pacific. SOUTHCOM deserves permanently assigned LCSs to help make the most of these ships and to better fulfill the missions within the region.
The Situation 
The problems with the LCSs have been well-recorded, including major issues with the structure of some hulls, engines, and other systems. Arguably, the U.S. Navy made necessary adjustments to the LCS program, which mitigates sunk costs. For example, manning is scaled back to one crew per vessel, and starting with USS Minneapolis-Saint Paul (LCS 21), the ships are delivered to the fleet with a combining gear fix. Nevertheless, the LCS fleet has been sharply criticized, and often for good reason. In an April 2023 commentary for Proceedings, U.S. Navy Lieutenant Anthony Carrillo aptly summarizes the problems with the LCS, including risks to the aluminum hulls.
On the other hand, across Latin American and Caribbean waters, the LCSs have been quite effective. To summarize, U.S. Navy (USN) and U.S. Coast Guard (USCG) operations across these waters feature patrol operations, freedom of navigation operations, and exercises with regional partners – including exercise UNITAS, Tradewinds (which will occur in Guyana in July 2023) PASSEX, among others. Moreover, vessels from these services help regional partners with humanitarian assistance/disaster relief, search and rescue, and surveillance operations. Perhaps, the most well-known application of surface operations in SOUTHCOM's waters is the combination of USN and USCG assets cracking down on maritime crimes, particularly smuggling, IUU fishing, and drug trafficking, carried out by the infamous go fast-vessels and narco-submarines. Ships from both services work alongside Latin American and Caribbean naval and coast guard platforms to combat a large variety of maritime crimes.
Fourth Fleet does not have any permanently assigned ships, making the fleet responsible for the Panama Canal devoid of ships. Since SOUTHCOM has historically been the lowest priority Combatant Command of the U.S. military, the assets and platforms made available to SOUTHCOM are tightly limited in quantity and duration. Generally speaking, LCSs and Arleigh Burke-class destroyers (DDGs) have operated in SOUTHCOM's area of responsibilities (AOR) in recent years. Case in point, SOUTHCOM announced on April 6 how "USS Farragut (DDG 99) offloaded approximately 2,314 kilograms of cocaine and 1,986 pounds of marijuana worth a combined $69 million in Port Everglades, Florida," The offloaded drugs were seized from four go-fast smuggling vessel interdictions by the Farragut crew "with an embarked Coast Guard Law Enforcement Detachment (LEDET) 406 and Navy Combat Element (CEL) One from the 'Jaguars' of Helicopter Maritime Strike Squadron Six Zero (HSM-60)." Farragut's operations took place across the Eastern Pacific Ocean in the SOUTHCOM area of responsibility.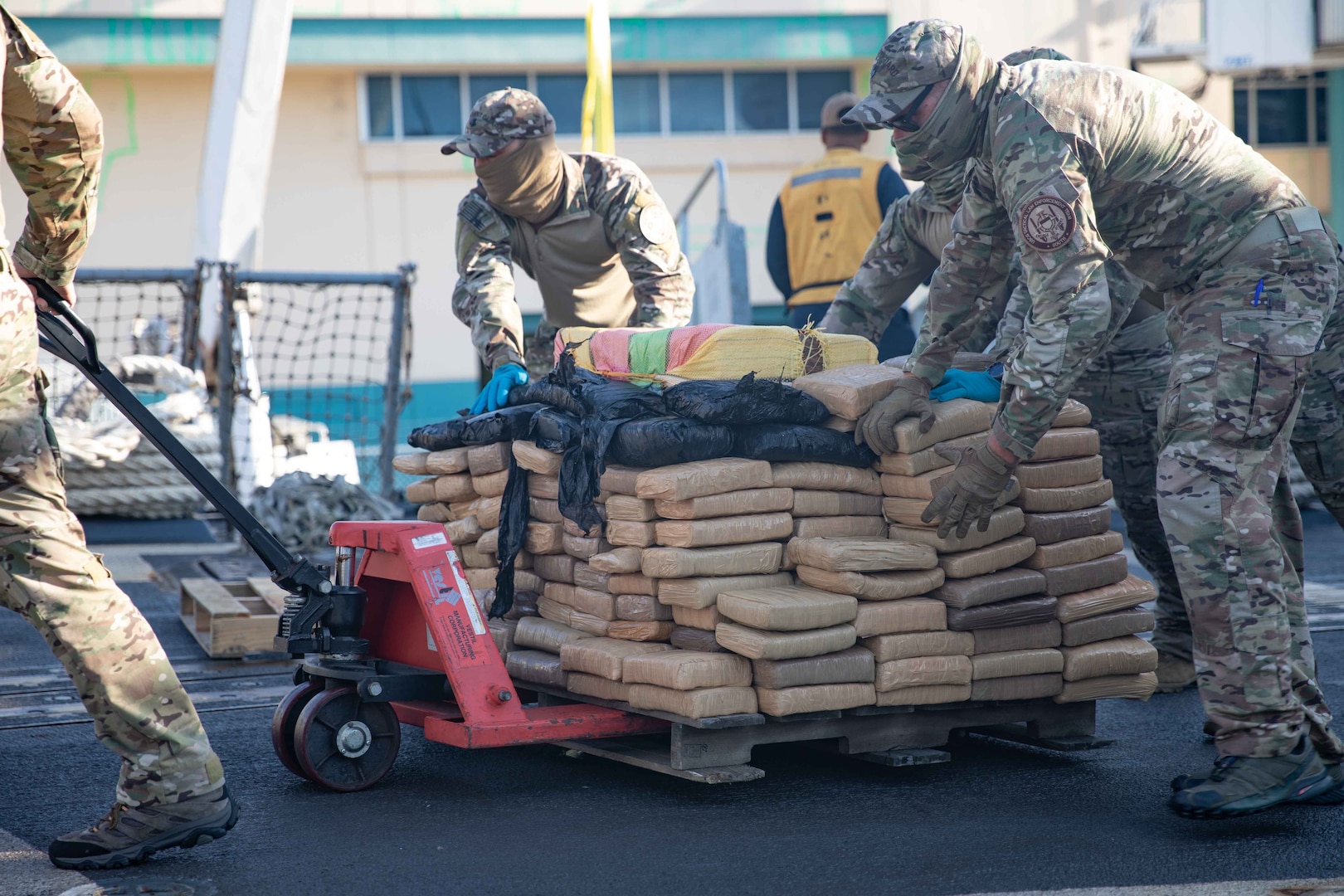 LCSs that have been assigned to SOUTHCOM include Freedom-variant USS Milwaukee (LCS 5), Freedom-variant USS Billings (LCS 15), and Freedom-variant USS Sioux City (LCS 11). These ships have engaged in bilateral exercises and missions to combat transnational organized crime, demonstrating the versatility of the LCS in partnering with regional maritime forces for these missions.
Analysis
One of the authors has written about the operations carried out by the Mercy-class hospital ship USNS Comfort (T-AH 20) across Latin American and Caribbean waters and why the Comfort, or a future hospital ship, should be permanently assigned to SOUTHCOM (See CIMSEC's "Hospital Ships: A Vital Asset for SOUTHCOM and South American Navies," and "U.S. Southern Command needs a Permanently-Assigned Hospital Ship"). The same argument can be made for the LCSs.
Rather than decommissioning Jackson and Montgomery, the Navy, the Department of Defense, and Congress should seriously consider increasing SOUTHCOM's budget to operate these two ships permanently, or at least long-term. Unlike other theaters where the U.S. Navy operates, the maritime operations carried out by SOUTHCOM and potential threats are best suited for LCS capabilities.
In his commentary, Lieutenant Carrillo argues, "Ships should fit a purpose, and the purpose of ships should fit into the vision of how the fleet fights," and suggesting that "considering the lack of useful employment for LCSs in retirement, the best option is to cannibalize them for parts." But there are other options for these ships. Focusing solely on fleet combat operations is counterproductive by asserting the LCSs are useless if they cannot be effective in major combat. This may generally be valid for the Indo-Pacific region, among others, but what makes SOUTHCOM unique is that the challenges found in Latin America and the Caribbean waters are dissimilar to other regions.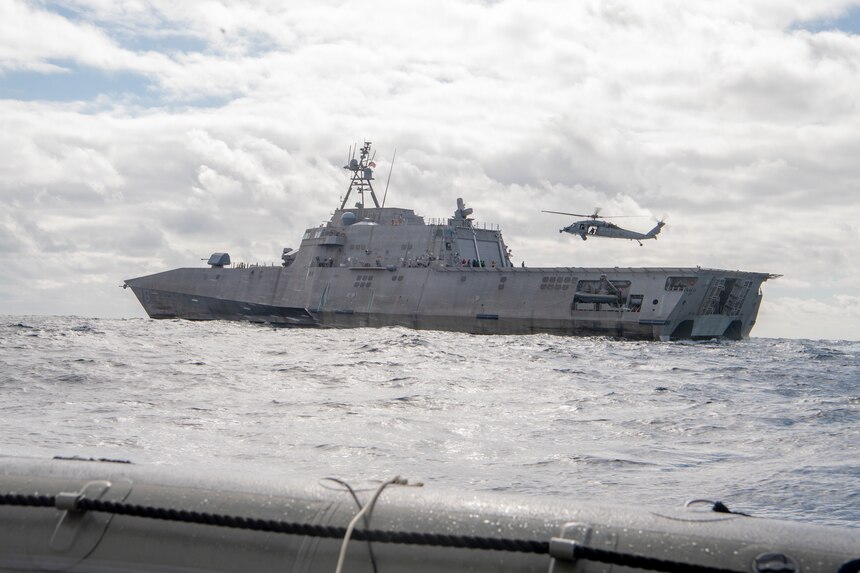 Throughout Latin America and the Caribbean, the U.S. Navy lacks maritime competitors. Moreover, SOUTHCOM is fortunate because most Latin American and Caribbean governments have cordial, if not robust, diplomatic and defense relations with Washington. Realistically speaking, only Cuba, Nicaragua, and Venezuela have openly hostile governments towards the U.S. (Bolivia has a navy but the country is landlocked). However, none of these countries have strong naval capabilities – even the Venezuelan Navy is no Kraken of the Caribbean. Hence, if Jackson and Montgomery were transferred to SOUTHCOM, there would be less of a concern or demand to heavily arm them (such as with complex mission modules) for an impending confrontation with a regional navy's warships, which is more the case in other regions. Virtually all maritime operations in the SOUTHCOM region occur below the threshold of armed conflict, and the focus on countering crime and illegal fishing is highly complementary with the broader U.S. national security goal of enhancing rules-based order by defending the global commons.
Moreover, occasionally ships from states with whom Washington shares an adversarial relationship travel to the region, most recently the Iranian base ship IRIS Makran and the frigate IRIS Dena – whichdocked in Brazil in late February. A permanent U.S. naval presence could serve as a deterrent and competing actor to the potential presence of maritime forces from nations such as China, Iran, and Russia.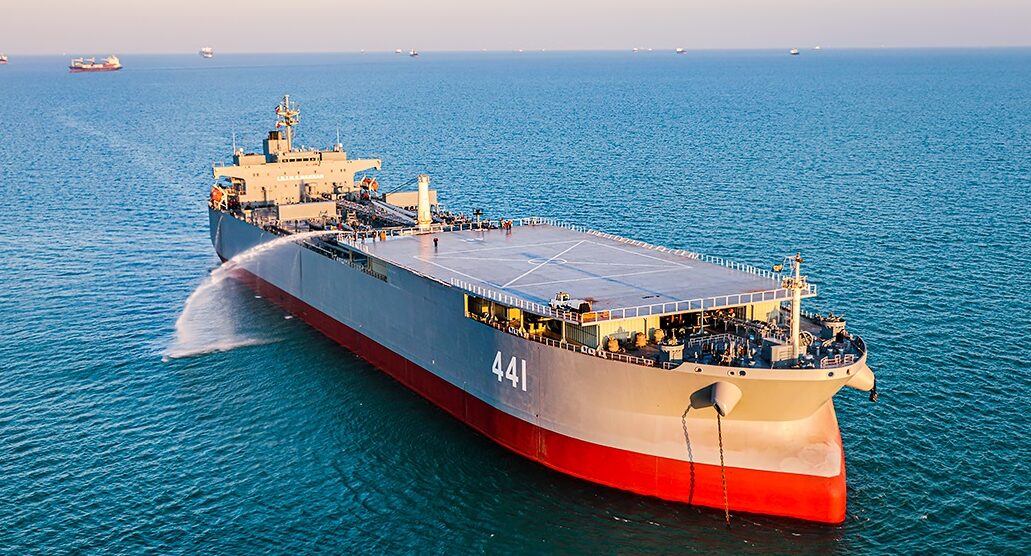 Additionally, permanently assigned LCSs would give the commander of U.S. Southern Command much-needed mobile staging assets in the wake of a natural disaster or any other crisis. However, authorizing the deployment of a previously unassigned surface vessel takes too long for many crises. Add the time for a ship to steam from the homeport to the point of incident and the crisis may already be over. Thus, SOUTHCOM requires enough ships to be assigned so it can maintain consistent presence in the Caribbean and the Eastern Pacific, which would require ships homeported on both U.S. coasts.
Finally, if enough LCS are transferred, their ability to bring organic unmanned aerial vehicle (UAV) assets for time-sensitive intelligence, surveillance, and reconnaissance (ISR) collection will give the SOUTHCOM Commander improved situational awareness and decision-making space. General Laura Richardson, SOUTHCOM's current Commander, and Admiral Craig Faller, her predecessor, publicly expressed their concerns concerning U.S. Southern Command's lack of ISR capabilities. In her 2022 Posture Statement, Richardson noted "USSOUTHCOM employs less than 2% of DoD ISR resources to counter malign state and nonstate actors. To meet the mission, we are pushing the envelope with innovative techniques, integrating publicly available information, advanced analytics, artificial intelligence and machine learning, and open collaboration with allies and partners to disrupt threats." They both testified to Congress that SOUTHCOM requires a significant increase in airborne ISR, and they require a quick reaction capability to gain situational awareness. If employed creatively, the LCS might not completely cover the ISR gap, but the ship and its organic aviation detachment will provide part of the solution.
Conclusion
Assigning permanent vessels to SOUTHCOM will require special funding so the combatant command can shoulder the burden of funding ships the Navy may not want to pay for. This funding is not only needed for fuel and maintenance of the ships, but also increased manning at Fourth Fleet and logistical support in Latin America and the Caribbean. The Navy, Department of Defense, and Congress need to take appropriate budgetary considerations in the upcoming fiscal years so the LCS(s) can operate under SOUTHCOM as permanently assigned assets. With its extremely limited resources, SOUTHCOM bolsters U.S. interests and supports U.S. allies across Latin America and the Caribbean. While no other combatant commands (or the Navy in general) appears that interested in the LCSs, imagine the outsized impact SOUTHCOM could reap with these permanently-assigned ships.
Wilder Alejandro Sánchez is president of Second Floor Strategies, a consulting firm in Washington, D.C. He is an analyst that monitors defense, geopolitical and trade issues across the Western Hemisphere, Eastern Europe, and Central Asia.
Ryan Markey is a retired Navy Commander and former Chief Maritime Strategist at U.S. Southern Command. He is the owner of Sarissa Solutions, a U.S. consulting firm with a permanent presence in Guatemala.
Featured Image: NAVAL STATION MAYPORT, Fla. (Sept. 9, 2021) The Freedom-variant littoral combat ship USS Sioux City (LCS 11) departs Naval Station Mayport for a deployment, Sept. 9, 2021. (U.S. Navy photo by Mass Communication Specialist 3rd Class Aaron Lau)