The Southern Tide
Written by W. Alejandro Sanchez, The Southern Tide addresses maritime security issues throughout Latin America and the Caribbean. It discusses the challenges regional navies face including limited defense budgets, inter-state tensions, and transnational crimes. It also examines how these challenges influence current and future defense strategies, platform acquisitions, and relations with global powers.
"My plain and simple message to our friends in the region is 'the United States is a reliable and trustworthy security partner….Latin America and the Caribbean are not our backyard. It's our shared neighborhood… And like the neighborhood … where I grew up, good neighbors respect each other's sovereignty, treat each other as equal partners with respect, and commit to a strong neighborhood watch."  –Vice Admiral Craig Faller, USN,  before the Senate Armed Forces Committee, Sep. 25, 2018. 
By W. Alejandro Sanchez
Introduction
USNS Comfort (T-AH-20) has finished another deployment to the Western Hemisphere as part of the Enduring Promise initiative. The U.S. hospital ship's latest tour took it to Colombia, Ecuador, Honduras, and Peru where it provided free medical assistance to thousands of individuals in need. This is an example of medical diplomacy at work and a great initiative to improve U.S.-Latin American relations at a time when more cohesion among governments in the Western Hemisphere is needed.
Current Deployment
Comfort is a large vessel, with a length of 894 feet and a beam of 105 feet, the same as its sister ship, USNS Mercy (T-AH-19) – the two are converted San Clemente-class super tankers. According to the U.S. Navy, each platform "contain[s] 12 fully-equipped operating rooms, a 1,000 bed hospital facility, digital radiological services, a medical laboratory, a pharmacy, an optometry lab, a CAT-scan and two oxygen producing plants," along with helicopter decks. Hence, the vessel is able to provide for vast numbers of patients simultaneously with different services. The vessel's most recent tour, the sixth time that it has been deployed to the region, lasted 11 weeks.
Comfort was well-received by the local populations. For example, the vessel was in the city of Esmeraldas, Ecuador, from 22-26 October. According to the Ecuadorian Ministry of Defense the medical staff attended between 500-750 per day, while a Southern Command press release stated that "Comfort has treated more than 4,000 patients, including nearly 2,500 medical patients, 1,100 optometry patients, 450 dental patients, and performed 81 surgeries." An Ecuadorian ministry press release explained "The arrival of the vessel is part of the strengthening of defense relations between Ecuador and the USA."
Comfort then traveled to Paita, in northern Peru, where it treated over 5,000 patients, according to the Peruvian government. The U.S. hospital ship also donated wheelchairs and medical supplies. The Peruvian government noted that this is the third time that Comfort has visited Peru, in 2011 it provided medical assistance to 7,352 patients, and in 2007, it aided 9,223 Peruvian citizens.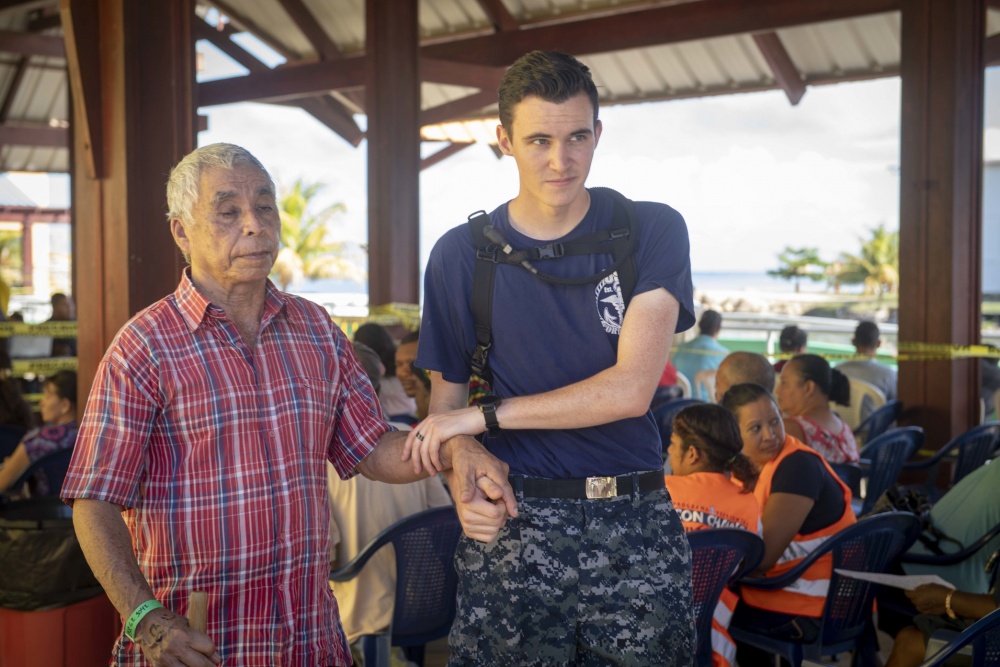 The vessel's stops in Colombia and Honduras had similarly positive results. In Colombia, the U.S. hospital ship docked in Turbo (Antioquia) and then Riohacha (La Guajira), with the local government estimating that some 7,400 patients were treated by Comfort's medical staff. As a final point, it is worth noting that the citizens of these nations were not the only ones to receive treatment aboard Comfort. Case in point, while in Colombia medical personnel also helped Venezuelan migrants who have settled in Riohacha as they flee the political and socio-economic crisis in their homeland.
Discussion 
Enduring Promise is an example of a medical diplomacy initiative that helps promote a positive image of the U.S. In this case, the people that were helped by Comfort, along with their families and other loved ones, will likely now have a more positive view of the U.S. and its military due to the free and professional medical services they received. An indigenous person from the Wayuu ethnic community in Colombia described Comfort's visit as a "blessing from God" as it helped vulnerable communities, peasants, and Venezuelan migrants, according to Colombia's daily El Nacional. Even more, governments also get a load taken off their shoulders, as Comfort provided services that local medical services could not offer, or were too financially costly for families to afford. For the U.S. and its partners, this was a win-win situation.
One important fact to mention is that Comfort visited Ecuador. A few years ago, when former President Rafael Correa was in power, this trip would have been unthinkable, as the former South American leader was known for his anti-U.S. sentiments. He famously expelled the U.S. military from its base in Manta, in 2009, and he was a close ally of the late-Venezuelan leader Hugo Chavez.
Nevertheless, President Lenin Moreno has carried out a complete turnaround to Ecuador's foreign policy by rapproaching the U.S. In recent months, the Ecuadorian Esmeraldas-class corvette BAE Los Ríos (CM 13) participated in the U.S.-sponsored UNITAS multinational exercise in Colombia, personnel from the U.S. Naval Small Craft Instruction and Technical Training School visited the South American country, and Defense Minister Oswaldo Jarrin has visited the headquarters of U.S. Southern Command. Comfort's visit, thus, is the proverbial cherry on top of the cake of improving bilateral relations.
As for Honduras, the visit is likewise significant as a caravan of Central American migrants, mostly Hondurans, is attempting to enter the U.S. as they escape poverty and violence in their homeland. Comfort's visit to the Central American state is an example of SOUTHCOM and the U.S. Navy providing humanitarian aid to Hondurans in need, irrespective of the rhetoric coming out of Washington lately. Hence, it is refreshing to read SOUTHCOM's 25 October communique, which explains that "the embarked medical team will provide care on board and at land-based medical sites, helping to relieve pressure on national medical systems caused partly by an increase in cross-border migrants. The deployment reflects the United States' enduring promise of friendship, partnership and solidarity with the Americas."
China's Peace Ark 
As a caveat to this analysis, it is necessary to mention China's hospital ship, Peace Ark. In a previous CIMSEC commentary, "The Significance of U.S. and Chinese Hospital Ship Deployments to Latin America," the author discussed how both Washington and Beijing utilize their hospital vessels as diplomatic tools in order to improve their image in countries that said ships visit during their humanitarian tours. As it turns out, both ships would be deployed simultaneously to the Western Hemisphere. While Comfort visited the aforementioned nations, Peace Ark visited Antigua and Barbuda, Dominica, the Dominican Republic, Grenada, and Venezuela. Even more, on 15 November the Ecuadorian Ministry of Defense announced that the vessel had docked in Guayaquil to provide medical assistance to as many as 3,200 patients.
While governments are free to decide which vessels from foreign powers can enter their ports, it is impossible to avoid the irony that the hospital vessels of two nations that continue to be at odds with each other, from trade wars to incidents in Asian waters, are back-to-back welcomed in the territory of third-party states. As a result, Ecuadorians living in the Esmeraldas and Guayaquil regions enjoyed free medical services from two rival powers, while Quito maintains good relations with both nations.
Final Thoughts 
Medical diplomacy is an effective way to improve bilateral ties between the U.S. and its Latin American allies. Comfort's visit to four Latin American nations, Colombia, Ecuador, Honduras, and Peru will improve the U.S. image at the grassroot level, as the citizens of these nations that received free and professional medical service will know that, irrespective of the current rhetoric coming out of Washington, U.S. medical personnel are still there to help those in need.
Wilder Alejandro Sanchez is a researcher who focuses on geopolitical, military and cyber security issues in the Western Hemisphere. Follow him on Twitter: @W_Alex_Sanchez.
The views expressed in this article are those of the author alone and do not necessarily reflect those of any institutions with which the author is associated.
Featured Image: TRUJILLO, Honduras (Dec. 6, 2018) – The hospital ship USNS Comfort (T-AH 20) is anchored off the coast of Honduras as part of an 11-week medical support mission to Central and South America as part of U.S. Southern Command's Enduring Promise initiative. (U.S. Navy photo by Mass Communication Specialist 1st Class Scott Bigley)