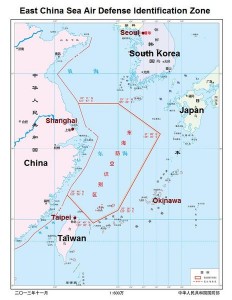 The big news of the day is China's declaration of an Air Defense Identification Zone (ADIZ) over parts of the East China Sea, notably furthering the potential for conflict with Japan over the Senkakus/Diaoyus. Per guidelines released Saturday, the policy requires non-commercial aircraft in the space to pre-arrange flights with China's government – effectively creating a pretense for action against Japanese military aircraft should they fail to comply with rules set for a space they likewise consider their own. Taiwan, which also maintains claims to islands it calls the Tiaoyutai, has voiced regret over the move.
Additionally, the zone may (unintentionally or intentionally) heighten tensions with South Korea as it extends close to South Korea's Jeju island and appears to include the disputed submerged rock "Socotra Island" claimed by both South Korea as Ieodo and China as Suyan.
While the announcement by China's Ministry of Defense was contained to the East China Sea, according to the Washington Post, a Chinese Defense Ministry spokesman, Yang Yujun, said that China would will create additional zones "at the right moment after necessary preparations are completed."
LT Scott Cheney-Peters is a surface warfare officer in the U.S. Navy Reserve and the former editor of Surface Warfare magazine. He is the founding director of the Center for International Maritime Security and holds a master's degree in National Security and Strategic Studies from the U.S. Naval War College.
The opinions and views expressed in this post are his alone and are presented in his personal capacity. They do not necessarily represent the views of U.S. Department of Defense or the U.S. Navy. 
h/ts to @zacharykeck, @wayale, @dmhartnett, @washburnt for sources.