By Sam Cohen
Welcome to part one of the May 2016 members' roundup. Over the past two weeks CIMSEC members have examined several international maritime security issues, including the complexities associated with improving U.S. missile defense, the continued modernization of Chinese missile forces, the North Korean nuclear threat, China's response to U.S. laser based weapons, and finally, defense spending concerns within the NATO alliance.
Beginning the roundup at the Center for Strategic and Budgetary Assessments, Bryan Clark with CSBA colleague Mark Gunzinger provide a comprehensive report discussing the necessity for the U.S. to rebalance and restructure the military's air and missile defense systems. The report explains that the DoD's emphasis on long-range surface-to-air interceptors used to defeat a small salvo of anti-ship cruise missiles or a handful of ballistic missiles launched by rogue states have failed to provide the capacity to defend theater forces against large salvos of ballistic missiles, cruise missiles, and other precision-guided munitions (PGMs). Mr. Clark highlights that the layered missile defense approach favored by U.S. forces, focused on countering incoming threats as far away as possible, lacks the resources to sustain operations against multiple strikes – meaning U.S. defenses could become quickly exhausted in notional conflict where missile threats are frequent and continuous.
Harry Kazianis, for The National Interest, discusses the Chinese DF-26 ballistic missile, noting how analyses of the capabilities and regional implications of the anti-ship variant were not adequately included in the Pentagon's annual China military report. Mr. Kazianis highlights that the 2500-mile range of the missile should be a serious concern for regional U.S. surface combatants, particularly if combined with the more reliable DF-21Ds and other anti-ship cruise missiles launched from air, land or maritime platforms as part of a large saturation strike. He explains how this capability may allow for China to develop an extremely effective anti-access strategy beyond the first-island chain, thereby severely restricting U.S. ability to conduct operations uncontested near or in support of its regional allies.
Ankit Panda, for The Diplomat, provides an analysis on an upcoming trilateral missile defense exercise being conducted by the U.S., Japan and South Korea. All three navies will participate in the exercise using Aegis-equipped guided missile cruisers, focusing on a response to a notional ballistic missile attack from North Korea. Mr. Panda explains that although recent Japanese-South Korean bilateral relations have been characterized as difficult, the increasingly dangerous North Korean security threat combined with Washington acting as a mediator and leader in trilateral operations has contributed to a steady improvement in cooperation between Seoul and Tokyo.
In a second article at The Diplomat, Mr. Panda examines the development of Pyongyang's nuclear strategy by focusing on Kim Jong-un's latest iteration of the country's nuclear use policies at the 7th Congress of the Workers' Party of Korea. The article suggests that outlining a concrete North Korean nuclear strategy is highly problematic considering several unknown strategic variables, including Pyongyang's conception of sovereignty violation, positions on first use and the role of second or first strike capabilities surrounding regime security objectives.
To conclude the roundup, Kyle Mizokami for Popular Mechanics discusses the deployment of the Norwegian-designed Naval Strike Missile to the USS Freedom Littoral Combat Ship. The weapon system will provide the small ship with an increased surface-to-surface combat capacity while additional deployments of the missile to other vessels are likely to follow – supporting the U.S. Navy's interest in implementing the distributed lethality concept across the fleet.
In a second article at Popular Mechanics, Mr. Mizokami describes the development of smoke screen technologies by the Chinese military's Chemical Corps., primarily to be used as shields against increasingly capable U.S. laser systems, such as the already active laser on the USS Ponce in addition to planned lasers on gunships, fighters, and surface ships.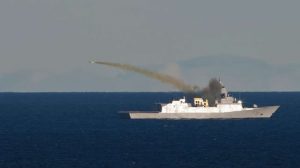 Members at CIMSEC were also active elsewhere during the first part of May:
At CIMSEC we encourage members to continue writing, either here on CIMSEC or through other means. You can assist us by emailing your works to dmp@cimsec.org.
Sam Cohen is currently studying Honors Specialization Political Science at Western University in Canada. His interests are in the fields of strategic studies, international law, and defense policy.