CIMSEC is proud to present the first publication in its series of collected analysis – our Compendium to last year's Private Military Contractor (PMC), focusing on the role of PMCs, also known as Private Military Security Companies, in the maritime domain.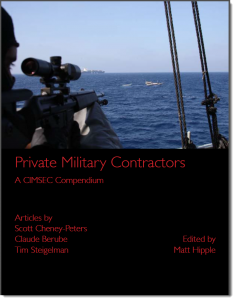 Authors:
Scott Cheney-Peters
Claude Berube
Tim Steigelman

Editors:
Matt Hipple
Chris Papas
Scott Cheney-Peters
Military contractors are assisting militaries and civilian government agencies throughout the world and across the mission spectrum, including planning, training, logistics, and security. Their use in support of a range of security-related activities is growing. Employing private military contractors (PMCs) for any security purpose, has both distinct advantages and disadvantages. PMCs are seen as having inherent advantages over militaries with regard to cost, flexibility, and responsiveness.
Relying on PMCs, though, does have its share of risks—including safety and liability issues, performance, force management, compliance with international and domestic laws, and lost resources because a capability is outsourced rather than retained. With this increase in contractor use in general, and the rise of privatized firms that are specifically organized to provide security services, the question is now how to determine the right force mix to most effectively and efficiently complete a task or mission. In some cases, contractors may be the best choice; however, they are not the perfect fit for every mission or the right solution for all skill or manpower shortages.
Despite their recent pillorying, PMC's have existed since before the condotierri and will continue to exist after America's campaigns. In this publication and the original week of special analysis from April 2014 we discussed their utility and future, especially in the maritime domain.
Whither the Private Maritime Security Companies of South and Southeast Asia? (Parts 1 and 2)
Author: Scott Cheney-Peters
PMCS: The End or the Beginning?
Author: Claude Berube
America Should End Mercenary Contracts
Author: Tim Steigelman
A Response to "America Should End Merceneary Contracts"
Author: Claude Berube
About this Series:
As a multinational community of strategists, researchers, and practitioners, the Center for International Maritime Security strives for a clear, relevant, and quick response to the issues facing international security.
To that end, CIMSEC is publishing collections of its focused articles in PDF format. This allows for quick distribution of diverse opinions on the topics that of relevance to maritime security today. For those who prefer browsing, the articles remain on the website under their respective categories. By organizing and distributing our authors' analysis in multiple ways, CIMSEC is steaming ahead with the maritime policy-maker in mind.
Credit is due to all CIMSEC members – both contributors and those who share their insights through our informal collaborative channels and make such projects possible. In particular, this series is the work of Chris Papas, Director of Publications, under the guidance of head editor for the project, Matt Hipple, Director of Online Content and the head editor for this project.