The challenges facing East African maritime security are many, and without viable measures taken to combat growing sea-born threats, the region is destined to remain in a state of instability and war. The absence of a formidable naval power in the area has allowed illicit smuggling activity to flourish in the Indian Ocean and the Gulf of Aden, and has also allowed state and non-state actors to manipulate the lawlessness to their own advantage, leading to increased insecurity in the region.  Looking past East Africa's most publicized maritime problem, piracy, I would like to discuss two equally threatening, but less well-known issues, currently inhibiting its stability.
Illicit Trafficking
The first major issue that arises due to inadequate regional naval capabilities is the widespread smuggling of illicit arms, drugs and people into, out of and throughout East African countries. The influx of drugs, munitions and other illicit goods, arm and fund terrorist organizations and militias not only on Africa's Eastern coast but in the rest of the continent as well. Somalia's al Shabaab, Kenya's al Shabaab affiliate, al Hijra, and the Congolese rebel group M23, are all examples of groups sustained through illegal maritime smuggling.
Weapons enter the region not just through the vulnerable Gulf of Aden and the Somali coastline, but also through considerably more stable and peaceful countries like Kenya and Seychelles. Once ashore, illicit materials easily find their way through the hands of corrupt government officials to destabilizing, violent actors. New intelligence estimates point to growing cross continental smuggling networks between groups like al Shabaab and North Africa's Al Qaeda in the Islamic Maghreb, heightening the importance for a secure Eastern shore.
Human trafficking, another dangerous issue, further highlights the permeable nature of the regions' maritime borders. According to the International Organization for Migration, in the first four months of 2012, 43,000 migrants traveled from East Africa, through the Gulf of Aden and the Red Sea, to Yemen. This constant flow of migrants in and out of the region allows for a massive human smuggling market.
In recent news, there have been reports of the success of the NATO fleet in reducing piracy in the Gulf of Aden and the Indian Ocean. But under Operation Ocean Shield, NATO vessels are strictly tasked with counter-piracy measures and are unable to intervene in the practice of illicit trafficking occurring in those same bodies of water. While good work is being done to prevent piratical attacks, illegal smuggling of people, munitions, and other goods remains unchecked.
Kenya's Unilateral Maritime Power and its Consequences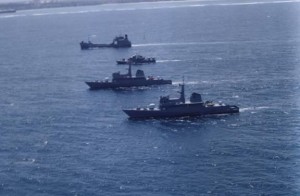 The second problem that surfaces is due to an uneven balance of power. Kenya possesses the overwhelming naval advantage in the region, allowing it hegemonic rule over maritime boundaries. Kenya has 23 ships in its fleet, which were mainly acquired through Western allies such as the United States, France, Spain and Great Britain. Kenya's offensive capabilities are limited and its fleet only has two amphibious assault vessels, which were most recently used to attack the terrorist-held Somali city of Kismayo in September 2012. While the Kenyan fleet is small when compared to international standards, it is far more powerful than any other East African country.
Kenya's Southern neighbor, Tanzania, has a navy that consists of seven attack vessels and twelve patrol vessels obtained from the Chinese between 1969-1971. Tanzania's navy is effectively untested and would likely be unable to engage in any meaningful military action to secure its coastline. To Kenya's north, Somalia has no navy to speak of, and has been reliant on the Kenyan naval power in helping secure key al Shabaab stronghold's along Somalia's Southern coast.
The absence of another equal, or at least, threatening East African power in the Indian Ocean allows Kenya to exert undue control over its maritime neighbors. Kenya and Somalia are in the middle of a maritime border dispute that is currently leaning in favor of Kenya. The Somali government believes the border should be drawn perpendicular to the coastline, whereas the Kenyan government wants the border to be drawn along the line of latitude. Complicating the issue are potential underwater oil reserves and existing oil licenses granted by both countries for exploration in the disputed area. Kenya continues to push for exploration agreements with private companies, despite the inability of the two countries to delineate an agreeable maritime boundary, aggravating an already tense relationship.
Further irritating Kenyan and Somali border relations, are corrupt Kenyan Navy officials who have taken advantage of Somalia's fledgling central government and have begun to encroach on its sovereignty. A UN report released in July 2013, asserted that following al Shabaab's defeat in Kismayo, the Kenyan Navy took over control of the port. It now controls all goods coming into and going out of Kismayo, and corrupt Kenyan officials collect revenues from the port that should instead be managed by the Somali government. Kenyan Navy personnel even flouted the UN ban on charcoal exports from Kismayo, despite protestations from the Somali government and international organizations.
Kenya's unilateral maritime power allows corrupt individuals to adhere to their own rules of engagement and many times disregard international norms, infringing on neighboring countries' maritime, and land-based sovereignty. This severely threatens stability in the region as this manipulation of power creates tenuous and volatile relationships with other East African nations and the international community.
The First Steps
When thinking of possible solutions to help increase naval power and maritime security in East Africa, it is hard to imagine viable near-term options. Some governments have taken steps to try to address maritime vulnerabilities. Kenya passed a law in 2010 formerly recognizing human trafficking as a crime. Also in 2010, the semi-autonomous Somali state of Puntland established the Puntland Maritime Police Force. It was first created as an anti-piracy body but it has had some success in intercepting arms, drugs and human smugglers. These measures are good first steps, but broader, regionally agreed upon action must be taken.
It is hard, however, for these countries' governments to justify spending money to secure their nations' maritime borders, when the there is no certainty of peace on land. But of course, it is necessary to understand that without maritime stability, that peace cannot be assured.
Breuk previously worked at the American Enterprise Institute's Critical Threats Project, and published articles on issues relating to security in the Horn of Africa. She received her B.A. in International and Comparative Politics from Brown University and is currently studying in North Africa.