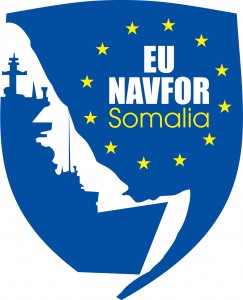 On the east coast of Africa and along the southern Arabian Peninsula, the U.S. has been waging a campaign against pirate and terrorist targets from naval forces offshore. Early reports today detail European militaries' first counter-piracy operation ashore. A helicopter from EU Naval Force Somalia's Operation Atalanta struck a pirate base camp in Somalia's Mudug region and destroyed several pirate skiffs and other supplies stowed on a beach.
Britain's The Telegraph gives a detailed account:
The dawn raid, launched from one of nine European warships patrolling off Somalia, was aimed at "making life as difficult for pirates on land as we're making it at sea", an EU military official said.

A helicopter flew low along the beach with a door gunner on mounted machine gun troops firing at the targets below.

The operation was ordered after weeks of surveillance from maritime patrol aircraft and other surveillance aircraft circling above the pirates' known hideouts.

Best not to leave your things unattended.

Five small attack boats with powerful outboard engines were "rendered inoperable" and pirates said that the strike also hit drums of diesel and a weapons store.

The attack involved troops from several of the European navies including seven frigates currently patrolling off Somalia, from France, Germany, Italy, Spain, the Netherlands and Portugal.
Officials said it was "a European mission" and would not specify from which warship the strike was launched.
But not all efforts against piracy and terrorism in the region involve strikes from the sea. In addition to the use of U.S. Navy SEALS, Afloat Forward Staging Bases, naval vessels and naval aviation assets, the U.S. is also using land-based air power. A report in The Aviationist (h/t Danger Room) describes the role of the Air Force and an F-15E squadron in augmenting the drone strikes in the region. The ring around the Indian Ocean is proving to be a perfect test bed of low-intensity power projection concepts and technologies.