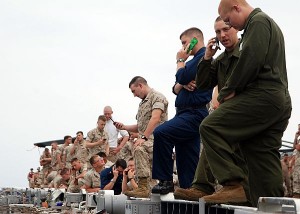 While we Americans at CIMSEC were busy calling our mothers, taking them out to lunch, building them their own self-propelled, semi-submersibles – you know the usual Mother's Day stuff – we didn't want to leave you without a little reading material….so over to the Gulf of Aden and Arabian Sea!
At Information Dissemination, Chris Rawley highlights al-Qaeda in the Arabian Peninsula's use of amphibious tactics in their revenge assault for the killing of Fahd al-Quso, who helped plan the USS Cole bombing.
He also mentions a group of Somalis arrested on Yemen's Socotra Island, a well-known pirate haven, who were learning to scuba dive. While he implies this may have been in preparation for a terrorist operation in Yemen, hijacking ships at anchor for profit is the more likely motivation. News sources describe the suspects as pirates rather than terrorists (but Chris is right, never hurts to be alert to new threats).
Nonetheless, most piracy in the Gulf of Aden, Arabian Sea, and Somali Coast areas occur against vessels underway, (and those that don't usually forgo the trouble of so thoroughly disguising the assault) so it would still be a notable change in tactics.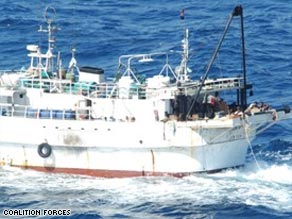 Speaking of Socotra Island, gCaptain details three recent pirate attacks from at least one mothership in its vicinity. Two employed armed security teams and repelled the incoming skiffs. The third became the first oil tanker successfully taken in over a year.
But there's also good news. BNO News reports the Dutch navy's HNLMS Van Amstel's Lynx helo spotted a dhow mothership off the Somali coast. The 11 pirates were compliant after the Dutch made radio contact, and were seized through a combination of "RHIBs, fast motorboats, [and] a special boarding unit consisting of marines" under the protection of Van Amstel's Lynx. The operation also freed 17 Iranian fishermen hostages.
Meanwhile THA – Daily News describes how the Turkish navy executed a similar operation on Saturday. A helo from the frigate TCG Giresun (ex USS Antrim) spotted a hijacked vessel off the coast of Oman prompting the Giresun to launch a boarding netting 14 captured pirates and seven freed Yemeni sailors.
And as food for discussion – The National is reporting that Convoy Escort Programme (CEP), a British company backed by the Lloyds of London insurance family, is planning a private navy of 18 ships based in Djibouti. It will consist of 7 ex-Swedish navy fast patrol boats and 11 former offshore supply vessels. CEP will offer to escort convoys along the Internationally Recognized Transit Corridor between the Red Sea and Arabian Sea – takers will forgo insurance premiums and instead be covered by CEP and its Lloyd backers.