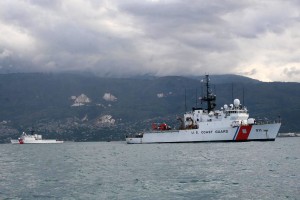 Here are a few stories to catch up on to impress your maritime security minded father (for those in the U.S.) when you dutifully call for father's day:
Future Tech
Spencer Ackerman has a good piece at Wired's Danger Room on the energy generation hurdles U.S. Navy' ships must overcome if they want to enjoy the fruits of their successful directed energy weapons testing.
Maryland Invaded By Naval Drones
The DC region was invaded by naval demonstration drones with varying degrees of impact. Northrop Grumman's X-47B UCAS-D (Unmanned Combat Air System Demonstrator), the drone designed to launch from carriers and begin the replacement of manned fighter jets, made its way cross-country to Naval Air Station Pax River in Maryland after successfully completing its first major phase of testing. En route it rounded DC's beltway and, as in other places it was seen by the public, it sparked some humorous befuddlement.
Earlier in the week another U.S. Navy drone demonstrator at Pax River made a more literal impact into Maryland's Eastern Shore. This was an RQ-4A BAMS-D (Broad Area Maritime Surveillance Demonstrator), a modified version of the Air Force's Global Hawk, and one of only two of the "A" variants. As the linked AOL Defense article points out, Northrop Grumman has continued to make major improvements with the more advanced "B" and "C" variants.
Force Structure
CGBlog has a good run down and analysis of the Coast Guard's future shipbuilding plan, including the views of a just-released GAO report. If you're not familiar with the debates, this a good chance to get caught up on the future of another service with a global impact on maritime security.
Strategic Outlook
Information Dissemination's 5th Anniversary Virtual Conference rolls on with great posts by Dr. Andrew S. Erickson on the strategic context of China and the U.S.' maritime interaction; Dean Robert C. Rubel on China's claim to the mantle of Mahan, and whether or not it matters; a Senior Vice President at Maersk Line on the state of international maritime trade; and the response of former Secretary of the Navy Richard Danzig, from the Obama campaign to the earlier Romney campaign post on the direction of the Navy.