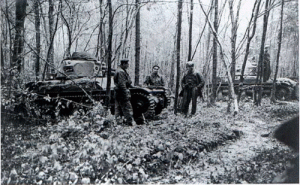 The tanks of the French 3rd Republic have become an unfortunate mascot of doctrinal stagnation. While the lessons of the Blitzkrieg are well taken, few note the incredible amount of time, the 25 years between the invention of the tank and WWII, during which tacticians could have developed new tactics. The real crime wasn't ignoring the border with Belgium, it was ignoring technological developments for so long. By 1939, the Blitzkrieg concept should have been understood, countered, and re-developed by all sides. Tacticians must strive to provide their weapons with new tactics. Nextics, a combination of "next" and "tactics" is the development beyond that cutting edge: the weapons of tomorrow countered by the tactics of the day after. Drone swarms are a technology that, with a potential to be a near-term reality, we should prepare to counter as well as use.
The U.S. does not have a monopoly on the use of autonomous drone groups; a technology like drones using primarily open-source commercial and academic sources will soon be available to our competitors. Our technological advantage, experience, and know-how can keep us on the cutting edge, but we should be prepared to counter our own innovation before it is even brought into the field.
Traditional countermeasures will not work against drone swarms. Kinetic interceptors such as missiles and 20mm CIWS are designed to intercept single targets and groups of limited size. Drone swarms, numbering from dozens to hundreds of individual units, would overwhelm any kinetic system when attacking ships and aircraft. Typical chaff and electronic countermeasures will have difficulty countering drones using optical or infrared systems that recognize platform shapes, and chaff would not linger long enough to out-last a large drone cloud. The best countermeasure for a large formation of small, agile units is a weapon we have long left behind.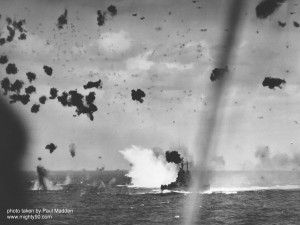 Flak cannons and other aerial saturation systems are the day after's countermeasures against the weapons of tomorrow. In the 1990s, Oerlikon designed the Millennium Gun, a close-in weapon system designed to intercept missiles with a shotgun-style area-effect blast. Such a system is a model for future drone-swarm countermeasure systems. Larger aircraft with the ball-turret style weapons of old could be deployed to protect high value units, or even drone swarms themselves from their opponent swarms. On land, soldiers could use a modified Trophy system to defend themselves from drones designed to combat men and vehicles. "Going stupid" saves on vital space that would be required for higher-level processors and detectors designed to combat individual miniature drones.
The urge to fight fire with fire is a strong one. Newer and better technologies are available to help us over-think problems. The coming age of automated warfare has us obsessed with hacking, spoofing, and otherwise electronic befuddlement. However, Gordian's technological Knot does not always require complicated detection systems, guided weapons, or coded backdoors. On occasion, a really big Mossberg 500 will do.
Matt Hipple is a surface warfare officer in the U.S. Navy. The opinions and views expressed in this post are his alone and are presented in his personal capacity. They do not necessarily represent the views of U.S. Department of Defense or the U.S. Navy.