International Maritime Satire Week Warning: The following is a piece of fiction intended to elicit insight through the use of satire and written by those who do not make a living being funny – so it's not serious and very well might not be funny.  Our apologies to those who read this without the warning and mistakenly believed it to be true.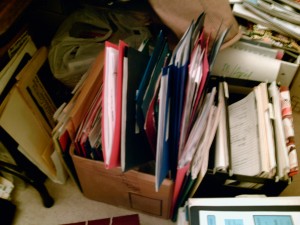 Revelations from last week's presidential debate have put Secretary Ray Maybus' office into a tailspin. During the debate, President Obama's stated that Mitt Romney planned to provide, "two trillion dollars in additional military spending that the military hasn't asked for."
"I could have sworn I left the special request chit in the SecDef's inbox," said Secretary Maybus. The Office of the Secretary of Defense has announced it only received four Christmas Leave chits, a duty-swap chit, and hasn't seen any special request chits for more money.
"I know I turned it in to SECNAV," said Chief of Naval Operatons, Admiral Jonathan Greenert, "I put two folders in the Secretary's inbox. One was for Christmas Leave and the other a request for EXACTLY 2 Trillion dollars. I remember, because I almost left my leave chit in the wrong folder. I'm taking second leave, since usually the first standown period is more relaxed."
The mystery of the missing lion's share of Christmas leave chits, as well as the special request chit for 2 trillion dollars, has puzzled many. OPNAV reports turning in at least 160,523 chits for Christmas stand-down. Reportedly, three personnel elected to skip leave altogether due to a low balance of leave days. An unamed insider suggests that, if they just find the rest of those chits, the special request for money will be with it.
This is not the first time major budget-related chits have been lost close to leave periods. Before Thanksgiving in 2010, the OPNAV Office of Assesment (N81) signed and routed up a chit to cancel the Littoral Combat Ship program due to the discovery that it was "total garbage."
"Imagine our surprise," said N81's former head, Rear Admiral Zapp Brannigan, "we thought we cancelled the project, but return from leave to discover they're building not one, but both those disasters. Maybe they misread our request."