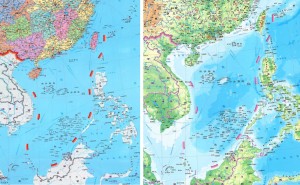 The specter of nationalism in the Far East looms over ownership of the Senkaku/Diaoyu Islands.  China and Japan have increased their civilian and military presence around the islands and continue retaliatory actions and declarations.  History in the region has few examples of such situations concluding amicably. 
However realist or idealist one's perspective, there remains significant room for de-escalation and peaceful resolution.  The path to finding a solution has been the focus of many academics, policy experts, and the media with two scenarios offered in the commentary. 
First is what amounts to a Grand Bargain:  China cedes their claims in the East China Sea to Japan in return for Japan's support of China's South China Sea claims.  Those who believe this the most likely outcome are those who give deference to China's long-view strategies.  While China appears to have the patience and political structure to execute strategies with time horizons far beyond those of the United States, a Grand Bargain would be readily discerned and countered as it ultimately relies on the United States, Korea, Philippines, Vietnam, Indonesia, and others to concede interests or territorial claims to China.  That makes for a strategy not only with a long time horizon but also with very long odds.
The second scenario is that China succeeds to some degree in pressing its claims with Japan, using the dispute in the East China Sea as a proving ground for strategies in the south.  Winning territorial concessions from Japan, China's primary regional competitor, would not only validate its strategies, it would also strengthen China's position when dealing with weaker competitors bordering the 10-dash line in the South China Sea. Those who predict this outcome tend to believe China will not relinquish any claims. This may be a bit too binary.  First, the territorial disputes in the two regions have very different histories, interests, and actors.  Second, a resolution seen as offering China concessions in the East China Sea could counter-productively strengthen the resolve of the actors disputing China's claims in the South China Sea.
However, there is another possible scenario.  China could exploit customary international law to its advantage, creating a precedent in the East China Sea simplifies the complexities surrounding the 10-dash line in the South China Sea.  The precedent that best serves Chinese interests is that a country with administrative control over disputed islands exercises economic rights surrounding the territory, even if that country is Japan.  With China in a strong position to enforce administrative control over the Spratly Islands, Paracel Islands, and Scarborough Shoal, a precedent connecting administrative control of disputed territory to economic rights would greatly benefit China.
So, what else needs to happen to make this other potential scenario a reality?  Nothing.  If China continues to bluster about the Senkaku/Diaoyu Islands and Japan continues to retain administrative control and enforce fishing laws in what would be the territory's Exclusive Economic Zone, the precedent is established.  Only time is needed for this version of status quo to be considered customary international law.  Interestingly, this path finds a convergence between the long view and expansionist proponents.  China could get access to a lot more territory and natural resources if it is willing to 'lose a battle to win the war'.
Ryan Leary is a U.S. naval officer and Federal Executive Fellow at The Fletcher School of Law and Diplomacy.  His opinions and views expressed in this post are his alone and are presented in his personal capacity. They do not necessarily represent the views of U.S. Department of Defense, the U.S. Navy, or any command.