The following article originally featured on The National Interest and is republished with permission. Read it in its original form here. 
By Bret Perry
On the cold, cloudy afternoon of March 18th, 2018, the 22nd Marine Expeditionary Unit (MEU) and its Amphibious Readiness Group steamed through the Baltic Sea about 100 miles south of the Swedish island of Gotland, just west of Lithuania and Latvia. With its full squadron of three amphibious assault ships, including the USS Bataan Landing Helicopter Dock, and three Arleigh Burke-class destroyers, this impressive US military presence in the Baltic Sea was unprecedented. In response to unusual Russian military activity near Estonia, including the presence of 'little green men' in the border town of Narva, the new White House administration was determined to send a message to Moscow.
Two US Marine Corps F-35Bs, flown by call sign Yukon and his wingman Zeus, surged off the deck of the USS Bataan to conduct a combat air patrol (CAP) to reinforce the NATO presence in the area. Banking south, Yukon heard the NATO E-3 Sentry Airborne Early Warning and Control (AWACS) operator Showboat say through his thick Dutch accent, "Yukon, Showboat, you have a pop-up group of two Bogeys, Bullseye 207 degrees for 150 kilometers, 1,300 meters."
"Copy, Showboat. Intercepting," Yukon responded as he throttled his jet up to Mach 1.6. Another aggressive Russian flyby, he thought.
About four minutes later, Yukon and Zeus had positioned their aircraft about 250 feet behind the two Su-30SM Flanker-C bandits. But unlike previous intercepts of Russian fighter over Baltic Sea, the Su-30s were clearly armed with more than the typical, short range Archer (R-73) air-to-air missiles.
"Zeus, any idea what they're carrying?" Yukon asked his wingman.
"Negative, but they're not playing around today," she responded.
"Copy. Take a closer look for me."
"Roger," Zeus responded. She slowly began to creep her aircraft closer to the Su-30 on the left.
"Showboat, Yukon, tally-ho on two Flanker-Cs. We think…" Yukon's voice trailed off as he watched a disaster unfold in an instant.
As Zeus approached the bandits, one of the Su-30s tried to barrel-roll over her F-35B. But as Zeus held steady 100 feet from the Flankers, the Su-30 pilot misjudged the maneuver, and slammed the Russian jet into the right wing of Zeus' F-35B. The wing snapped off, sending Zeus spinning, while the Su-30 pitched over into a nosedive.
"Eject! Eject! Eject!" Zeus yelled into the radio.
In response to the chaos, the remaining Su-30 banked right, and bugged out. When Yukon looked to his left, he felt relief and horror at what he saw.
He could see Zeus' parachute. But… there was no sign of the Russian pilot.
Although the aforementioned vignette is fictional, it captures the increasingly worrisome military implications of Russia's posture in Kaliningrad. The presence of Russian ground, naval, and air forces in Kaliningrad is not new, but Russia has essentially transformed the tiny area into a major "pop-up" Anti-Access/Area-Denial (A2/AD) zone from what had been a Cold War-era Soviet outpost. Despite traditionally being associated with the Asia-Pacific or even the Persian Gulf, Russia's deployments in Kaliningrad reflect the potential for the emergence of localized A2/AD zones in Europe. Not only is A2/AD now a critical component in European security dynamics, but it is also a global phenomenon that has truly 'broken out' of the Pacific's First Island Chain. With NATO's eyes on the defense of its Baltic members and a growing view that Poland is NATO's new center of gravity in the East, a Kaliningrad A2/AD zone projects advanced ground, naval, and air threats, creating significant security challenges.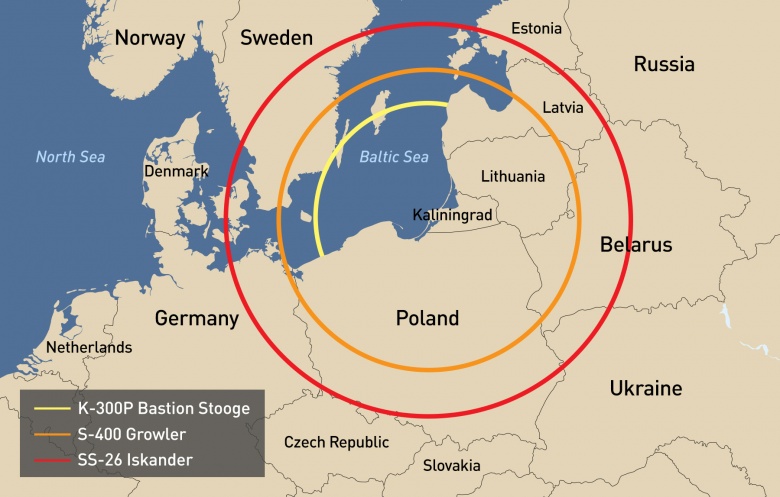 Achieving Integrated Air and Missile Defense (IAMD) and air dominance is a critical component in countering A2/AD zones. Although Russia's defense industry faces challenges with upgrading the state's fighter fleet, both the Russian Aerospace Forces and Russian Naval Aviation possess formidable 4G and 4.5G tactical aircraft capable of executing advanced air-to-air combat and challenging NATO's air dominance. In Kaliningrad, two Naval Aviation fighter regiments maintain several squadrons of Su-27 fighters and Su-24 bombers out of two separate air bases. As Russian Naval Aviation purchases at least 50 new Su-30SMs by 2020, the forward deployment of these units to Kaliningrad would significantly sharpen Russia's sword in the Baltic airspace. Specifically, Kaliningrad's position provides Russian forces with the ability to scramble their tactical aircraft within close proximity to NATO forces while under the protection of extensive Russian air-defense systems.
15 minutes later, Yukon continued circling, waiting for the other Su-30SM to return and hamper the USS Bataan's search and rescue efforts. Suddenly, he heard Showboat shout over the radio.
"Unidentified track, Bullseye 163 degrees for 380 kilometers, 2,300 meters, hot!"
Yukon saw the new contact marked by Showboat on his Tactical Situation Display (TSD) located on the front left of his F-35B's cockpit. It was tagged as unknown, but moving rapidly across the screen at 4,500 mph towards Showboat. Yukon's gut told him something was wrong, so he quickly switched his APG-81 radar onto "active" mode.
In a second, the Active Electronically Scanned Array (AESA) radar on Yukon's F-35B scanned the object and autonomously identified it as a Russian 40N6 missile. As the F-35B's datalink automatically transferred its identification to Showboat's AWACS and other forces in the area, he said, "Showboat, Yukon, Bullseye, 230 degrees for 340 kilometers, 5,000 meters, SAM launch! Break left! Break left!"  
But the 40N6 surface-to-air missile (SAM), flying at over 4,500 mph, was too fast.
Within 10 seconds, Yukon heard Showboat shout "Break…Mayday! Mayday! May…!" All what was left was static. On his TSD, the icon denoting Showboat's AWACS was gone from his display.
Launched from an S-400 "Growler" SAM launcher near the small coastal town of Yantarny in Kaliningrad, the 40N6 missile is a long-range weapon with an active- and semi-active seeker designed to destroy high-value targets, such as AWACS, electronic warfare, and other special mission aircraft. In 2012, Russia began outfitting at least two battalions in Kaliningrad with its new S-400 SAM system. The S-400s joined Kaliningrad's S-300 SAMs, also an important threat.
Moscow's deployment of S-400 missiles to Kaliningrad was key in transforming the outpost into an effective A2/AD zone. With a maximum range of 250 miles (although the system most likely can only detect advanced stealth aircraft with much smaller radar cross-sections, such as the F-22, at closer ranges), Kaliningrad's S-400s are capable of turning the airspace over much of the Baltic Sea, Latvia, Lithuania, and half of Poland (including the capital, Warsaw), into a no-fly zone at the flip of a switch. General Frank Gorenc, the commander of US Air Forces in Europe, explained that Moscow's SAMs and other systems "creates areas that are very tough to get into." Although an assortment of stealth aircraft, electronic warfare capabilities, and long-range strike weapons can neutralize the S-400, strikes in Kaliningrad carry strategic consequences due to the risk of Russian escalation, ultimately making the suppression of enemy air defenses a complex challenge.
Without Showboat, Yukon and the naval forces accompanying the 22nd MEU were in the dark without any early warning capability. Yukon's F-35B acted as the eyes and ears of the fleet with its AESA radar. But as he was miles south of the MEU and the closest AWACS replacement was in Germany, the decision was made to have one of the escort destroyers turn on its radar's "active" mode. This decision would give away the MEU's precise location, but was necessary to establish a 360-degree view of the deteriorating situation.
The USS Truxtun powered on its SPY-1D radar and Mk 99 fire control system to restore awareness. Although the Truxtun could now detect targets over 100 miles away, Yukon's F-35B continued to play a role with its powerful AESA radar.
But within a minute of firing up its radar, "Overlord," Truxtun's operations specialist announced "10 unidentified tracks, Bullseye 187 degrees for 280 kilometers, and closing fast."
Yukon looked down on his TSD and saw the unidentified tracks appear near the top edge of the screen. They were moving quickly down the display at an angle towards the MEU, but not as fast as the S-400 missile's earlier observed path. At the current pace, they would reach the fleet in about 410 seconds. Yukon banked his plane and burned towards the unknown contacts.
About a minute later, Yukon's AESA radar picked up all ten of the contacts, identifying them as P-800 Oniks anti-ship cruise missiles. The F-35B's computer immediately transmitted the data to the Truxtun and other NATO forces in the immediate area. Within less than a second, the Truxton's AEGIS Combat System processed the threat information and autonomously launched 20 SM-2 SAMs towards the incoming Oniks missiles, targeting each Oniks with two SM-2s.
Yukon burned towards the Oniks missiles, prepared to intercept. But Overlord was wary of Yukon going "winchester," or running out of missiles, especially if additional Russian aircraft emerged.
About 150 seconds later, the Truxton's SM-2s reached the incoming Oniks missiles. Four of the missiles struck their targets, but debris from their impact knocked the Truxton's remaining SAMs off course. Detecting its error, the Truxton's AEGIS system automatically launched 12 new SM-2s towards the remaining Oniks missiles.
"Overlord" ordered Yukon to engage one of the Oniks even though they were nearly out of range. The nervousness in Overlord's voice was unmistakable. Yukon acknowledged the command, responding with "Fox Three" as one of his AIM-120 Advanced Medium-Range Air-to-Air Missiles (AMRAAM) dropped out of the F-35B's weapons bay, firing towards the Oniks.
90 seconds later, the Truxton's second wave of SM-2s reached the remaining Oniks missiles. They knocked two Oniks missiles out of the sky, but four more remained. 10 seconds later, Yukon's AMRAAM smashed into an Oniks, leaving three. The Truxton's AEGIS Combat System immediately launched six of its RIM-162 Evolved SeaSparrow Missiles, which were tailored to counter supersonic maneuvering anti-ship missiles such as the Oniks.
Within 60 seconds, the RIM-162s found their targets. Two of the Oniks were hit, but a sudden last-minute maneuver by the last Russian missile kept it airborne.
10 seconds later, this final missile struck the Truxton's bow at supersonic speeds, delivering a crippling blow to the American warship.
Responsible for launching the Oniks, the K-300P Bastion is one of the most advanced anti-ship cruise missile systems fielded. With a range of 186 miles, this system is capable of launching supersonic missiles that can fly as low as 15 feet and conduct evasive maneuvers to counter a target's anti-missile defenses. Impressed by its capabilities, Russian and Indian engineers used the Bastion's P-800 Oniks missiles to form the basis for the jointly-developed BrahMos, the world's fastest anti-ship cruise missile in operation. Essentially, the Bastion not only lets its operators engage distant naval targets, but also allows them to launch advanced missiles capable of overwhelming sophisticated anti-air defenses systems.
Although Russia has not yet equipped its coastal missile regiment based in Kaliningrad with the advanced Bastion anti-ship missile system (the regiment in Kaliningrad is reportedly deployed with the less advanced SSC-1 'Sepal' missiles), the aforementioned scenario is important as it still showcases how easily Russia can assemble the necessary elements in Kaliningrad to deny access to the Baltic Sea. Further, as Moscow already decided to deploy the Bastion to controversial areas, such as the Kuril Islands in the Pacific, and Crimea in the Black Sea, Kaliningrad forces could also soon be armed with the Bastion as Moscow continues to pursue A2/AD in Europe. Coastal missile forces aside, Kaliningrad's three diesel-electric submarines, two destroyers, and assortment of smaller vessels provide Russian forces with enough maritime power to contest a NATO naval presence in the Baltic Sea. As commander of US Army Europe, Lieutenant General Ben Hodges, explained, Russia "could make it very difficult for any of us [US] to get up into the Baltic Sea if we needed to in a contingency."
About 25 minutes later, Yukon was about 50 miles north of Kaliningrad, flying low. Miles behind him, five other F-35Bs had taken off from the Bataan and were en route to join him.
It was time to strike back.
But Yukon and his fellow Marine aviators would not be leading the strike. That was the job for the Polish Air Force.
Committed to NATO, Poland activated contingency plans to scramble a squadron of F-16s to conduct a Strike/CAP tasking soon after Showboat's F-35B went down. In response to heavy usage, Poland had just upgraded its F-16s to be some of the most advanced aircraft of that type anywhere. Equipped with AESA radars, a next-gen datalink pod, and advanced strike munitions, the Polish F-16s would deliver the punch against Russian forces in Kaliningrad.
Specifically, the Polish F-16s were equipped with AGM-158 Joint Air-to-Surface Standoff Missiles (JASSM) that could strike targets as far as 230 miles away. The Polish squadron was split into two, flying "nap-of-the-earth" to avoid Kaliningrad's Growler SAMs. In support were Bataan's F-35Bs, which would engage any Russian air threats with their AMRAAM missiles and jam their sensors and communications with their electronic warfare systems. Since Yukon was closer to Kaliningrad, he would provide the Polish pilots with targeting information via a secure next-gen datalink that wouldn't give away their positions, unlike legacy Link-16 systems. At this point, his AESA radar was switched to passive mode, allowing the stealthy F-35B to fly undetected towards Kaliningrad.
When Yukon was 45 miles from the shore, still unseen by Russian radar operators, he powered on his advanced Electro-Optical Targeting System (EOTS). Since the miniaturized EOTS sensor was built into the F-35's nose, he didn't have to worry about the sensor eroding his aircraft's stealth profile. On the screen Yukon steered towards the target into a "bump-up" position.
Yukon's display showed several Growler SAM's in their "slanted-E" revetments. He was about to confirm the target when he noticed something else—a skinny object standing up.
It was an Iskander "Stone" transporter erector launcher (TEL) in firing position.
The Iskander, also referred to as the SS-26, is a modern short-range ballistic missile system capable of launching missiles with conventional high-explosive fragmentation warheads, fuel-air explosives, bunker buster, and electromagnetic pulse payloads. Additionally, the Iskander's maximum range of 310 miles makes it a potent system. But the Iskander's most lethal trait is its ability to launch nuclear warheads with as much power as 50,000 tons of TNT.
In 2015, Russia began rotating its newest Iskander-M systems in Kaliningrad in response to NATO's renewed commitment to Eastern European defense. Moscow may permanently deploy the missiles to Kaliningrad by the end of the decade. Also troubling, some NATO partners believe that Moscow is secretly stockpiling tactical nuclear warheads in Kaliningrad for use atop the Iskanders. The Kaliningrad deployments were a surprise as Moscow previously used threats to position these missiles in Kaliningrad as a bargaining tool to reduce NATO's European missile defense deployments. Even though the Iskander is just a tactical missile system, its deployment in Kaliningrad has strategic implications for NATO attempts to "deflate" an A2/AD bubble there. With or without nuclear warheads, Kaliningrad's Iskanders have the ability to strike an array of key NATO positions in the Baltics. Morever, the confusion whether an Iskander system is armed with conventional or nuclear payloads by itself could foul NATO's crisis decision making.
40 minutes later, Yukon was just a couple miles away from "Banker," a Dutch KC-10 Extender aerial refueling tanker aircraft. The joint USMC-Polish retaliatory strike had been called off as pressure from several NATO partners and other states forced the US to step back and resolve the crisis diplomatically. The Russian propaganda machine was in full swing, asserting that its Kaliningrad forces acted entirely in self-defense. Russian Deputy Prime Minister Boris Vorshevsky claimed that Zeus deliberately crashed her F-35B into the Russian Su-30 and that Kaliningrad's military commanders had no choice but to launch "a couple" Oniks missiles when the "trespassing" US forces turned on their fire control systems. Vorshevsky's comments were retweeted and broadcasted around the world.
Waiting to refuel from the Dutch tanker, Yukon reflected on how close he'd come to attacking Russian forces. All he could think about was that he'd back up flying a CAP the next day and who knew what the Russians had in store tomorrow.
Again, this scenario is fictional and some liberties were taken for narrative purposes. As well, the reality of such a scenario unfolding would be even more complex, especially in the political domain. But the point that US forces will struggle to maneuver in new European A2/AD bubbles is unquestionable.
"Popping" Russia's European A2/AD bubbles wherever they may be established is ultimately a tough challenge without easy answers for NATO. Purely surging an overwhelming amount of force into the bubble is simply not feasible due to resource constraints and the risk that Russia would respond with tactical nuclear weapons. However, by making its forces more survivable, the US and NATO allies can naturally degrade the potential effectiveness of Russia's A2/AD zones and establish some credible level of conventional deterrence.
There are examples worth considering for inspiration, such as the US Navy's Naval Integrated Fire Control-Counter Air (NIFC-CA) capability. NIFC-CA is a US Navy concept using an array of advanced data links to transform a carrier air wing and carrier battle group into a larger network of distributed 'sensors' and "shooters." Created to counter the air-breathing threat elements of Chinese A2/AD in the Asia-Pacific, NIFCA-CA is a redundant, "networked-enhanced" system capable of functioning even if a handful of sensors are neutralized or jammed. Essentially in NIFC-CA, every aircraft and destroyer is linked directly to each other to make the force more survivable.
A NIFC-CA-like capability scaled for the European theater is a crucial step for defeating Russia's European A2/AD bubbles through neutralizing air-breathers and broadly enabling more effective air operations. Simply, NATO cannot expect to conduct SEAD, CAS, or other types of air operations to 'pop' Russia's A2/AD bubble without removing the air-breather threats. Although critics rightfully point to Russia's advanced EW capabilities (as demonstrated in the Ukrainian conflict) as a key challenge, this only reinforces the need for NATO to invest in a more networked, resilient force.
The "NATO Integrated Fire Control-Counter Air" concept must be service agonistic (e.g., not just a Navy concept, but inclusive of Air Force assets as well) as conflict in the European theater will not solely revolve around the carrier air wing; the appropriate air, naval, and relevant ground platforms should be incorporated. Furthermore, this integrated fire control concept must include the systems of non-US NATO members. In Europe, the US has partners—some of which are positioned within Russia's emerging A2/AD bubbles—with platforms already in place that can provide immediate support. Challenges associated with information assurance, interoperability, and 5G-to-4.5G communications make developing a 'common datalink' a difficult task, but one that is crucial to maximize the effectiveness of NATO's air assets.
Whether it is turning an American US Air Force F-15C/D, USMC F-35B, or Polish F-16 C/D into sensors and shooters networked directly with each other, a 'NATO IFC-CA' would diminish the potency of Russia's A2/AD zones. But ultimately, Russia's new way of operating in Europe requires the US and NATO to increase their investments in the appropriate capabilities, hone joint multinational operations through regional exercises, and most importantly, assess how their current strategy, doctrine, and tactics match up against this evolving threat.
Bret Perry is an analyst at Avascent, an aerospace and defense consulting firm. The opinions and views expressed in this article are those of the author alone and are presented in his personal capacity. They do not necessarily reflect those of any organization.
The author would like to thank August Cole, Dominik Kimla, Alex Chang, Steve Ganyard, Jacqueline Phan, and Cate Walsh for their advice and comments.
Featured Image: S-400 Triumf air defense systems from Russia (defencetalk.com)