By Marjorie Greene
My colleague, Joshua Tallis, wrote a recent article on CIMSEC on the current controversy regarding the nature of a navy. The controversy revolves around a recent conversation between CIMSEC members regarding the understanding of a navy's central organizing principle. It was brought about by concerns raised about the rise of a global non-state fleet of vessels called the Sea Shepherd Conservation Society (SSCS) conducting missions "other than war" such as fisheries enforcement and interdiction of whaling vessels. Of significant concern is the increasing problem of piracy, which is currently introducing a wider maritime security challenge that must be addressed. 
How should states deal with piracy, which is engaged in by non-state actors and prohibited under international law? There is concern that as organizations such as Sea Shepherd continue to expand, the likelihood that they will engage with traditional nation-state navies will increase. Does this suggest there should be a change in Navy lexicon on piracy? Or does it suggest, as Joshua Tallis argues, that we need an updated definition of piracy, which is currently not legitimate because in our system, only the state has the right to exercise violence?
Fundamental to the challenge is the way a military is differentiated from non-state groups either by the scale of the force it can exert or because it is made up of ships that are designed for war. N.A.M. Rodger is cited as an example of a naval historian who defines a navy as a permanent fighting service. In other words, a navy fights.
Blurred Distinction
In her book, How Everything Became War and The Military Became Everything, Rosa Brooks argues that the collapsing barriers between war and peace threaten both America and the world. In her first chapter, Pirates!, she relates the incident on April 8, 2009, in which four young Somali pirates boarded the merchant vessel Maersk Alabama, making it the first U.S – flagged ship to be seized by pirates in nearly two hundred years. Four days later, Navy SEAL snipers shot and killed three of the pirates, rescuing the Maersk Alabama captain and capturing the fourth pirate.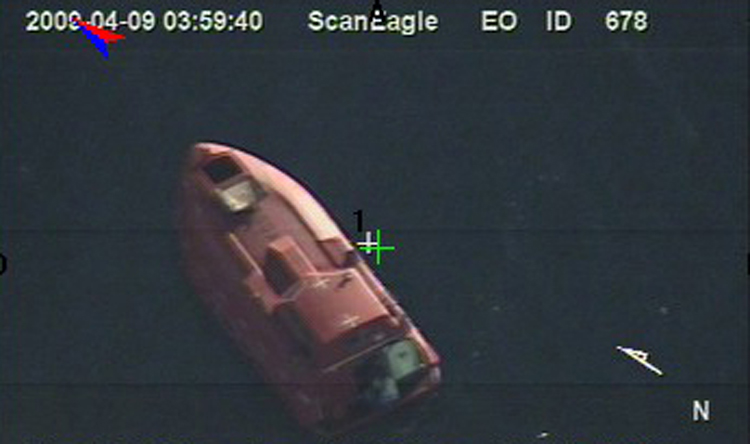 Ms. Brooks argues that the Navy assault on the Maersk Alabama was in many ways a typical twenty-first century military engagement. "The nature of piracy has changed", she asserts. Although modern piracy is largely engaged by non-state actors, states are becoming more challenged in counterpiracy operations, which are probably here to stay. "What is the military for in a world in which future threats are as likely to come from non-state actors as they are from the navies of foreign states?" she asks. The boundaries around war, military power, and legitimacy are getting even more blurry and she makes a case that America may pay a price.
A Larger Issue
Several members of the academic community have begun to raise much broader issues about the nature of contemporary warfare and the changes in the roles of the military vis-à-vis the different civilian actors with whom it works. For example, in her book, Borderless Wars: Civil-Military Disorder and Legal Uncertainty, Antonia Chayes speaks of how civil-military relations have become blurred in the attempt to adapt to festering gray area conflict situations. Rosa Brooks book looks not only at the impact of war's blurriness on the Navy's patrol of the seas for pirates. Rather, it points out that there are many other problems today's military personnel are being asked to perform, such as training Afghan judges, building Ebola isolation wards, and eavesdropping on electronic communications. The need for deeper civil-military integration, especially for Humanitarian Assistance/Disaster Relief, is another emerging mission that has also been discussed on CIMSEC and elsewhere.
In general, Rosa Brooks argues that we are tackling problems that are too narrow and that states should find new ways to redefine the military, which, in her view, has become a one-stop-shopping solution to global problems. In this sense, we do need updated definitions of not only piracy, but of the increasing interaction of the roles of military and civilian organizations in maintaining maritime security in the world. This interaction has been largely caused by the ambiguity in current international conflicts between states that occupy the space between war and peace – sometimes called the "Gray Zone."
The Gray Zone
 In the last few years, there has been increasing interest in what has been called a "Gray Zone" between traditional notions of war and peace. Again, this concept is introduced by Rosa Brooks, where she cites the May 19, 2015 article by David Barno and Nora Bensahel in War on the Rocks that describes Gray Zone challenges, including cyber and globalization, that is characterized by intense political, economic, international, and military competition more fervent in nature than normal steady-state diplomacy, yet short of conventional war.
CNA's Special Operations Program has been monitoring Gray Zone developments in which the traditional mode of competing is political warfare. The Gray Zone requires intensive interagency cooperation and may need a new national security structure that make current military campaign models obsolete. Do we need two militaries – one for military  combat operations and one for Gray Zone conflicts? Do we need to determine what Gray Zone success looks like and establish meaningful criteria for measuring the effectiveness of such operations? These are areas of analysis that will lead to new laws, politics, and institutions premised on the assumptions  – according to Rosa Brooks – that the U.S. will forever remain unable to draw sharp boundaries between war and peace and will frequently find itself in the space between, a space that Sea Shepherd occupies.
Conclusion
The current CIMSEC discussion on the nature of piracy and non-state navies is part of a larger dialogue on a range of DoD responses to piracy that are already underway. In her recent book, Rosa Brooks introduces many underlying questions that go beyond the definition of a Navy. One question is how deeper civil-military integration will occur as more "soft power" missions are undertaken in the future. Should the military continue to expand its activities into traditional civilian spheres, or should it re-define the laws of war to accommodate the Gray Zone between war and peace and change the way it defines the military's role in this zone? I recommend the book as a thoughtful look at the increasingly blurred boundaries between "war" and "not-war" and the call for creative new ways to reinvent our military, to protect human dignity, and to prevent abuses of power.
Marjorie Greene is a Research Analyst with the Center for Naval Analyses. She has more than 25 years' management experience in both government and commercial organizations and has recently specialized in finding S&T solutions for the U. S. Marine Corps. She earned a B.S. in mathematics from Creighton University, an M.A. in mathematics from the University of Nebraska, and completed her Ph.D. course work in Operations Research from The Johns Hopkins University. The views expressed here are her own.
Featured Image: Sea Shepherd vessels the Atlas Cove (left) and the Bob Barker patrolling the Southern Ocean. (Photo: Simon Ager/Sea Shepherd Global)