By Rear Adm. John Wade and Cmdr. Jeff Heames
Rapid technological advancements and the re-emergence of near peer competition require that we continue to invest in high end tools – platforms, weaponry, and sensors. Equally important are the tactics to employ them and the associated training investment we must make in today's warfighters and future leaders in the Surface Warfare Officer (SWO) cadre. The centerpiece of an amped-up warfighting culture in surface warfare is the Warfare Tactics Instructor (WTI) program, available to all division officers, department heads eligible for shore duty, and a small number of limited duty and chief warrant officers.
The ideal onramp into the WTI community is during the first shore tour following completion of at-sea division officer assignments. This timing allows the WTI program to fit neatly in a career pipeline. Three attributes set the WTI program apart: the opportunity to develop expertise in areas the Navy needs, exposure to exclusive professional development opportunities during the readiness production tour and throughout a career, and the empowerment to make significant contributions at a very junior level.
Expertise
The ability to develop confidence through professional expertise early in a career has a profound accelerating effect on an officer's development, and directly contributes to a sense of purpose and fulfillment. WTIs are afforded the time, resources, and experience-building opportunities they need to learn while making substantive contributions to tactics and warfighting proficiency.
The WTI program offers a gateway for young officers to develop deep tactical expertise in the fields of Integrated Air and Missile Defense (IAMD), Anti-Submarine/Surface Warfare (ASW/SUW), and Amphibious Warfare (AMW). Each field begins with a two week Instructor and Tactics Course (ITC) followed by a tailored, 14-16 week course of instruction. During this instruction period, prospective WTIs are mentored and coached to develop their skills at leveraging the Plan, Brief, Execute, and Debrief (PBED) methodology for rapid learning. Following this training, WTIs complete a 24-month "readiness production tour" at SMWDC headquarters or one of four SMWDC Divisions – focused on Sea Combat, IAMD, AMW, or Mine Warfare – or selected training commands (CSG-4/15, TTGP/L, ATG, CSCS, or SWOS, to name a few). During this tour, WTI skills are matured both in the classroom – and at sea – during Surface Warfare Advanced Tactical Training (SWATT) and other fleet training events.
Learning by Teaching
The emphasis on teaching as a basis for learning is based on an idea espoused by the Roman philosopher Seneca, who declared, "docendo discimus" or, "by teaching, we learn." This model of learning is also used to develop WTI candidates, which is why instructor skills are a main focus of ITC. Quality of lesson delivery is established through a rigorous standardization process that must be completed for each lecture delivered by a WTI. It's not uncommon for a WTI to invest weeks or months of research, as well as conduct numerous "murder boards" with fellow WTIs, technical experts, and senior officers, before presenting at the podium. The process is meant to maintain a high standard of instruction where WTIs have established mastery of content and exhibit confidence in delivery.
Focused Specialty Areas
During initial WTI training, students are assigned relevant tactical projects that match critical fleet needs and account for student interests. Projects often involve new technology or capability that must be thoughtfully and effectively integrated into maritime warfare doctrine. Other projects center on updating existing doctrine or repurposing existing systems in new and innovative ways. Specialty areas and projects are assigned based on WTI preference and crosscut broadly, from high-end tactics to training systems and learning science.
Focus area research often extends past initial WTI training, into subsequent readiness production tours, and beyond. SMWDC provides mentorship, applies resources, and opens doors to connect WTIs to thought leaders, technical community experts, industry partners, and community leaders to develop their specialty area work.
Coaching and Training Skills
WTIs are the core workforce of SMWDC's advanced tactical training at sea. They rely on replay tools that include systems data, voice, and other information to rapidly build ground truth and facilitate debrief sessions. Equipped with irrefutable data on what really happened, the "I thought" and "I felt" ambiguities are driven out of the debrief process, enabling shipboard watch teams to learn and grow together more rapidly.
The combination of WTI knowledge, replay-assisted PBED, and specialized training focused on team dynamics and coaching skills offers a powerful method for improving learning across the fleet. The aim is to create an environment of transparency and mutual trust among watch team members, where Sailors enter debrief sessions eager to identify their own shortfalls in order to improve team and unit performance.
At-sea training allows WTIs to observe multiple ships and teams across a variety of training and operational circumstances. The WTIs gain practical insight into how doctrine plays out on the deckplates, as well as hone their ability to identify team performance issues during at-sea training. While the immediate objective is to improve tactical proficiency and unit performance, the skills WTIs gain are extraordinarily useful in future roles as department heads.
Performance Analysis
The final link in WTI expertise development leverages the strong partnership between SMWDC and the technical community. Our ability to measure and analyze performance among units is a challenge due to complex weapons systems, ship configuration variance, and the number of watchstanders distributed in different controlling stations. To build a clear picture of how tactics, training, and systems converge into warfighting capability, a detailed event reconstruction must take place that considers system actions, operator actions, and tactics.
Naval Surface Warfare Center (NSWC) Corona, Naval Undersea Warfare Center (NUWC) Keyport, and SMWDC have developed a Data Analysis Working Group (DAWG) to conduct performance analysis of SMWDC training events. The intent is to extract empirical, data-driven insights from the careful analysis of systems, operators, and tactical performance.
The process is laborious, but straightforward. Following at-sea training, event data is extracted from unit combat systems and sensors and then brought to NSWC for detailed analysis. Following initial analysis from the technical community, WTIs and SMWDC leaders stand up a 1-2 week DAWG event.
By examining system performance, operator performance, and tactics as a consolidated effort, the process can lead to discoveries not captured by direct observation – system anomalies, operator actions, and flaws in tactics. Findings and lessons learned can be very useful because they are underpinned by empirical data and technical analysis. To date, more than 40 weapons system performance anomaly reports have been generated from DAWG events. Systems issues have been identified and funneled to the appropriate technical community to resolve, tactics have been updated, and numerous operator performance issues have been provided to the training community as opportunities to grow or strengthen curriculum. This allows SMWDC to advocate for tactical updates among partner warfighting development centers and provide feedback to the TYCOM and Surface Warfare training enterprise.
For the WTI, immersion in performance analysis activity with civilian technical experts offers a unique lens into how weapons systems, operator performance, and tactics are all linked to create combat potential.
Professional Development
Because the program is highly sought after by driven, focused professionals, the majority of WTIs are on track to return to sea as department heads. Notably, WTI cadre retention is double historical averages in the Surface Warfare community at roughly 70 percent. WTIs heading back to sea have a notable advantage given the training they receive and the experiences they gain at a formative stage of their career that others simply do not.
Assignment Consideration
Similar to officers with other subspecialty skills – Nuclear Program, Financial Management, Operations Analysis, and Space Systems – WTIs have unique skillsets based on their focus areas. For example, IAMD WTIs in readiness production tour billets at the Naval Air Warfare Development Center in Fallon, Nev., have completed the Carrier Airborne Early Warning Weapons School, becoming dual-patched WTIs. These officers are among very few in the Navy with expertise in Integrated Fire Control (IFC) from both the Aviation and Surface perspectives.
To maximize the return on investment for these unique WTI skills, SMWDC is closely aligned with PERS-41 in the distribution process, ensuring future assignments leverage these strengths (e.g., assigning a WTI with IFC expertise to IFC-capable units). While assignments will always consider many variables, this close relationship ensures WTI experience and skills are considered during the assignments process. 
Continuing Education
WTI training and readiness production tours leave less time to complete graduate education between division officer and department head assignments. To mitigate this challenge, WTIs are awarded priority for graduate degree programs at service colleges as well as the Naval Postgraduate School distance learning programs.
Additionally, WTIs are afforded unique and exclusive professional development opportunities that extend throughout their careers. Annual "Re-Blue" events held at SMWDC Divisions are a venue for WTIs, both in-and-out of readiness production tours to attend week-long immersive workshops where information is exchanged and re-distributed into the fleet. Funded travel to Re-Blue events keeps WTIs connected to the sharp edge of the operational Fleet during their readiness production tours and beyond. Re-Blue events are an example of SMWDC's commitment to maintaining excellence within the WTI cadre.
Empowerment
SMWDC is unlocking the potential of our junior officers and post-department heads, empowering them to swarm and solve difficult problems. While experience will always have a place at the table, this new generation of naval officers holds several key advantages. Unencumbered by "the way things have always been," these officers are better suited to envision a future that leverages trends in technology, communication, and learning. This is an area where fresh perspective is an asymmetric advantage. WTIs bring their creativity, ingenuity, and initiative to developing the next generation of cutting-edge tactics, techniques, and procedures.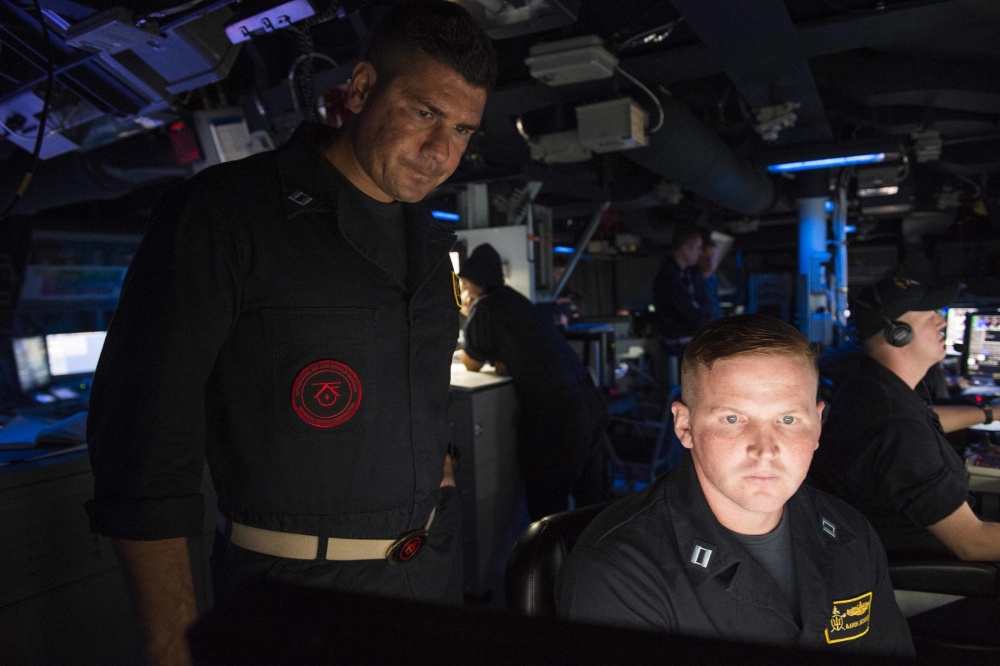 WTI's are creating a positive impact in the Fleet. From immersion in their focused specialty areas to tactical projects, and deckplate innovations, WTIs have built an impressive list of contributions since SMWDC's formal establishment in June 2015. Consider the below examples of projects inspired, developed, and built by WTIs, while being supported by SMWDC leadership.
Lt. Cmdr. Katie Whitman was the lead action officer developing the SWATT in port and underway curriculum from the ground-up, using best-of-breed practices culled from aviation and other communities. She developed replay-assisted PBED for rapid learning and crafted the SWATT performance analysis strategy, which are now distinctive features of the exercise.
Lt. Ben Graybosch partnered with NUWC Keyport to revise the VISTA replay tool to include A/V-15 sonar system data, enabling the detailed "ground truth" ASW replay for unit sonar teams within 4 hours of completing ASW events. Graybosch's effort moved the needle on ASW ground truth replay availability from days or weeks down to hours after an event. With replay tools that offer ground truth much earlier, we can increase the velocity of learning within surface ASW teams dramatically. VISTA is now employed in every ASW event supported by SMWDC and other fleet training events.
Lt. Brandon Naddel was the lead author for the Naval Surface Gunnery Publication released in 2017. Naddel and his team revised a 15-year-old document laden with technical jargon and dated systems into an information-packed and easily understood tactical publication relevant to all surface ships.
Lt. Tyson Eberhardt authored tactical guidance for the emerging Continuous Active Sonar (CAS) capability. Eberhardt leveraged at-sea training and experimentation events to rapidly refine tactical guidance in 2017. Based on his work, the CAS capability was used to great success in the operational fleet later that year.
Lt. Matt Clark designed and built a Target Motion Analysis (TMA) training tool accessible on any classified terminal with built-in performance analytics. Clark's tool has potential to provide insight on the rate of individual skills decay in TMA. This type of information could then be used to inform currency thresholds for future training requirements.
Lt. Aaron Jochimsen was the lead author for the SM-6 TACMEMO. He conducted extensive research on SM-6 that included production site visits, participation in wargaming and experimentation, as well as involvement in fleet missile firings.
Chief Warrant Officer Troy Woods completed a readiness production tour with the Center for Surface Combat Systems, where he was involved in training individuals and teams on IAMD skills. Woods was subsequently assigned to USS BUNKER HILL (CG 52), where his skills are being put to use as lead IAMD planner within the Theodore Roosevelt Carrier Strike Group. Woods attended the IAMD WTI Re-Blue event in Dahlgren, Va., to share the operational perspective with his fellow IAMD WTIs and receive the latest tactical information from SMWDC IAMD Division leadership.
The WTI Program is a career opportunity that values our officers and empowers them to solve complex and challenging problems. SMWDC WTIs naturally have an eye toward innovation, are re-building the surface warfare library of tactical guidance, are shepherding new capability from delivery to operational success, and challenging the status quo in surface warfare training. Lt. Jochimsen, the lead author of the SM-6 TACMEMO, said it best:
"The opportunity to develop deep knowledge – Subject Matter Expertise – is a game-changing confidence builder as a junior officer. I feel much more prepared for the challenges of an at-sea department head assignment after completing a WTI readiness production tour."
Conclusion 
The WTI cadre of warriors, thinkers, and teachers are uniquely equipped with the experience and knowledge to make significant contributions during their readiness production tours and throughout their careers. It is no coincidence that the same skills involved in developing tactical mastery are extraordinarily useful in subsequent assignments at sea – department head, XO, CO, and major command.
While statistically significant trend data does not yet exist for WTI selection for career milestone billets, members of the WTI cadre performed very well during recent administrative boards.
For those looking to increase their confidence and competitiveness for future at-sea assignments, the WTI program offers a unique opportunity to strengthen their professional attributes and shape the Navy for years to come.
Rear Admiral John Wade is Commander, Naval Surface and Mine Warfighting Development Center. 
Commander Jeff Heames serves as the assistant chief of staff for operations, training, and readiness for Naval Surface and Mine Warfighting Development Center.
Featured Image: PACIFIC OCEAN (May 9, 2017) – Warfare Tactics Instructor (WTI), Lt. Lisa Malone of the Naval Surface and Mine Warfighting Development Canter (SMWDC), provides tactical training to officers aboard the aircraft carrier USS Theodore Roosevelt (CVN 71) during a Group Sail training unit exercise (GRUSL) with the Theodore Roosevelt Carrier strike Group (TRCSG). (U.S. Navy Photo by Mass Communication Specialist Seaman Bill M. Sanders/Released)