By Rear Adm. Dave Welch
The recent online republication of a 1993 Proceedings article from Capt. Christopher H. Johnson, "The Surface Navy: Still in Search of Tactics," by the Center for International Maritime Security (CIMSEC) in July 2018 can be interpreted two ways. The reprint either suggests that Capt. Johnson's cautionary tale of 25 years ago went unheeded and the Surface Forces are substantially unchanged in our approach to the development of tactical proficiency, or it serves as an invitation to examine what has changed.1,2 As the Surface Warfare community prepares to gather for the annual national symposium of the Surface Navy Association, I choose the latter interpretation and offer that there have been significant changes, particularly in the last five years.
In 1993 Capt. Johnson argued that training cycles focused on administrative tasks – a check-in-the-block approach – to build readiness, and that workups lacked a meaningful, deliberate focus on the development of tactical proficiency and expertise in a ship and crew. This critique was not without merit. By 1993 the Cold War had ended, the Soviet Union was dissolved, and the United States Navy enjoyed uncontested access to the open oceans. Focus was shifting to the littorals. Over the next two decades Surface Forces concentrated on power projection and support for the Joint fight ashore, with little impetus to hone our tactical skills in sea control mission sets. That period has ended, however, and the United States Navy is again in the midst of great power competition. Potential adversaries are developing capabilities that challenge our ability to operate in the deep blue, and with that comes an imperative to develop and master tactics that will translate into effective combat power at sea – tactics that take into account the current threats, and developing capabilities of potential adversaries. Fortunately, in contrast to the Surface Navy described by Capt. Johnson, we now have the ways and the means to advance lethality and tactical proficiency in the Surface Navy.  
The establishment of Naval Surface and Mine Warfighting Development Center (SMWDC) in 2015 was a decisive development in our community, perhaps the most important development in a generation.
Lessons Truly Learned
In 1993, Capt. Johnson cast a vision of a Surface Warfare community that provided the latest in advanced tactical training and doctrine and tactics, techniques, and procedures (TTP) to the Fleet to keep it ready, capable, and lethal. Such a vision was not new– it had been developed before in naval aviation. During the Vietnam War, Chief of Naval Operations Adm. Thomas Moorer ordered a commission to examine the precipitous drop in naval fighter squadron combat kill ratios since World War II and the Korean War. The Ault Commission made sweeping recommendations, including the establishment of the Fighter Weapons School (TOPGUN) – a seminal step that took place in March 1969.3 This led to a systemic shift in tactical development and training. Over the following decades this approach expanded to all facets of carrier-based aviation, which now sits as a core mission for the most mature of SMWDC's counterparts, Naval Aviation Warfighting Development Command (NAWDC).
Critical mass for the expansion of the Fighter Weapons School model into the Navy's other warfare communities – including Surface Warfare – came in 2014 when Chief of Naval Operations Adm. Jonathan Greenert provided Warfighting Development Centers (WDC) Implementation Guidance to the Fleet.4 This was quickly followed by joint Pacific Fleet and Fleet Forces Commanders' guidance from Admirals Harris and Gortney that began the internal reorganization of authority and responsibility in the Fleet to achieve the WDC mission.5
Growth
SMWDC efforts, including the introduction and growth of a Warfare Tactics Instructor (WTI) program, means that the surface community now moves with purpose to develop tactical expertise. We no longer rely upon personal initiative to cultivate tactical excellence.
SMWDC has grown rapidly since Rear Adm. Jim Kilby took charge as its first commander at the command establishment ceremony in 2015.6 In an early 2016 Proceedings article, he outlined the command's initial four lines of operations: the development of WTIs, plans for a Surface Warfare Combat Training Continuum (SWCTC), the introduction of Surface Warfare Advanced Tactical Training (SWATT) exercises into the readiness generation cycle, and the standardization and growth of doctrine and TTP led for the community by the command.7 He also laid out plans for three WTI programs in the areas of anti-submarine/surface warfare (ASW/SUW), integrated air and missile defense (IAMD), and amphibious warfare (AMW).
A 2017 Center for International Maritime Security (CIMSEC) article by then-SMWDC Commander Rear Adm. John Wade and his training and operations officer, Capt. Jeff Heames, highlighted the continued growth of the command and also outlined SMWDC's updated lines of operation: advanced tactical training; doctrine and TTP development; operational support; and capability assessments, experimentation, and future requirements.8 The removal of the WTI program and SWCTC from the updated lines of operation may have surprised the casual observer, but within command lifelines, we clearly understand that WTIs remain the critical enabler to deliver results in these lines of operation.
Today, SMWDC develops WTIs in the three disciplines envisioned. There are currently more than 275 "patch-wearing" Warfare Tactics Instructors, either in production tours to deliver on the four lines of operation, or in post-production tours where they have returned to the Fleet, carrying with them knowledge, expertise, and connections to "WTI Nation."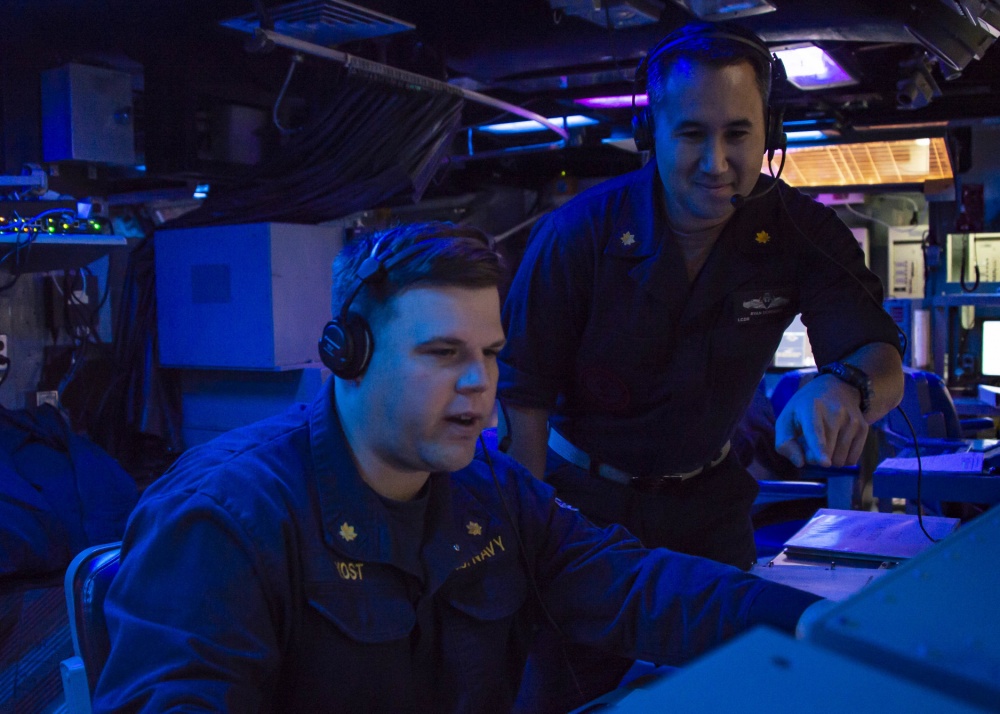 We have evolved in our shipboard training "reps and sets." During exercises on both coasts, watch teams are challenged to grow through the use of replay tools that highlight where errors in planning and execution have occurred. While feedback may seem uncomfortable at first, watch teams and warfare commander staffs quickly understand that some of the best lessons come through mistakes, followed by detailed debrief, with opportunities to immediately apply those lessons to rework a plan, rebrief it, then conduct another round of exercises at increased levels of pace and complexity. Watch teams that initially needed the watchful eyes of senior mentors and WTIs to help guide them are operating at such a high level at the end of the exercise that they need little oversight, and begin to hold themselves accountable and teach younger crew members.
Live Fire With a Purpose (LFWAP) is another critical aspect to the Surface community's advanced tactical training. LFWAP is an enhanced missile exercise program which provides warships the opportunity to develop watch team performance using updated tactics against live, increasingly realistic targets.9   
ATLANTIC OCEAN (Nov. 18, 2018) A Standard Missile 2 (SM-2) is launched from a forward vertical launching system aboard the Arleigh Burke-class guided-missile destroyer USS Mason (DDG 87) during a Live Fire with a Purpose (LFWAP) exercise. (U.S. Navy video by Seaman Nikita M. Custer/released)
Classroom and at-sea training are essential, but the doctrine and TTP required to operate effectively are equally as fundamental to the execution of sea control. SMWDC's doctrine and TTP teams have reviewed and updated more than 80 tactical publications since 2015. The guiding principles for all SMWDC-reviewed, renewed, and developed doctrine and TTP is that it must be readable, understandable, teachable, and executable. Doctrine and TTP provide warships with the opportunity to read, think, plan, and execute in a more cohesive way.
Ships and afloat staffs can access the latest TTP updates on SMWDC's collaboration-at-sea account (CAS) webpage, and they can also make inputs to the command's Tactical Observations Lessons Learned (TOLL) portal. This tool allows the waterfront to provide inputs to SMWDC's doctrine and TTP branch for consideration and possible implementation into Fleet-wide publications.
Surface Force Life Blood
The cultural shifts represented by SMWDC are rooted in talent accession, training, and development as Warriors, Thinkers, and Teachers, embodied within the Warfare Tactics Instructor (WTI) cadre. SMWDC's development as a driving force behind a culture of excellence within the Surface Fleet will ensure that the deliberate development of tactical expertise flourishes in the Navy.
The value of the WTI is not solely within the individual. It is in the character traits that are emphasized to WTI candidates: humility, credibility, and approachability. These are carried through SMWDC's day-to-day lines of operation, the training that WTIs provide in production tours, and the continued influence they have when they return to the Fleet.
Admiral Christopher Grady, Commander, U.S. Fleet Forces, highlighted the significant impact that SMWDC and WTIs have already made in their early years of existence:
"SMWDC continues to drive a rapid and sustainable increase in the warfighting proficiency and capability of the Surface Fleet and our Navy as a whole. There is an insatiable appetite in the Fleet for the training, TTP and doctrine updates, and direct operational support this team provides reliably in all fleet concentration areas. In just a few short years, SMWDC has become the place to be in the Surface Navy when it comes to the profession of arms in the maritime domain.(emphasis added)"10
The two most recent Commander Command Screening Board results are reflective of his remarks. On the FY19 board, ten WTIs were eligible on their first-look and six were selected (60 percent). Nine officers were eligible for their second-look on that board, and all screened for a milestone tour – three XO/CO, four XO Afloat, and two XO special mission. On the recently released FY20 board, 19 of 23 WTIs were selected (82.6 percent) for milestone tours and 8 of 11 WTI-selects screened for a milestone. For any program – especially a young one – these are outstanding numbers.
Vision
SMWDC's vision is to mature into an elite (not elitist) organization that continues to learn while accomplishing our mission with enthusiasm and innovation. We strive to maintain humble attitudes as we approach each event, exercise, or engagement within our mission set. SMWDC's maturation continues as this critical return on investment is realized throughout the Fleet.
The WTI program will expand in 2019 to include a Mine Warfare (MIW) WTI program.11 Similar in design to the other three WTI programs, MIW WTIs will attend the WTI baseline course at SMWDC headquarters, but will continue training at Ecole de Guerre des Mines (EGUERMIN), otherwise known as the NATO Naval Mine Warfare Centre of Excellence in Belgium. The first MIW WTIs will then play a leading role in the development of a group of naval professionals who are steeped in mine warfare tactics.
As growth continues, it means that difficult decisions must be made to ensure that we effectively manage our talented SMWDC enablers and WTIs. The command works closely with the team at PERS-41 to develop strategies to recruit top talent, and to seek professional development opportunities for WTIs, including some of the Fleet's most prestigious programs. Many WTIs are completing coursework through the Naval Postgraduate School, and recently an ASW/SUW WTI was selected for the Fleet Scholars Education Program and will attend the Massachusetts Institute of Technology (MIT).
Charting a New Course
In closing, I would like to return to Capt. Johnson's article, and offer an alternative vignette that demonstrates where we are today – a construct that offers great value to current readiness generation processes, with great potential for continued improvement.  
***
Two weeks into the warship's post-deployment stand down the captain of the guided missile cruiser – having just complete a full deployment as "Whiskey" – quietly took a moment to reflect on his team's progress over the last two years as a ship and warfare commander team. He was already thinking about how his team would approach their next training cycle, and what improvements needed to occur.  
The deployment had been challenging, but also richly satisfying from Day One. The captain remembered what he felt like pulling away from the pier, knowing that his ship and Strike Group team had completed a training process that left him and his crew knowledgeable of the threats they faced, and confident in their procedures and tactics. It was a good feeling to know that he and the ship were prepared – in fact, more tactically astute than any ship he previously served aboard in in his career.
After completing all basic phase certification requirements, the strike group warships and warfare commanders completed Surface Warfare Advanced Tactical Training (SWATT) – a period of in-port academics to review current tactics, techniques, and procedures in detail, directly followed by an at-sea period in which he and his teams stepped through those TTP – all under the watchful eye of WTIs. They did their reps and sets, followed by a debrief… always a debrief… in which the WTIs highlighted good performance and objectively pointed out missed steps, mistakes, or just items that needed more attention. They launched weapons in an enhanced missile exercise program called LFWAP, against realistic and challenging targets. They weren't simply complying with regulations – they learned to drive excellence within their teams and across the ship by breaking down traditional barriers often raised by ego and pride.
He learned that the advanced training he and his team experienced in 2017-18 enabled a higher level of combat readiness.12 But he also knew that his ship operated in an era in which improvement must continue.
The United States Navy was once again in a competition – a competition for sea control.
At that moment Chief Warrant Officer Troy Woods and Lt. Cesar Mize, IAMD and ASW/SUW WTIs respectively, walked into his cabin to discuss their training plan and combat system modernization. Capt. Joe Cahill's apprehension faded as he listened to these two young officers with expertise steeled by experience lay out a plan for raising the combat capability of the warship and the warfare commander assets under their charge.
The captain smiled at his shipmates, and listened carefully to their observations and recommendations.
***
We still have much work to do to develop the talent, write the tactics, train our crews, and field the tools that will enable the Surface Force to continue to control the sea and project power. But I am confident we are on the right path. What remains is to execute the plan, hold the line, and own the fight. Let's get to work.
Rear Admiral Dave Welch is the third commander of Naval Surface and Mine Warfighting Development Center (SMWDC).
References
1. Johnson, C. H. (1993, November 9). The Surface Navy: Still in Search of Tactics. Retrieved from https://www.usni.org/document/professional-notes-1993-119-9-1087pdf?magazine_article=69636.
2. Johnson, C. H. (2018, July 11). The Surface Navy: Still in Search of Tactics. Retrieved from https://cimsec.org/the-surface-navy-still-in-search-of-tactics/37080.
3. Ault, F. W. (1968). Report of the Air to Air Missile System Capability Review (pp. 1-58, Issue brief). Naval Air Systems Command. Retrieved from https://www.history.navy.mil/content/dam/nhhc/research/histories/naval-aviation/aultreport/sections1-4.pdf.
4. United States of America, Department of the Navy, Chief of Naval Operations. (2014). Warfighting Development Centers Implementation Guidance (N00/100078, pp. 1-5).
5. United States of America, Department of the Navy, United States Fleet Forces Command / United States Pacific Fleet. (2014). Warfighting Development Centers (COMUSFLTFORCOM/COMPACFLTINST 3501.4, pp. 1-26).
6. Ingle, D. M. (2014, June). Official U.S. Navy website – Commander Naval Surface Force, U.S. Pacific Fleet. Retrieved from https://www.public.navy.mil/surfor/nsmwdc/Pages/Naval-Surface-and-Mine-Warfighting-Development-Center-Activates-at-Naval-Base-San-Diego.aspx.
7. Kilby, J. (2016, January). USNI. Retrieved from https://www.usni.org/magazines/proceedings/2016-01/tactical-excellence-design.
8. Wade, J., & Heames, J. (2018, February 04). Warfare Tactics Instructor: A Unique Opportunity for Junior Officers. Retrieved from https://cimsec.org/warfare-tactics-instructor-unique-opportunity-junior-officers/35421.
9. Naval Surface and Mine Warfighting Development Center. (2018, August 08). Navy.mil Home Page. Retrieved from http://www.navy.mil/submit/display.asp?story_id=106665.
10. Naval Surface and Mine Warfighting Development Center. (2018, June 27). Navy.mil Home Page. Retrieved from http://www.navy.mil/submit/display.asp?story_id=106143.
11. Naval Surface and Mine Warfighting Development Center. (2018, September 14). Navy.mil Home Page. Retrieved from https://www.navy.mil/submit/display.asp?story_id=107063.
12. Eckstein, M. (2018, March 29). Deployed Surface Forces Benefitting from SMWDC Training, Technologies. Retrieved from https://news.usni.org/2018/03/29/deployed-surface-forces-benefitting-smwdc-training-technologies.
Featured Image: 170310-N-FV739-154 WATERS SOUTH OF JAPAN (March 10, 2017) Ships participating in MultiSail17 sail in formation during a photo exercise (PHOTOEX). (U.S. Navy photo by Mass Communication Specialist 3rd Class Christopher A. Veloicaza/Released)