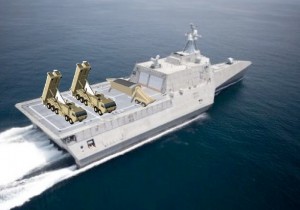 International Maritime Satire Week Warning: The following is a piece of fiction intended to elicit insight through the use of satire and written by those who do not make a living being funny – so it's not serious and very well might not be funny.
In a written statement to the press today, U.S. Navy Chief of Naval Operations Admiral Jonathan Greenert unveiled a previously secret Littoral Combat Ship (LCS) mission package.  The U.S. Navy, he announced, had developed a Ballistic Missile Defense (BMD) mission package to fill a critical capability gap.  It will be ready to deploy for testing in the fleet within two months.
According to the statement, the prototype LCS BMD mission package will be tested in the Strait of Hormuz.  Analysts however predict it may be most useful for directly screening carrier groups in the South China Sea or patrolling the seas around Japan.  In either case, the mission package not only represents the first mission module beyond the three in the original LCS Concept of Operations (CONOPS), it also represents an effort to serve as a cost-cutting measure and appeal to those who wanted the sometimes controversial ship to have more high-end capabilities.
Admiral Greenert's call "to move from luxury-car platforms…toward dependable trucks" on the pages of U.S. Naval Institute's Proceedings raises an interesting question about what happens when the payload is worth more than the truck itself.  Is a BMD LCS a Ford or a Ferrari?  Or maybe a Ford with a Ferrari engine?
In related news, the CNO revealed all LCS that will not receive a BMD mission package will be outfitted with a combined anti-submarine warfare/mine counter-measures/surface warfare mission package, which for security reasons will be invisible.