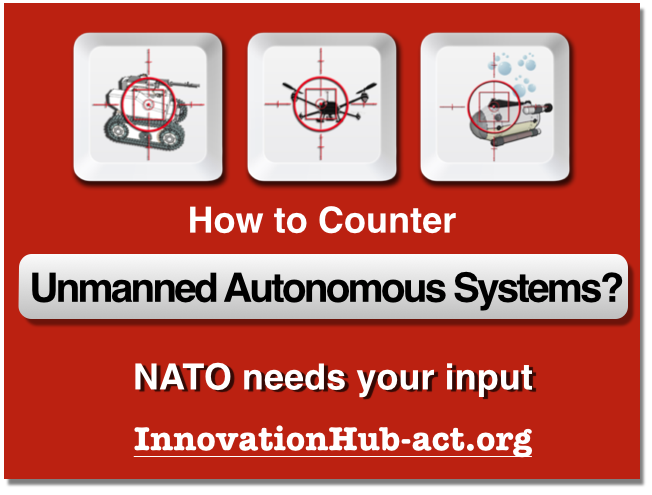 It is common sense that Unmanned Autonomous Systems can be used against NATO populations and forces – but beyond the public perception of this threat, there is a need for an expert level debate that will produce a thorough understanding of the challenges and initiate the development of efficient response options. This is what NATO Transformation Command is addressing with this online and in-person workshop.
WHAT?
The workshop is gathering experts from all backgrounds: Government, Military, NATO, Academia, Industry … to address all aspects (operational, autonomy related, legal, legitimacy, financial and ethical) of the proliferation of Unmanned & Autonomous systems in ground, air, sea and telecoms dimensions. The aim is to identify the best options to counter Unmanned & Autonomous systems and to provide senior policy makers and industry with guidance on related future implications and requirements.
HOW?
The FORUM
(sign up online first to gain access to online event registration)

Join now the brainstorming in the online forum at http://InnovationHub-act.org 
The WORKSHOP: 9-11 Dec 14
The forum findings will be exploited during the 

workshop

when everyone will be able to join live online or onsite at the Innovation Hub:
Innovation Research Park @ ODU
4111 Monarch Way # 4211, Norfolk, Virginia 23508
Email registration request to: information@innovationhub-act.org
with the following information:
Affiliation (name of employer) :
When do you plan to join the workshop? :
When do you plan to leave the workshop? :
Will you attend the ice-breaker on 8th Dec 1900-2000? :
Do you need a parking pass? :
Serge Da Deppo is an information officer at the NATO ACT Innovation Hub.