By Salvatore R. Mercogliano, Ph.D.
When one thinks of a stealth ship, images of the Chinese Type 055 destroyer, the French La Fayette-class frigate, or Swedish Visby-class corvette come to mind. The use of material and technology to produce a smaller radar cross-section or to reduce sound and electronic emissions are all common attributes of what is commonly considered a stealth ship. Yet, if one was to ask what is the stealthiest ship in the U.S. Navy, the answer may prove surprising. It is not USS Zumwalt, the newest destroyer in the fleet. It is also not the most recent Virginia or Seawolf-class submarine, and it most assuredly is not one of the littoral combat ships. The ship that holds this title is not even a commissioned vessel in the U.S. Navy, or owned by the government, but leased from one of the largest ship operators in the world. MV Ocean Trader, chartered by the Military Sealift Command for the U.S. Special Operations Command, most assuredly holds this title.
One may remember back to early 2014 when articles began to appear about the Navy obtaining a "Big, Secretive Special Operations Mothership," as reported by David Axe in War is Boring. The story went, "The U.S. Navy is quietly converting a 633-foot-long cargo ship into a secretive helicopter carrier with facilities for supporting a large contingent of Special Operations Forces and all their gear, including jet skis." In 2016, pictures appeared of the ship while at the BAE Shipyard in Mobile, Alabama. Constructed in the Odense Steel Shipyard in 2011 for Maersk Line, MV Cragside is capable of speeds of up to 21 knots. Her design is a common one in Europe, derived from the Flensburger roll-on/roll-of ships. She is a near sister ship to the four Point-class roll-on/roll-off ships chartered by the United Kingdom Ministry of Defense in 2002. The ship's configuration, when compared to photos of the vessel before conversion, indicate an addition aft of the main house without windows or ports. Forward of the house, two enclosed helicopter hangers are added with the addition of a large flying off platform indicated by the drop-down nets along the edges.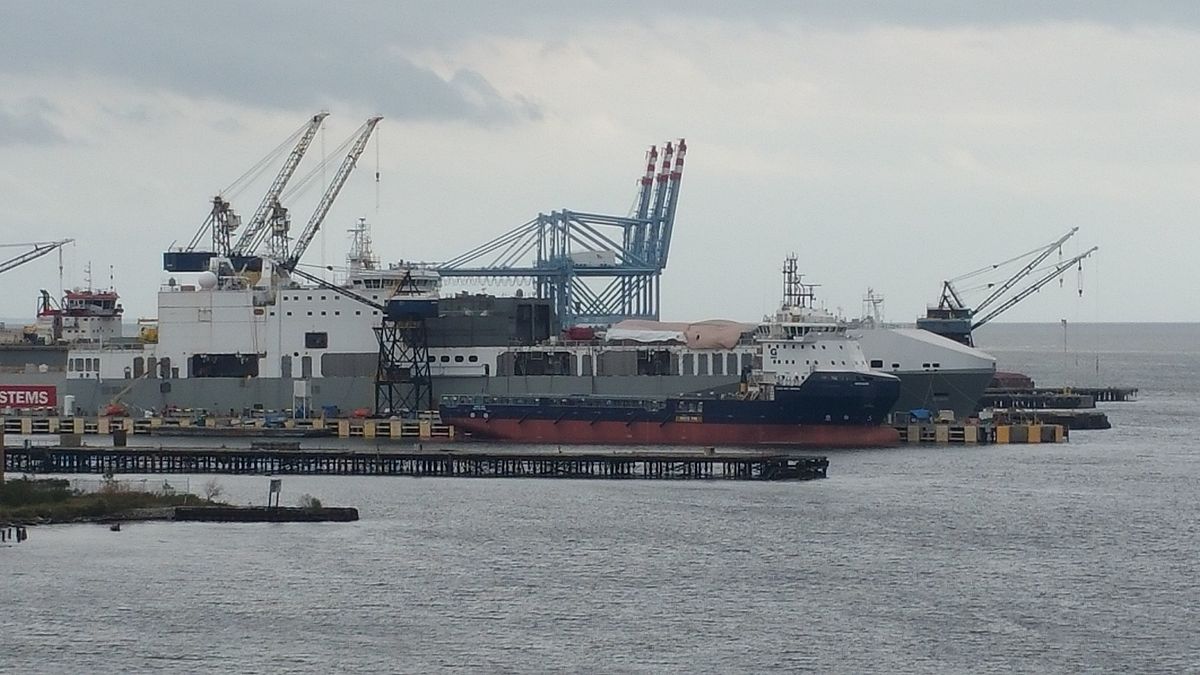 That picture of the ship in Mobile is the last available image and report of the vessel by an American source. A French news agency reported the arrival of the renamed MV Ocean Trader in the Mediterranean on May 16, 2016. According to Maritime Administration records, the ship was renamed on October 30, 2015 and remains on the rolls as a U.S. flagged merchant ship as of July 1, 2017, although a few of the sources identify the ship as Marshall Island flagged. Checks of various Automatic Identification Systems (AIS) has the ship in Gibraltar on May 14, 2017, Souda Bay, Crete on May 24, 2016, and Amsterdam on August 16, 2017. The ship does not currently show up on any active AIS systems. A search of the Navy's Military Sealift Command records, including both their annual reports – which state all the vessels owned and under long-term charter to the Navy – and the U.S. Navy's official sites, have no records of the ship. Even the list of MSC contracts does not identify MV Ocean Trader, nor MV Cragside, nor contract N00033-14-C-2015. The ship has been deployed to the Mediterranean and possibly the Baltic for over a year, yet no news or information has been released about the vessel. While stories abound about the Navy's and MSC's hybrid-crewed afloat forward staging base, USS Ponce AFSB(I)-15, and the recently deployed Lewis B. Puller and its change in designation from USNS to USS, no press or mention has been made about MV Ocean Trader.  
Ocean Trader has the capability to house a total of 209 special warfighting personnel, enough stores and provisions for 45 days of operations and the capability to refuel and replenish at sea, along with capacity to launch, recover, refuel, and resupply up to four small craft, including UAVs. She includes a flight deck rated for day and night operation of Chinooks, Seahawks, Blackhawks, Kiowas, Apaches, Ospreys, Sea Stallions and Little Birds. There is storage and launch capability via the stern ramp for Zodiacs, RHIBs and jet skis. The ship contained all the command and control and food services, including the ability to provide hot lunches between 2330 and 0030 hours. A ship, forward deployed for over a year, can easily disappear amid an ocean filled with commercial shipping.
MV Ocean Trader, along with Expeditionary Support Bases, such as Lewis B. Puller and USNS Hershel "Woody" Williams, and Spearhead-class Expeditionary Fast Transports, provide a unique capability to project military power afloat and ashore. Ocean Trader's commercial guise (like an auxiliary cruiser of old) provides stealth suitable for congested areas such as the Mediterranean or Baltic. Spearhead-class T-EPFs, like dozens of Incat and Austal catamarans around the world, also possess that capability to meld into the background or operate in the open, except for their Navy-gray exteriors.
The days of small radar signatures, applying special material to the hull, or suppressed sounds may just be giving way to the hoisting of false flags akin to the day of sail. While this may sound like a story from the age of piracy, MV Ocean Trader remains under contract to the United States through March 14, 2018, and she may be preforming missions as we speak.  
Salvatore R. Mercogliano is an Associate Professor of History at Campbell University in Buies Creek, North Carolina and teaches courses in World Maritime History and Maritime Security.  He is also an adjunct professor with the U.S. Merchant Marine Academy and offers a graduate level course in Maritime Industry Policy.  A former merchant mariner, he sailed and worked ashore for the U.S. Navy's Military Sealift Command.  He recently published Fourth Arm of Defense: Sealift and Maritime Logistics in the Vietnam War, available for free download through the Naval History and Heritage Command at: https://www.history.navy.mil/research/publications/publications-by-subject/Fourth-Arm-of-Defense.html.
Featured Image: M/V Cragside (Manuel Hernández Lafuente/ShipSpotting.com)