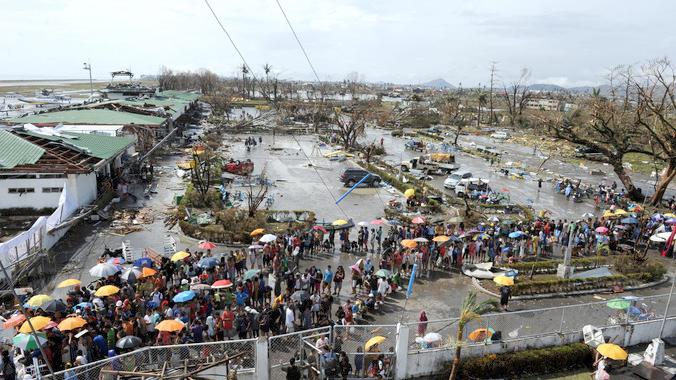 For those watching the news the past few days it should come as no surprise that Typhoon Haiyan (Yolanda locally) – one of the strongest ever to make landfall – has wreaked devastation across a central swath of the Philippines (and is headed in weakened state for Vietnam). The death toll could well top 10,000 and the naval forces of the Philippines, the U.S., and other nations are expected to help in the recovery efforts.
On Saturday Secretary Chuck Hagel announced that Pacific Command will initially provide "surface maritime SAR, medium-heavy helicopter lift support, airborne maritime SAR, fixed-wing lift support, and logistics enablers." Marines from 3rd Marine Expeditionary Brigade (MEB) in Okinawa, along with KC-130J Hercules, MV-22 Ospreys, and P-3C Orions are in the Philippines or expected to arrive shortly.
Naval forces may have been told in the days prior to 'lean forward', which would complete the journey soon for sustained Humanitarian Assistance / Disaster Response (HA/DR) efforts. These are in addition to the U.S. forces and AID efforts already present, mostly in the south of the nation.
I'm hearing "US Navy assets are leaning forward towards Philippines" but no official statement yet.

— Raymond Pritchett (@Galrahn) November 9, 2013
Meanwhile analysts and foreign observers are watching to see China's reaction – whether it comes in the form of aid or taking the opportunity to press its "changing the situation on the ground" approach to territorial claims.
Two ways to personally provide support to relief efforts are through the Red Cross and Team Rubicon. Please also remember the greatest need is often weeks after the initial disaster.