Christopher Barber is a Marine Corps Reserve Captain mobilized in the national capital region. While on active duty, he served in Helmand, Afghanistan as an Intelligence Officer and Scout Sniper Platoon Commander. He is a 2008 graduate of the United States Merchant Marine Academy and a USCG licensed deck officer.
A PIVOT, BUT WITH WHAT?
American strategic thought has been dominated by the recently self-proclaimed "pivot" to the Pacific and Asia. A student of history, or simple geography, can easily demonstrate that conflict in the Pacific has always, and will always, be a primarily naval endeavor. The same research will reveal that even with a naval focus, any future conflicts are likely to involve putting troops ashore in some fashion. However, seaborne basing, forcible entry, and general contingency planning for amphibious operations are at risk in our military's current force structure.
Sheer numbers show that the capability to move and fight amphibiously is at a relative historical low point. The US Navy does not indicate in its ship building priorities that this unsettling fact is likely to change. Unorthodox options such as using Maritime Preposition Force ships, auxiliary ships (MSC), or contracted merchant ships are not desirable for operational planners at this time due to the legal and political problems of sending these ships into harm's way. In light of our strategic desires and growing delta from our amphibious capabilities, the Navy/Marine Corps teams should reexamine these means to supplement capability until reason can guide (along with fiscal ability) necessary, capable amphibious forces.
WHAT HAPPENED TO THE GATOR NAVY?
The US Navy possesses its lowest number in history of amphibious vessels. There is currently questionable accounting concerning the ability to put an entire MEB (Marine Expeditionary Brigade) to sea. Latest estimates place the required ships to conduct forcible entry options with a MEB, deemed necessary for major combat operations, at 33.  Realistically, that number leaves no real reserve and more worrying is the open secret that we will not maintain this force level past 2015. MEUs and ARGs are staying out longer, and being split in order to fulfill operational needs. The 15th MEU, which captured Somali pirates in September 2010, was split conducting counter piracy while simultaneously supporting Afghanistan combat operations and theater reserve.
While such split operations are within the kit bag of the MEU, such practices dilute the nature of the ready force that is forward and concentrated. Current naval planning does not indicate these trends will reverse. In the near term, FY13 budgeted shipbuilding plans for the procurement of 10 combatant vessels, none of which are designed as amphibious troop carrying vessels.
Longer-term outlooks are no more promising, with the 30-year shipbuilding plan designating amphibious ships to remain the smallest portion of the surface ship layout. These trends indicate that while we point to a pivot in the Pacific, a lack of focus on the real possibility of amphibious operations exists in the Navy.  Amphibious operations would only make up a portion of the large pie of commitments facing the Pacific Fleet. Within the large spectrum of possible kinetic or non-kinetic operations in the Pacific, it can be predicted that any amphibious operation would be a decisive moment strategically and the planning should be weighted accordingly.
IN THE LACK OF CLEAR ORDERS AND GUIDANCE, ACT ACCORDINGLY
Viewed through the lens of history (Normandy, Inchon, or Guadalcanal) it is difficult to find any amphibious operations that did not mark a dramatic turning point in a campaign or war.  If it is then self-evident that such an event would be so strategically critical, why does the current plan to build and maintain such a force seem akin to a family choosing to forgo insurance while deciding to move to earthquake prone area? The prime stakeholder in any amphibious operation, the Marine Corps, cannot dictate the procurement of other services, but it should consider alternative courses of action to ensure its capabilities remain viable.
It is important to remember that any alternatives to procuring and maintaining a robust combatant amphibious fleet should be only temporary. To rely on merchant shipping or other means that are not 100% dedicated to amphibious operations under fire would be a fool's errand, but more dangerous would be to gap a crucial element of national power when the world is becoming more dangerous.
Numerous historical precedents counter the argument that only dedicated ships of war can be used under fire. Most apparent was the massive emergency nationalization of merchant shipping during World War II. Thousands of tons of civilian shipping, manned by civilian mariners, were mobilized and made a crucial contribution to winning the war. Losses were great, with 1,614 ships sunk from 1940 to 1947 (post conflict losses due to remnants of war) and 9,521 merchant seaman giving their lives in service to the country. Merchant seaman had a 1 in 26 chance of being killed in action, greater than that of any the four services. Clearly, our national history shows that civilian mariners are capable of risking all in service to their country.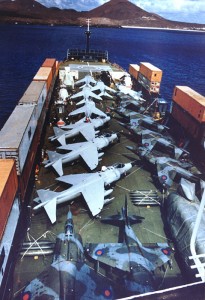 Another useful example is that of Great Britain during the Falklands war of 1982. In an economic situation eerily similar to today, the British government had to make many choices of need rather than want during the 1970s. Economic malaise led to drastic defense cuts, and all strategic guidance pointed toward the threat of the Soviet Union and continental Europe.  History demonstrated that war rarely happens where governments want or plan for it to occur. Only a year after London mothballed several of its carriers and amphibious ships, Argentina invaded the Falklands and presented operational and strategic challenges of the highest order to the British Government.  In an amazing example of military mobalization, Great Britain took two civilian container/roll on-roll off (RO/RO) ships and converted them to ad hoc helicopters and VTOL carriers. They carried Harrier GR.1's and Sea King Helicopters, and gave British commanders operational agility in the form of air cover and lift capacity. Tragically one of the ships was sunk along with several Royal Navy combatants.
The lesson to take away is that, while as much as we may want to envision a conflict of our choosing, it is more likely that we will end up faced with decisions we did not anticipate. If we have to create capability on the fly and mobilize merchant shipping after we are on the right sight of boom, our forces will face greater risks.
CAPABILITIES DO NOT APPEAR BY "JUST ADDING WATER"
Now is the time to begin planning for the worst. Using civilian shipping in amphibious operations is feasible and more cost-effective than waiting on billion dollar ships that have procurement cycles measured in decades. Training on the lower end of the conflict spectrum in operations such as humanitarian and disaster relief will increase civilian/ military amphibious force ability. Earlier integration into MEU and ARG structures to work out inevitable issues of interoperability will make the inclusion of merchant ships into higher spectrum operations a more risk tolerant option.
Most critically, planning for and using merchant shipping options now will keep our amphibious blade sharp, and capabilities will be less affected than if we remain on our current course of a letting them wither, and eventually die, on the vine. Few operations rival an amphibious movement in terms of complexity, and hoping for the best when marines and sailors conduct one under fire in the future is not only negligent, it is immoral. Utilizing the merchant shipping now and planning for its use until our amphibious force is stabilized is a viable strategy that deserves greater attention.