Alternative Naval Force Structure Topic Week
By Eric Beaty
The factors which color our view of the world have changed significantly since the end of the Cold War. That overarching conflict polarized the world's politics and drove the United States to build a naval force focused on blue-water combat against a peer competitor, but the demise of the Soviet Union left a much more complex world where the United States must be prepared to simultaneously counter myriad threats at multiple levels. There is not a uniform solution to every problem and there is not a uniform fleet for every theater. Luckily, the United States has three maritime services—the Navy, Coast Guard, and Marine Corps—with different core competencies covering a broad range of naval missions. Current investments in force structure can be maximized by focusing the maritime services on their preferred missions.
Some missions have historically been assigned according to service and platform, rather than warfare areas, which has led to small, orphaned communities in some services. These communities are too small to have many high-ranking alumni in overall service leadership. The resulting consequences include them being often misunderstood and undervalued, poor funding, poor career opportunities, few if any champions in service leadership, and so on. Even when they are appreciated and funded, niche communities lack economies of scale. Therefore, the way to ensure missions are properly funded and manned is to task an interested party to advocate for them, and each of the maritime services has missions they are most passionate about.
The naval force of the future would see a Navy endorsement of the territorial patrol missions of the Coast Guard and expanding the role of the Navy-Marine Corps amphibious team, but there would be no radical course corrections. Instead, naval missions would be assigned to "centers of excellence" within the services to manage the organization, training, and tactics of the joint forces which would execute such missions.
Navy – Combat on the High Seas
The U.S. Navy would manage the missions of blue-water combat: submarine and antisubmarine warfare, carrier aviation, surface warfare, air defense, and sealift. These missions are already clearly within the Navy aegis, so there would be no major change in their execution. By focusing on these core mission sets, and shedding the remainder which the Navy has been unenthusiastic about, the leadership would be refocused on areas where Navy doctrine, tactics, and procurement have been most refined. As such, the platforms of the blue-water Navy would not deviate much from their present and planned configurations.
Coast Guard – Patrolling Offshore
The U.S. Coast Guard would be the mission manager for coastal and offshore patrol operations, for both law enforcement and maritime safety. Under the umbrella of muscular law enforcement, the Coast Guard would manage not only patrols of the American coast, but also patrols off South America and Africa as well. Most of these vessels would be frigates, both U.S. Navy and allied, rather than white-hull Coast Guard cutters, but all would be dedicated to low-intensity constabulary missions. By keeping the peace along much of the world's coastline, the Coast Guard-led maritime patrol enterprise would free up high-capability vessels to deter peer competitors.
The worldwide maritime patrol enterprise would be led by the United States, with the nonjudgmental aim of maintaining the world's seaways under the control of accepted and functional governments, because even reticent governments make easier negotiating partners than ungoverned chaos. The simplest way to lead such an enterprise is to help equip and train it, so the United States Navy and Coast Guard would have extensive foreign military sales, partnership programs, and personnel exchange programs with allied maritime nations.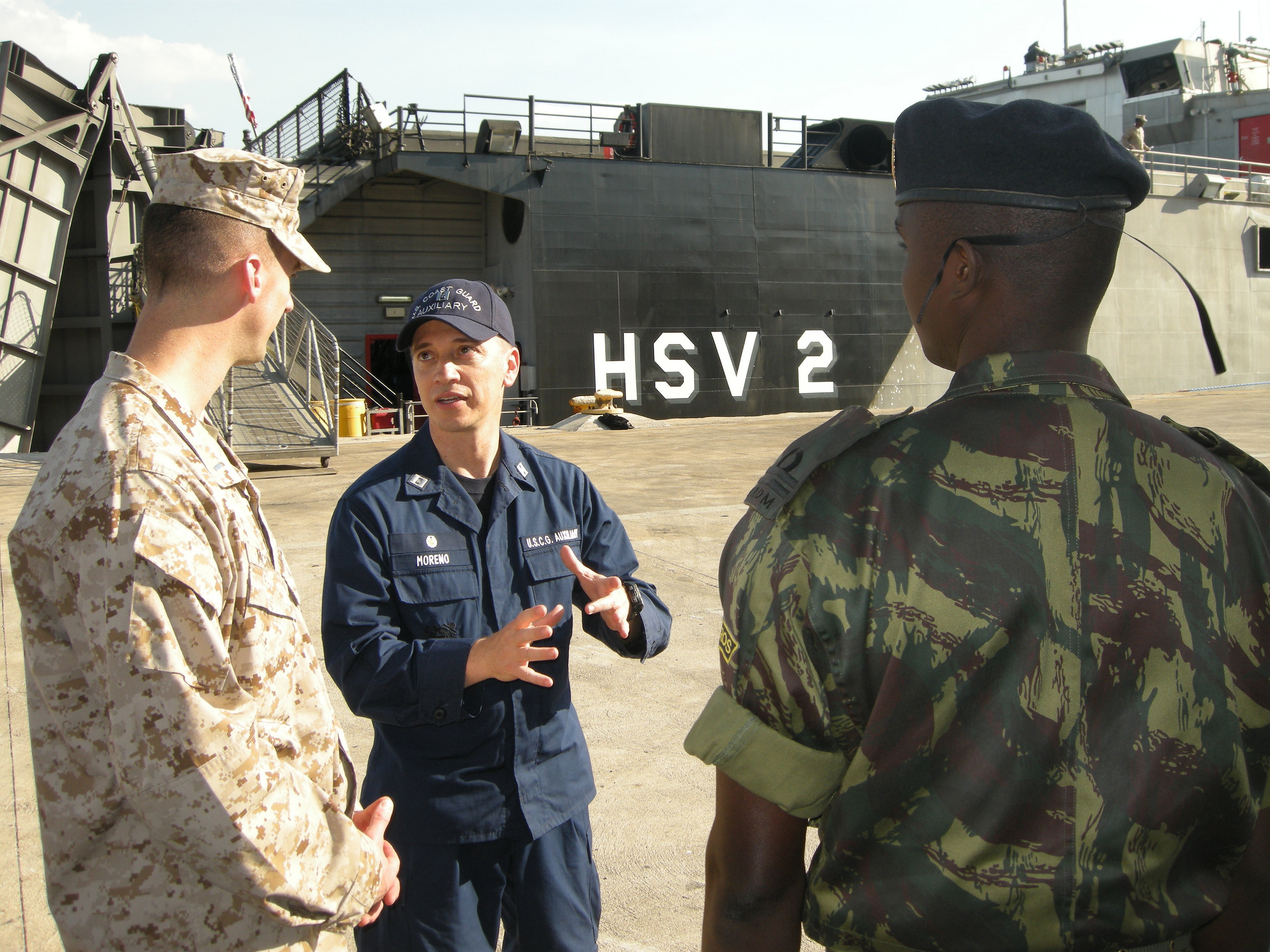 To make such a broad endeavor more practical, the Coast Guard's offshore cutters, the Navy's patrol frigates, and allied nations' warships would need to be common. The principal requirements would be low cost, ease of maintenance, and margins for growth. The basic warship would have a simple power plant, enough systems to operate as a minimalist patrol ship, and substantial space and weight left available for additions. Buyers could add additional fuel tanks and provisions storage, a variety of weapons, helicopter or boat facilities, or a host of other standardized modifications. While these frigates would be too small to add all options to every vessel, they would also be inexpensive enough that customers of modest means could still purchase them, and customers like the United States could purchase lots of them.
Built cheaply and in large numbers, flotillas of these semi-modular ships would patrol for pirates off Africa, drug smugglers in the Gulf of Mexico, or vessels in distress off North America. For patrol locations far from suitable ports, the Navy would reawaken the concept of tender vessels; using replenishment ships to establish at-sea bases to extend the on-station time of frigates and cutters. These tenders would provide fuel, provisions, spare parts, and a base for the flotilla's command element. By performing lower-threat missions economically, these frigates would free up the destroyers, cruisers, and carriers to concentrate in high-threat theaters, thereby maximizing combat power.
Marine Corps – Seizing the Littorals
While the Navy prepares to fight wars on the high seas and the Coast Guard leads patrol efforts in more stable theaters, the Marine Corps would manage naval missions across coastal seas and coastal lands. As the service tasked with crossing from sea to land, the Marine Corps is concerned with anything which could affect or impede an amphibious action, including the obvious amphibious tasks, but should now focus on missions like mine countermeasures and small boat operations. Afloat Marine forces are carried to battle by Navy amphibious assault ships and delivered to the beach by Navy landing craft, so there would remain a substantial Navy influence in certain elements, but the Marines would be the lead advocates for coastal mission capabilities.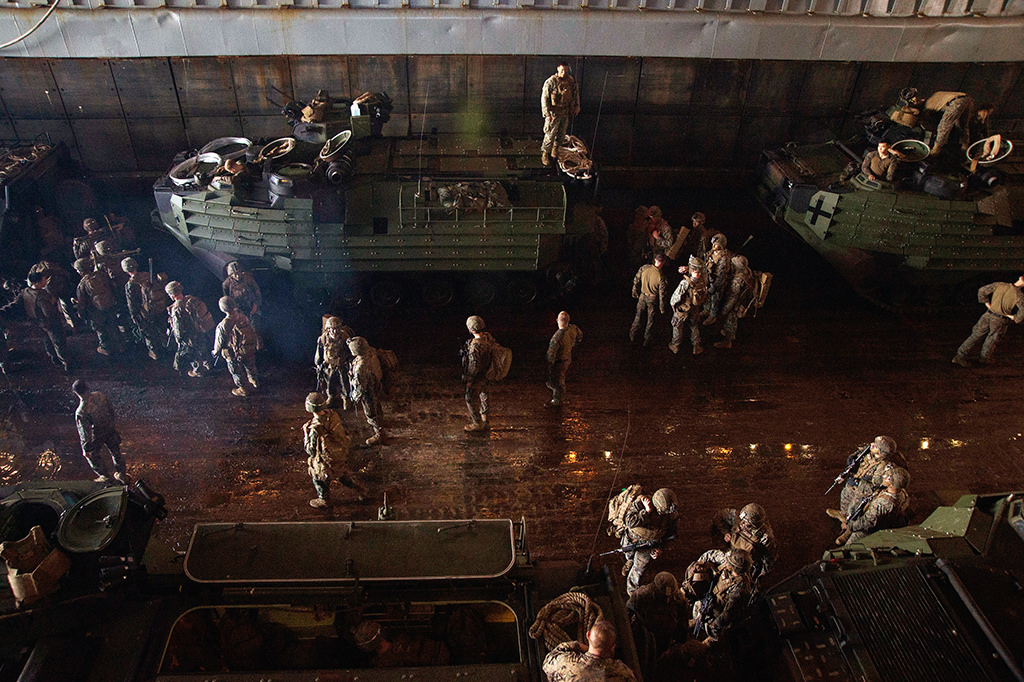 Navy destroyers, cruisers, and carrier battle groups would be responsible for clearing a path to the coastal area for the amphibious train, but the amphibious ships and their direct escorts would be responsible for fighting their way to the beach and enabling the landing force to cross it. To defeat small boat threats and provide fire support until the Marine landing force could establish artillery ashore, the amphibious train would be escorted by frigates (based on the common hull introduced above) specialized with the maximum number of naval guns possible. With these frigates, the amphibious force would be able to defeat enemy forces in waters too constricted for the blue-water warships to operate effectively.
Closer to the beach, mines would be the next threat to an amphibious landing. Rather than operate a separate fleet of minesweepers and mine countermeasures support ships, the Marine Corps-centered littoral force would base countermine detachments aboard the same amphibious assault ships carrying the landing force. Assault ships are designed with large well decks, copious storage, and substantial berthing space, making them best-suited to operate divers and unmanned countermine vehicles of all sizes. Furthermore, they have the flight decks to operate the CH-53K King Stallions that would take the airborne minesweeping mission from the Navy's MH-53E Sea Dragons as these aging helicopters are retired. Saving the Navy the purchase of new mine countermeasures ships would pay off in funding for extra amphibious landing ships and CH-53Ks, a doubly effective reorganization for the amphibious mission.
The Marine Corps would also take overall responsibility for the related riverine mission set. Outside of port security missions (which would fall under Coast Guard leadership), all coastal and riverine boat operations would become part of the permanent Navy-Marine Corps amphibious enterprise. Effective riverine operations include the same elements as amphibious landings—afloat mobility, fire support, and power projection ashore—so consolidation of the riverine and amphibious communities would create a deeper and more diverse base of experience for both missions. Integration with Marine Corps infantry, aviation, and artillery would make the riverine squadrons more effective in combat than they could be alone. Also, increased small-boat landing and raiding capability would increase the Marines' naval presence and take advantage of their unique maritime capabilities.
The Joint Naval Force in Action
This joint naval force of the future would perform in a very similar fashion to the present-day and historical naval forces, insofar as the various forces have capabilities available. Where the future naval force would excel is in peacetime administration and presence: more efficient management of missions would reduce redundancy and increase the number of forces available when and where they were needed for combat and deterrence. Transitory advantages like technology or brilliant leadership would come and go, but the future naval force would be organized to make the most efficient use of these advantages on the seas to achieve America's long-term goals.
LT Eric Beaty is an E-2C/D Hawkeye Naval Flight Officer, presently working ashore in D.C. The views express herein are solely those of the author and are presented in a personal capacity on his own initiative. They do not reflect the official positions of the Department of Defense.
Featured Image: PACIFIC OCEAN (July 18, 2016) – Cpl. Ryan Dills communicates with other assault amphibious vehicles while traveling from amphibious assault ship USS America (LHA 6) to Royal Australian Navy Canberra class amphibious ship HMAS Canberra (L02).  (U.S. Marine Corps photo by SSgt. Christopher Giannetti/Released)