By Tuan N. Pham
Singapore hosted the 2017 Shangri-La Dialogue (SLD) from June 2-4. The dialogue was well attended by defense ministers from the United States, Japan, Australia, New Zealand, Philippines, Indonesia, Malaysia, Singapore, Canada, and France, with other regional countries sending varying levels of defense representation. One conspicuous divergence from previous dialogues was the Chinese delegation, who curiously sent a relatively low-ranking representative. From 2013 to 2016, the Chinese delegation was led by a deputy chief-level People's Liberation Army (PLA) general officer. This year, Beijing sent Lieutenant General He Lei, the Vice President of the PLA's Academy of Military Science.
Many have speculated about China's motives, and Shannon Tiezzi of The Diplomat offers one of the best analyses to date. The focus of this article is to build on the extant analysis and explore whether the deliberate choice produced a diplomatic win or loss for Beijing. To do so, I will recap some of the rhetoric aimed at China during the SLD along with the Chinese response.     
China's Decision
Why did China send a "lower-ranking" representative with no formal government position and no apparent defense credential to lead its delegation to Asia's premier security forum? Tiezzi provided some possible explanations (analytical baseline) in her well-written article titled "Why is China Downgrading Participation in the Shangri-La Dialogue?"  She suggested that Beijing's decision was a preemptive and subtle refutation of the SLD's agenda, and pointed to a deeper problem that China has with the annual dialogue itself. The stated agenda of "upholding the rules-based regional order, practical measures to avoid conflict at sea, and nuclear dangers in the Asia-Pacific," made Beijing an easy target of reproach for its provocative actions in the South and East China Seas (ECS/SCS) and perceived inability to curtail Pyongyang's nuclear and ballistic missile development ambitions. Beijing also chooses not to discuss its maritime disputes in any multilateral forum, asserting that bilateral negotiations are the appropriate mechanism debating such contentious issues. The SCS is a recurrent SLD topic – and China, much to its chagrin, has little influence over the non-friendly –and the Chinese might say hostile – agenda.
Besides a desire for bilateral negotiations, other explanations for the lower-ranked SLD representation include Beijing not wanting to undermine its public diplomacy campaign of global governance and desire to extend its strategic momentum from the inaugural Belt and Road Forum (BRF) in Beijing 14-15 May and the 19th China-European Union (EU) Summit (CES) in Brussels 1-2 June. Since the release of a white paper outlining its updated foreign policies on "Asia-Pacific Security Cooperation" last January, Beijing has pushed a harder strategic narrative of global benevolence. China's guiding principles for its new altruistic foreign policy are based on its Confucian culture of universal peace and sharing, and are rooted in its belief that the 21st Century is an epoch of globalization and economic interdependence. Ideally, a strategic network will be established in all the regions of the world to achieve "universal peace, international order, and global prosperity."
China will increasingly be called upon to find solutions to global challenges (and opportunities), such as terrorism, climate change, free trade, and economic development. In his opening BRF remarks, President Xi Jinping stated that "we should build the Belt and Road into a road for peace, road of prosperity, road of opening up, road of innovation, and road for connecting different civilizations." While at the CES, Premier Li Keqiang said that China and the EU are "contributors and beneficiaries of world multipolarization and process of economic globalization, and under the current situation, China and the EU should confront the instability of the international situation with a stable bilateral cooperation." 
Note: On 2 June, Beijing unexpectedly announced the cancellation of the 2017 Xiangshan Forum – annual regional security conference organized by China and widely seen as a rival (counter) to the SLD – due to pressures at home and abroad. Cited reasons include major leadership reshuffles, clashes with other events, and a desire to allay fears of Asian neighbors.            
Rhetoric Aimed at China
Beijing's decision to downgrade its footprint at the SLD may not be so surprising considering the keynote speech by Australian Prime Minister Malcolm Turnbull, remarks by American Secretary of Defense James Mattis during the first plenary session (United States and Asia-Pacific Security), and comments by Japanese Minister of Defense Tomomi Inada during the second plenary session (Upholding the Rules-based Regional Order). Important highlights from these speeches include:
– Turnbull asserted that Asia's future peace and prosperity depend on preserving the rules-based regional order that has worked so well for so long. He suggested that China can only expand its strategic influence to match its economic might within the bounds set by the same rules-based regional order; implied that Beijing was undermining that order in Asia by unilaterally seizing or creating territory and militarizing disputed areas; warned that a coercive China would drive its regional neighbors to bolster alliances and partnerships between themselves and the United States; and exhorted his regional neighbors to assume greater responsibility for their own security and prosperity.
– Mattis called out China for disregarding other nations' interests and international law, militarizing the SCS, and undermining regional stability. He reiterated that the United States would continue "to fly, sail and operate wherever international law allows, and demonstrate resolve through operational presence in the SCS and beyond"; urged China to recognize that North Korea has become a strategic liability and cautioned Beijing that seeking cooperation on Pyongyang did not mean Washington would not challenge Chinese activities in the SCS; and restated the United States' steadfast commitment to the defense of Taiwan as outlined in the Taiwan Relations Act (TRA).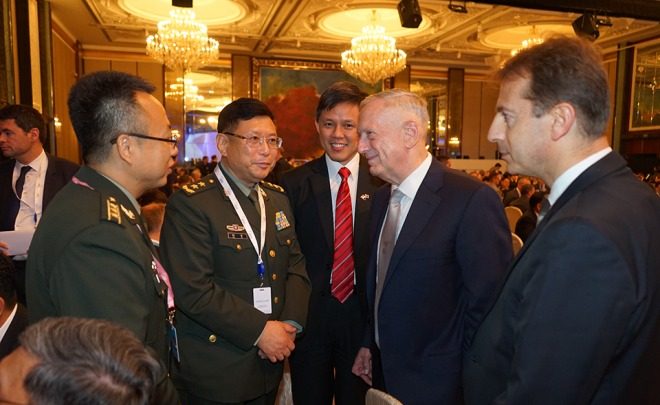 – Inada leveled similar criticism against China in her speech. She implied that Beijing bore most of the responsibility for the extant regional instability; criticized China for "unilaterally" altering the status quo in the ECS and SCS and undermining the rules-based regional order; called out China for its continued destabilizing militarization of the SCS; urged Beijing to follow international law and respect last year's tribunal ruling on the SCS; and expressed support for U.S. freedom of navigation operations in the SCS.
Chinese Response
The Chinese response was expectedly swift and coordinated, but ultimately uninspiring. The Chinese delegation held a media briefing on the summit's sidelines at the end of the second day, defending China's position as a rising power that abides by international law and the United Nations Convention on the Law of the Sea; repeating longstanding policy positions on Taiwan, North Korea, and SCS; and expressing frustration that Beijing is unfairly singled out for criticism. China's Ministry of Foreign Affairs followed the tepid response the next day and called out Mattis and Inada's statements on the SCS and Taiwan as "irresponsible" and recycled previous talking points:
– China has indisputable sovereignty over the Spratly Islands and their adjacent waters, and stays committed to peacefully resolving disputes with countries directly concerned through negotiation and consultation and upholding peace and stability of the SCS with Association of Southeast Asian Nations countries.
– China respects and safeguards all countries' freedom of navigation and overflight in the SCS under international law, but definitely opposes certain country's show of force in the SCS under the pretext of navigation and overflight freedom, challenging and threatening China's sovereignty and security.
– China builds relevant facilities on the islands and reefs of the Spratly Islands for the purpose of improving the working and living conditions for people stationed there, and better defending its sovereignty and performing China's international obligations and responsibilities.
– Thanks to the efforts of countries in the region, the situation in the SCS Sea has calmed down and turned positive.
– The Senkaku Islands have been part of China's territory since ancient times; patrol and law enforcement activities by Chinese government vessels in the relevant waters are justified and legitimate; China is resolute in safeguarding its territorial sovereignty and maritime rights and interests, and will continue with its patrol and law enforcement activities in the future.
– China's position on the Taiwan question is clear-cut and consistent; China stands firmly against the so-called "TRA" unilaterally made by the United States and requires the United States to honor the One-China policy and the three China-U.S. joint communiqués.
– China is clear and consistent about opposing relevant countries' deployment of the Terminal High Altitude Area Defense system, and again urge them to immediately stop the deployment.  
So What and Now What
Given the circumstances, Beijing may have miscalculated. By downgrading its presence at the SLD, China ceded the strategic narrative and initiative to the United States. Specifically, Beijing yielded Washington and its regional allies and partners a public platform to stake out their strategic positions, counter the Chinese strategic messaging, and further encourage China to become a more responsible global stakeholder that contributes positively to the international system.
To date, Beijing has "2 (wins), 2 (losses), and 1 (tie), and 1 (undetermined)" in major international affairs for 2017 – Xi underperformed at the Trump-Xi Summit; Xi recovered and outperformed at the BRF; Li acquitted himself (and China) well at the CES; the SLD delegation seemingly did not; and the inaugural U.S.-China Diplomatic and Security Dialogue (D&SD) resulted in no joint U.S.-China readout, fact sheet, or outcomes document – indications suggest dialogue made no significant progress on North Korea or the SCS; and the G20 Summit outcomes are still being ascertained. Next up are the Asia-Pacific Economic Cooperation (APEC) Leaders Meeting in Danang (Vietnam) 11-12 November, and the East Asia Summit (EAS) in Manila (Philippines) 13-14 November, and the second Trump-Xi Summit in Beijing (TBD).
All in all, the apparently poor showing at the SLD was a setback for Xi's 2017 strategic agenda. He wants and needs a successful diplomatic year to build political capital and momentum leading into the 19th National Congress of the Communist Party of China (CPC) in late 2017. There is widespread speculation that Xi is trying to promote more members of his faction to the Central Committee and the Politburo, a necessary interim step if he wants to change CPC's rules to serve an unprecedented third term as president (and/or retain his other two titles of general secretary of the CPC and chairman of the Central Military Commission) and maintain power and influence beyond 2022.
Tuan Pham has extensive experience in the Indo-Asia-Pacific, and is widely published in national security affairs. The views expressed therein are his own and do not reflect the official policy or position of the U.S. Government. 
Featured Image: Australia's Prime Minister Malcolm Turnbull speaks during the International Institute for Strategic Studies 16th Asia Security Summit in Singapore on June 2, 2017. (DOD photo by U.S. Air Force Staff Sgt. Jette Carr)