By CAPT John C. Devlin (ret.) and CDR John J. Devlin 
The US Navy has a long history of providing Humanitarian Assistance and Disaster Relief (HA/DR) to our partner nations. These operations are a vital part of US Navy maritime strategy by ensuring regional stability through building partner nation capacity and expanding our sphere of influence. When successful, HA/DR missions prevent atrocities and armed conflict. Admiral Mullen in his 2011 National Military Strategy said, "preventing wars is as important as winning them, and far less costly."1 The Departments of Defense and State need complementary strategies to export America's greatness and win the peace rather than win the war.  With the rampant expansion of barbaric totalitarian ideologies, collaboration is in America's best interest. CNO Admiral John Richardson expressed this more succinctly at the recent Future of War Conference: "I want to be the best at not fighting Russia and China."2
For this reason, the operational structure, manpower utilization, and assessments of impact for HA/DR missions will need to be studied and refined. Numerous articles have been written on CIMSEC and elsewhere concerning the paucity of US Navy ships and the extraordinary costs to build and maintain them. We have read about the rebalance to Asia where the Chinese are expanding along the nine-dash line and the pivot back to the Middle East where Russia, unopposed, began conducting an air campaign in Syria, followed by the Iran's reneging on the nuclear deal before the ink was dry. America needs to grow allies rather than trying to project military might in a global full court press.
In the USSOUTHCOM area of responsibility, both Russia and China strive to establish footholds of influence. Since 2005, China has invested $100 billion dollars in foreign aid to the region, while Russia has courted leadership in Cuba, Venezuela, and Nicaragua.3 To counter these activities, USSOUTHCOM engages in continuous partner nation capacity building bilateral and multilateral exercises. These exercises are augmented by humanitarian and civic assistance programs. In the USSOUTHCOM AOR, the biennial Operation Continuing Promise, delivered by the USNS Comfort (T-AH 20) platform, represents the major medical-civil engagement activity.
What is the ideal platform from which to deliver the HA/DR mission package?
USNS Comfort and her sister ship Mercy (T-AH 19) are large ships with an enormous operating cost.  Both are converted San Clemente class oil tankers whose keels were laid over 40 years ago. Maintenance of the vessels is costly, their suitability debatable, and their funding is continually in jeopardy.4 Additionally, the vessels' drafts are 33 feet, forcing them to anchor well offshore in most locations, transporting personnel by two unstable organic tenders and transporting equipment by helicopter. The Continuing Promise 2015 Directorate of Medical Services Lessons Learned identifies transportation delays as a significant negative impact on mission package delivery.5 Many feel that Comfort's value, impact-to-operating cost ratio, is rapidly declining and this is reflected in the Navy's 2016 budget reduction of 150 full operating status per diem days for USNS Comfort.6
Perhaps linking this mission with scheduled deployments would be more cost effective and yield greater regional impact. Global fleet stations (GFS) have been proposed by Captain Wayne Porter.  "Global fleet stations were to operate in cooperation with host nations, and would provide basing facilities for U.S. federal agencies and nongovernment organizations… as a way to shape regional security by using capabilities that would normally have been considered support functions."1 A pilot GFS was initiated in April of 2007 using the high speed HSV 2 Swift tasked from USSOUTHCOM. The next year Naval Surface Warfare Center Carderock Division published a paper titled:  Global Fleet Station: GFS Station Ship Concept. These global fleet stations are akin to the new Afloat Sea Basing ships. They support LCACs and other amphibious craft and aircraft. Expanding their role to scheduled humanitarian assistance tasks might be in the best interest for regional security and expansion of US sphere of influence. Other options include utilizing LHD and LHA platforms. These amphibious landing ships possess hospital bed capacity for hundreds of patients, including critical care beds, and up to four operating rooms.7 Both the GFS Ship Station concept and amphibious landing ship option utilize air-cushion landing craft (LCAC).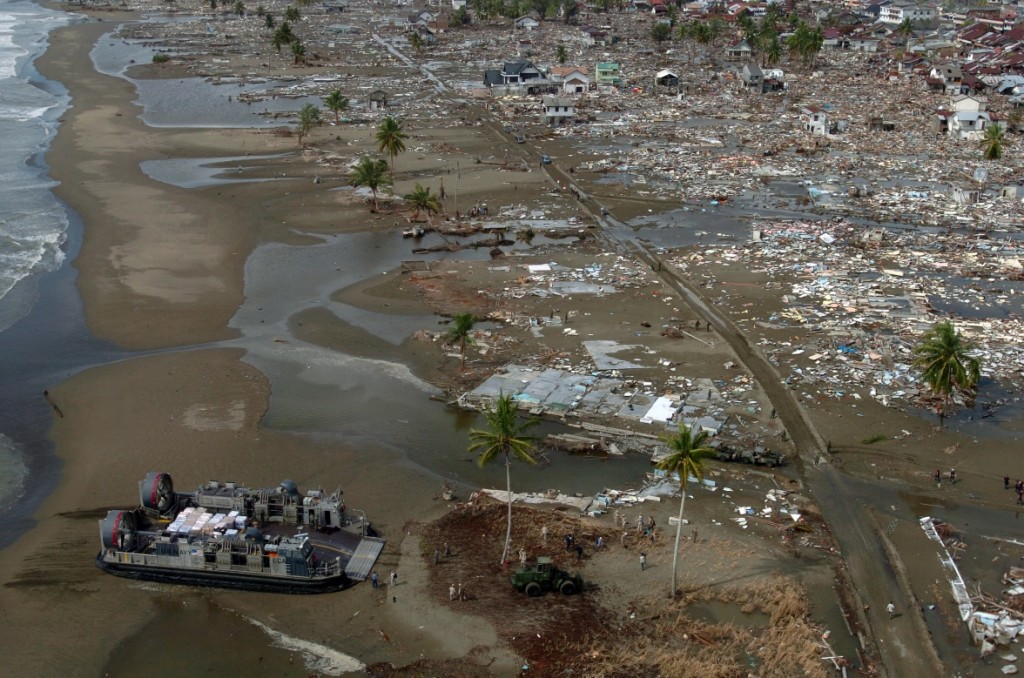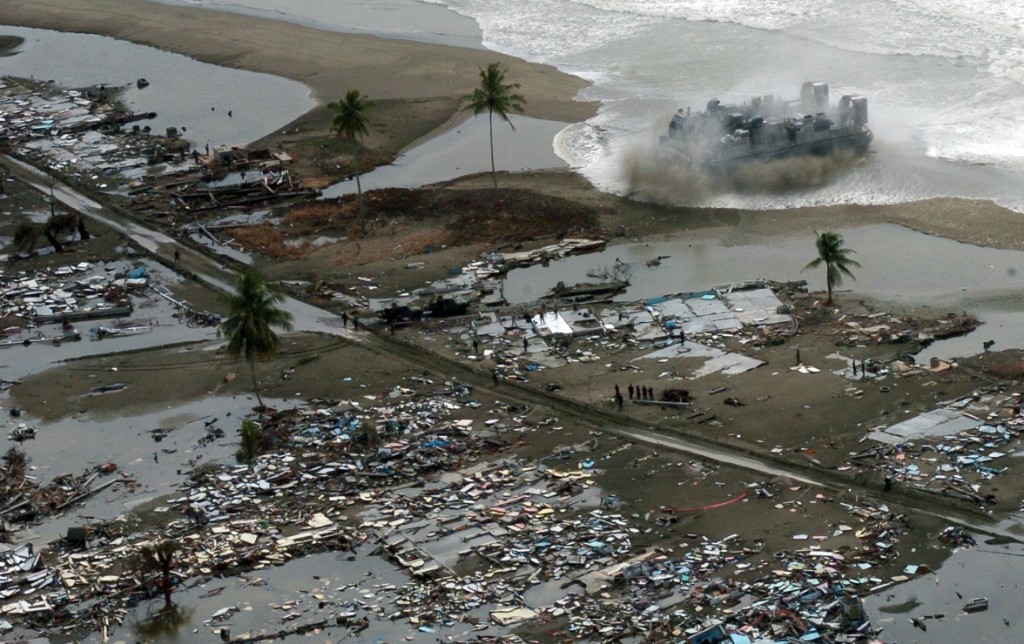 Use of the LCAC would ameliorate identified mission inefficiencies associated with the use of existing organic tenders and locally procured commercial tenders. The LCAC can operate in 70% of the earth's littoral regions.  It does not require pier-side support. It can carry CONEX containers outfitted as mobile clinics to perform routine clinical procedures or more advanced mobile surgical suites. Using the LCAC in this role would necessarily mean a greater number of them, which could be converted to their traditional amphibious mission when necessary.
How are personnel most effectively leveraged to accomplish the HA/DR mission?
According to the Foreign Assistance Act of 1961, the "principle objective" of US foreign aid is "the encouragement and sustained support of the people of developing countries in their efforts to acquire the knowledge and resources essential to development, and to build the economic, political, and social institutions that will improve the quality of their lives." This principle objective harmonizes well with the Core Humanitarian Standard on Quality and Accountability, essentially the consensus document which informs non-governmental humanitarian activities.8 One of the principle mechanisms by which USNS Comfort personnel contribute to partner nation capacity building is through subject matter expert exchanges.
Subject matter expert exchanges (SMEEs) are collaborative efforts where physicians, nurses, educators, and other healthcare domain experts meet with partner nation peers to discuss common goals, best practices, and perspectives unique to each nation. In the end, partner nations learn about technology and practices that may improve healthcare delivery in their country and US personnel learn about cultural and regional context of healthcare delivery, improving future interoperability for contingencies. Ultimately, SMEEs build partner nation capacity and, therefore, adhere to the "principle objective" for US foreign aid while fostering goodwill and facilitating Navy familiarity. SMEE participants are often leaders and decision-makers in their own right or are closely associated with their country's leadership, thereby, quickening our sphere of influence.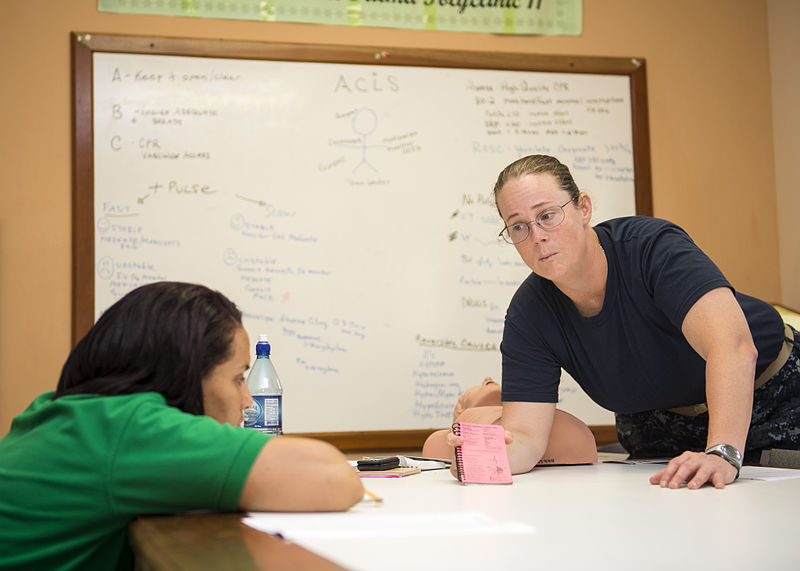 Manpower to fulfill the partner-nation requested SMEEs is drawn from the same manpower pool as that which supports the medical engagement sites and surgical activities. Metrics reported up the chain of command include numbers of patients seen at medical engagement sites, number of procedures performed, number of subject matter expert exchanges occurring, and number of construction projects completed. However, these individual activities do not receive equal attention. The progression of USSOUTHCOM public affairs newsroom publications demonstrates the drift in focus away from capacity building and toward short-term successes. By the midway point of Operation Continuing Promise 2015, public affairs had stopped highlighting the number of community assistance projects and expert exchanges, showcasing only the numbers of patients seen and surgeries performed.9 At any given time, less than 10% of provider manpower was leveraged for capacity-building through subject matter expert exchange while the majority was dedicated to onboard surgical support and direct patient care ashore at medical engagement sites.  This manpower distribution is not in alignment with the principle objective of US foreign aid and sacrifices long-term impact for short-term gains. Future missions should focus on SMEEs in lieu of patients seen with the requisite manpower distribution.
How do we determine the success of HA/DR missions?
US medical-civil engagements foster collaborative solutions to mutual problems and strengthen regional partnerships. In this sense, US Department of Defense medical-civil activities are a form of battlespace-shaping. However, what performance metrics can we employ to determine success and impact in military global health engagement?
Identifying the most meaningful performance metrics has been elusive. A 2009 USAID critique of its evaluation practices found that only 9% of the 296 evaluations utilized an experimental design with randomization and control-group comparison.10 Developing metrics for Department of Defense humanitarian activities has been equally elusive. Some have suggested tracking indicators of general health such as sanitation, pediatric injury rates, and access to dental care.1,11 Unfortunately, improvements in these indicators of healthcare are difficult to attribute to an individual military operation.  
However, use of civilian marketing influence metrics may inform the military's evaluation of humanitarian and civil engagement activities. As opposed to patients seen and procedures performed, measures of effort, defense strategists and military planners should focus on post-operation measures of impact. Social media and internet surveillance are excellent tools by which to measure success. Civilian marketing experts evaluate "brand" and "influencer" metrics to determine if resources allocated to a particular marketing campaign yield sufficient market return.12 Similarly, defense analysts and/or our host nation counterparts could partner with social media providers and other information technology professionals to determine several metrics:
Using IP address origins, determine how much message traffic is generated in general and to US healthcare or humanitarian agency websites specifically after a medical-civil health engagement concludes.

Identify if there is a surge in how many times the US is mentioned online.

Track how many white papers or fact sheets are downloaded from US aid agencies or healthcare websites.
Additionally, communication with USAID could determine how many new inquiries to State Department representatives in the partner nation are received and how many new medical-civil engagement projects were organized after USNS Comfort's departure.
These metrics better indicate long-term impact of humanitarian missions, degree of influence gained after these missions, and could better inform decisions regarding how frequently a recurring mission should return to a location. Although social media metrics are limited as they only represent areas of Latin America where internet is relative accessible, the region is an emerging market and internet accessibility is predicted to expand exponentially in the near future.13
Conclusion
The Navy's HA/DR missions in general and Operation Continuing Promise specifically will play a larger role in cultivating regional influence during peacetime and battlespace-shaping for future combat operations. For this reason, the operational structure, manpower utilization, and assessments of impact for HA/DR missions should be studied and refined. Use of alternative operational platforms, more flexible manpower allocation, and alternative metrics of success could improve mission accomplishment and potentially supplement task organizations in times of war.
John C. Devlin, CAPT (ret), USN, Director of Navy Programs, ISPA Technology, Inc.
John J. Devlin, MD, CDR, USN, Emergency Physician / Officer-in-Charge, Medical Engagement Sites, Operation Continuing Promise 2015.
The views expressed in this article are those of the author(s) and do not necessarily reflect the official policy or position of the Department of the Navy, Department of Defense, or the United States Government.
References
Haynes PD, Toward a new maritime strategy. Naval Institute Press, Annapolis, MD, 2015.
McGrath B, "'You're gonna need a bigger boat': Principles for getting the US Navy right," March 14, 2016. Available at http://warontherocks.com/2016/03/youre-gonna-need-a-bigger-boat-principles-for-getting-the-u-s-navy-right/, accessed March 20, 2016.
Kelly JF, Posture Statement of General John F. Kelly, USMC, Commander, US Southern Command, March 12, 2015. Available at http://www.southcom.mil/newsroom/Documents/SOUTHCOM_POSTURE_STATEMENT_FINAL_2015.pdf, accessed March 20, 2016.
Cahn D, "No comfort: Cuts leave hospital ship at Norfolk pier," August 3, 2013. Available at http://pilotonline.com/news/military/no-comfort-cuts-leave-hospital-ship-at-norfolk-pier/article_00e6e9ac-dcc5-59c1-9833-14f1c49e16bb.html, accessed March 20, 2016.

Continuing Promise 2015 DMS Lessons Learned document, September 21, 2015.

Department of the Navy Fiscal Year 2016 Budget Estimates, Operation and Maintenance: Justification of Estimates, February 2015. Available at http://www.secnav.navy.mil/fmc/fmb/Documents/16pres/OMN_Vol1_book.pdf, accessed March 20, 2016.

http://fas.org/man/dod-101/navy/unit/dept-lhd-3.htm#MEDICAL, accessed March 20, 2016.

Core Humanitarian Standard. Group URD, HAP International, People in Aid, and the Sphere Project, 2014. Available at http://www.corehumanitarianstandard.org/files/files/Core%20Humanitarian%20Standard%20-%20English.pdf, accessed March 20, 2016.

http://www.southcom.mil/newsroom/Pages/Continuing-Promise-2015.aspx. Accessed March 20, 2016.

Trends in Development Evaluation Theory, Policies and Practices, USAID, August 17, 2009.

Haims MC et al., "Developing a prototype handbook for monitoring and evaluating Department of Defense humanitarian projects." RAND Corporation, Santa Monica, CA, 2011.

Brown D, "Six Easy Metrics to Measure an Influence Marketing Campaign", available at http://dannybrown.me/2014/06/03/six-easy-metrics-to-measure-an-influence-marketing-campaign/, accessed March 20, 2016.

Americas Quarterly, "Sixty Percent of Latin Americans Will Have Internet Access in 2016," May 8, 2015. Available at http://www.americasquarterly.org/content/sixty-percent-latin-americans-will-have-internet-access-2016, accessed 3/20/2016
Featured Image: During a five-month deployment to Southeast Asia, medical teams and crew return to hospital ship USNS Mercy via one of two utility boats following a day of providing medical care to the Zamboanga region of the Philippines. Photo by MCC Edward Martens.