The Southern Tide
Written by W. Alejandro Sanchez, The Southern Tide addresses maritime security issues throughout Latin America and the Caribbean. It discusses the challenges regional navies face including limited defense budgets, inter-state tensions, and transnational crimes. It also examines how these challenges influence current and future defense strategies, platform acquisitions, and relations with global powers.
"The security environment in Latin America and the Caribbean is characterized by complex, diverse, and non-traditional challenges to U.S. interests." Admiral Kurt W. Tidd, Commander, U.S. Southern Command, before the 114th Congress Senate Armed Services Committee, 10 March 2016.
By W. Alejandro Sanchez
A three-ship training flotilla belonging to the Republic of China (ROC/Taiwan visited Central American and Caribbean states as Taipei strives to maintain close ties with regional allies. Taiwan regularly sends high-ranking defense officials and flotillas as part of goodwill initiatives in the Western Hemisphere, these initiatives will be even more important as the Dominican Republic announced at the end of April that it would sever relations with Taiwan and establish them with the People's Republic of China.
 Friendship Flotilla 2018
Taiwan's friendship flotilla No. 107 (Flotilla de la Amistad in Spanish), is comprised of "Pan Shi, a modern and sleek Fast Combat Support Ship, Pan Chao, an older, U.S.-designed frigate, and Kuen Wing, a more recent, French-made stealth frigate," according to AFP. There are around 800 personnel on board in total, including an unspecified number of cadets from the ROC Naval Academy who are utilizing the voyage to learn how to operate in the high seas.
The flotilla commenced its training voyage by first visiting the Marshall Islands; while in the Western Hemisphere it visited the Dominican Republic, El Salvador, Guatemala, and Nicaragua. The local and Taiwanese media have covered the visit during each port call. For example, the  Nicaraguan newspaper El Nuevo Diario has noted that the last time a Taiwanese flotilla visited the Central American country was in 2016 while other outlets mentioned that this is the sixth time that such a visit has occurred.
Meanwhile the Minister of Defense of El Salvador, Munguía Payés, reportedly praised bilateral relations, stating that "the armed forces of El Salvador and of Taiwan … are and will always be an important factor not only when it comes to the internal security of our respective nations but also supporters of development and guarantors of democracy."
Taiwan, China, and Latin America
Even with recent advances in naval technology and the ability to resupply at sea, it is still necessary for vessels traveling far from their nation's territorial waters to be allowed to dock at friendly ports and conduct exercises with friendly naval forces from other nations. The problem is that Taiwan is running out of ports in the Western Hemisphere to dock its naval platforms and engage in constructive naval initiatives with friendly forces as regional governments switch from recognizing Taipei to Beijing. As previously mentioned the DR switched at the end of April, Panama switched in 2017, while Costa Rica did the same a decade ago, in 2007. The DR's switch is somewhat embarrassing to Taipei, as the flotilla docked in Santo Domingo in mid-April, only to have the Dominican government switch to Beijing two weeks later.
While Beijing is gaining new allies in the Western Hemisphere, Chinese naval presence in Latin America and the Caribbean is pretty limited: a destroyer Shijiazhuang and the supply ship Hongzehu visited Chile in 2009; four years later, destroyer Lanzhou and frigate Liuzhou visited Argentina in 2013. Additionally, China's Peace Ark (866 Daishan Dao), a Type 920 hospital ship that is operated by the People's Liberation Army Navy, has visited the Western Hemisphere as part of "Harmonious Mission 2011" and "Harmonious Mission 2015." Nevertheless, if more regional governments recognize Beijing (and there are constant rumors about which will be the next country to do so), and as Beijing seeks to project its naval presence well past its borders, there may be a larger Chinese naval presence in the Western Hemisphere in the coming years.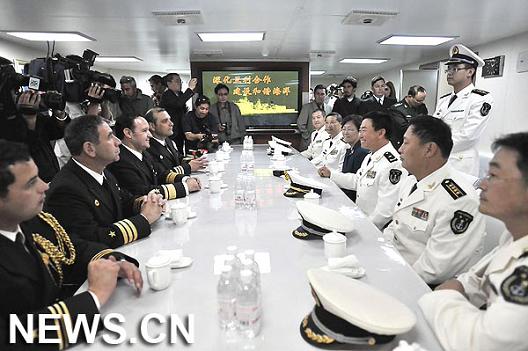 The Flotilla in Context
The visit of the three-vessel Taiwanese flotilla in itself is not meaningful as Taiwan does not have bases in the Western Hemisphere, nor does Taipei have some kind of collective security-type defense treaty with regional countries. In other words, this visit does not signify that Taiwan would come to the aid of one of its regional partners, should one of them be attacked by a third party. Hence, the international media has placed the visit in the context of Taipei-Beijing and Taipei-Washington relations; for example Reuters published a piece titled "Taiwan warships drop anchor in Nicaragua amid sinking ties with China," while the Strait Times titled its own report on the subject, "China demands halt of U.S. arms sales to Taiwan, as island stresses Central America ties with navy visit."
Additionally, given ongoing tensions with China, there have been a number of reports about the Taiwanese Navy undergoing  a modernization process to obtain new platforms. There have been similar discussions in Washington regarding what kind of weaponry should the U.S. sell Taiwan. It is worth noting that in 2017 the Taiwanese Navy received two decommissioned Oliver Hazard Perry-class frigates but ongoing Washington-Beijing tensions seem to hint that more modern equipment (including submarine technology) could be sold to Taipei as part of ever-changing geopolitics in Asia.
While the recent visit of a Taiwanese flotilla will not affect Central American or Caribbean geopolitics, its use is more symbolic, as it demonstrates that the Asian nation strives to maintain diplomatic relations with its remaining friends in the Western Hemisphere. Taiwan's naval diplomacy, unlike similar initiatives by other countries, is not so much about maintaining cordial defense relations, but maintaining diplomatic relations. Countries like El Salvador and Nicaragua still recognize Taiwan, but the recent loss of DR, which occurred right after the flotilla visited the country, is an example that such initiatives, defense and others, must be constant.
W. Alejandro Sanchez is a researcher who focuses on geopolitical, military and cyber security issues in the Western Hemisphere. Follow him on Twitter: @W_Alex_Sanchez.
Featured Image: Nicaraguan students wave Taiwanese flags to welcome three Taiwanese Navy warships at Corinto port, some 149km north-west of Managua, on April 9, 2018. (Photo: AFP)