CIMSEC content is and always will be free; consider a voluntary monthly donation to offset our operational costs. As always, it is your support and patronage that have allowed us to build this community – and we are incredibly grateful.
[dntplgn recurring_amt1="5″ recurring_amt2="10″ recurring_amt3="20″ item_name="Consider donating to CIMSEC"]
The following piece is written by the Conference of Defense Associations Institute's David McDonough, and can be found in its original form here. It is republished with their permission.
On 2 August 2015, Prime Minister Stephen Harper asked Governor-​General David Johnston to dissolve Parliament – and dropping the writ for what promises to be one of the longest election campaigns in recent history. As I write this, the election is now in full swing, with the first leaders debate having taken place a few weeks back (and an unknown number to go), all parties ramping up their fundraising and "ground game," political ads increasingly dominating the airwaves, and still with almost two months to go.
All three major political parties (Conservatives, NDP, Liberal) have already staked out different positions on key security and defence issues. The Conservatives have now promised to expand the Reserve Force from 24,000 to 30,000 personnel in its next mandate, which represents a return to its original 2008 Canada First Defence Strategy promise, albeit at a much quicker rate. The Liberals, on the other hand, have pledged $300 million annually for military support programs, including lifelong pensions for injured veterans.
Of course, it remains to be seen if the next government's funding envelope will increase sufficiently to fulfill either campaign promise. Interestingly, rumours already abound that the NDP may soon propose a small increase in defence spending, which would represent an important turnaround for a party historically ill-​inclined towards national defence and overseas military operations. But whether such rumours materialize as campaign promises, and are actually acted upon, is more uncertain.
Yet what is most noticeable about the campaign so far is that defence has been a relatively quiescent topic – a fact that many informed commentators have noted. Even in the 2011 election, political leaders were quick to raise the issue of Canada acquiring the controversial F-​35 aircraft (or, in the case of the government, to defend that decision).
Today, the government faces an even more uncertain procurement record – not least when it comes to fleet replacement for the Royal Canadian Navy (RCN), evident in the continuing delays in the acquisition of major surface combatants, Arctic ships, and supply ships.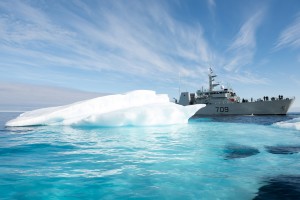 Indeed, some worrisome gaps in naval capabilities have now emerged, given the decommissioning of its supply ships (sorely needed for the RCN's blue-​water operations) and destroyers (with their crucial command and control and area air defence capabilities). The sole remaining destroyer, HMCS Athabaskan, was damaged in a storm earlier in the year and is currently being repaired in Halifax. But some say the ship is no longer seaworthy, and even with repairs, few people expect it to remain operational for long – perhaps not even until its planned retirement in 2017.
The procurement problems might be most acute for the RCN, but they are far from confined to naval matters. One need only look at the Royal Canadian Air Force's (RCAF) fighter-​aircraft replacement. Several years after announcing the F-​35 with great fanfare, we appear to be no further along in selecting (let alone procuring) a replacement aircraft for our aging CF-​18 fighters and the government continues to meagrely extend the life of its current air fleet.
Fortunately, we have had some recent good news on procurement, such as the long-​delayed acquisition of the CF-​148 Cyclone maritime patrol helicopter and the commissioning of an interim supply ship to be built at Davie Shipyard (as well as leased ships from Spain and Chile to handle refueling along the east and west coasts, respectively). Furthermore, the successful HCM/​FELEX modernization of RCN frigates, which will entail crucial command and control upgrades and improved air defence systems, partially compensates for the loss of our destroyers.
Yet such announcements do little to hide the many procurement failures over the past several years. The government even seems to have tacitly accepted such a criticism, as shown by their efforts to fix defence procurement with the 2014 Defence Procurement Strategy, although little in the way of concrete evidence on improved efficiency and effectiveness has resulted.
To be sure, it is still very early in a rather extensive election campaign. As such, discussion on the absence on defence issues seems premature. The Munk Debate between political leaders scheduled for September will focus on foreign policy, and one would expect that defence procurement and the country's broader security policy will be discussed in more detail. Neither the NDP nor the Liberals have put out their own defence policy platforms, and both will likely speak more openly about such issues once their platforms are finally released.
Even then, however, defence issues will likely remain far from the forefront of policy platforms in this election. Simply put, as important as such issues may be, elections are almost never won or lost on defence, national security, or foreign policy in Canada – as all political parties are well aware. It is the economy that has been the pivot by which elections are often determined, even if a case can be made that security and defence should then be a close second. However, one needs to go back to Diefenbaker's defeat in 1963 for the last time such issues took centre stage in Canada.
On top of that, as Steve Saideman has recently said,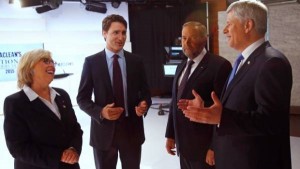 "[n]one of the three parties are going to want to actually talk about this." The Conservatives are unusually weak on the defence procurement file, so it is only natural that they would prefer to focus on other issues. The NDP might be keen to criticize the government's handling on this issue. But their supporters will likely be wary of the party drifting too close to the military, especially in light of the more centrist positions the party has staked on economic matters in recent months. And the Liberals have their own historic baggage, given that it was under Jean Chrétien that many of the challenges facing the Canadian Armed Forces began to mount.
Still, if it was only a question of procurement management, both the NDP and Liberals would likely show greater emphasis on this issue, especially as it does not reflect well on the Conservative claim of being competent and sound managers of government. But, as the Parliamentary Budget Office notes, the real challenge facing Canadian defence policy and procurement is a financial one – specifically a budgetary shortfall of between $33–42 billion, which ongoing procurement delays and management issues have increased. Consequently, it is likely that neither opposition party will be eager to address such an issue; not the NDP, which have never been close to the military and are now eager to show their fiscal bona fides, and not a Liberal Party currently reminding the electorate of their past stewardship of the economy.
In that sense, the absence of defence issues in this election really comes down to a question of money. Simply put, addressing defence challenges requires a greatly expanded defence budget (or at least a significantly altered force structure, which might no longer be "multi-​purpose" or indeed "combat-​capable," if one is not careful). And it is likely that no political party would be willing to countenance such a prospect.
The Conservatives would prefer to offer promises of significant funding in the future, with no guarantee such a promise would be kept. If rumours are to be believed, the NDP might accept a minor increase in funding – although this will likely result in a modified force structure geared towards less combat-​focused operations, as described in a recent Rideau Institute-​CCPA report – and which I have criticised elsewhere (here and here). It remains to be seen what approach the Liberals will ultimately pursue, but it is difficult to be optimistic.
Political parties focus on getting votes. And unless voters cast their ballot on issues on security and defence, such matters will remain of secondary (if not tertiary) importance. This is an unfortunate situation. It would certainly behoove politicians to treat such issues with both thought and seriousness, as part of their responsibility to safeguard the country and its citizens. And, given the sizable number of serving and retired military personnel and their families, many of whom still pay close attention to such issues, they might even find an unexpected electoral benefit of treating security and defence like a statesman rather than a politician.
Of course, if the past is any indication, I also don't really expect things to change any time soon. It is not without reason that Winston Churchill stated that "Democracy is the worst form of government, except for all the others."
This article originally featured at the CDA Institute and can be found in its original form here. 
David McDonough is Research Manager and Senior Editor at the Conference of Defence Associations Institute, and a research fellow at Dalhousie University's Centre for Foreign Policy Studies. He received a PhD in Political Science from Dalhousie University in 2011. He tweets at @DS_McDonough. (Candidate Image courtesy of Mark Blinch/​Reuters; Images of Vessels courtesy of the Royal Canadian Navy webpage).