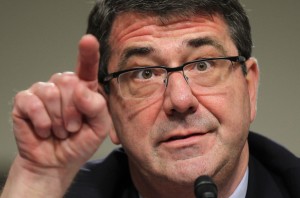 On Tuesday Dr. Ashton Carter begins his tenure as Secretary of Defense. While many observers regard Dr. Carter as a caretaker nominee tasked to mildly manage the Department of Defense (DOD) during the President's last two years of office, the experienced and capable Dr. Carter has the potential to do much more. His strategy as Secretary should have three priorities.
First, Dr. Carter must develop new concepts and field new capabilities necessary to assure the ability of the United States to deter and defeat aggression, in particular by China. While the U.S. military was largely focused on Iraq and Afghanistan, China developed formidable Anti-Access/Area Denial (A2/AD) capabilities that threaten U.S. allies and partners in the vital Asia-Pacific region and complicate U.S. operations. While multiple states, including Russia and Iran, are fielding A2/AD capabilities, and while A2/AD capabilities may continue to proliferate globally, the ability of the United States to deter and defeat Chinese aggression serves as a bellwether for U.S. capabilities worldwide.
In response, Dr. Carter should articulate to the public that China will serve as DOD's pacing threat and that DOD's recently unveiled Third Offset Strategy will seek to counter Chinese capability, just as the First and Second Offset Strategies countered Soviet capabilities. While many of the activities of the Third Offset Strategy should be classified, two key indices can serve as palpable indicators of progress. First, whether funding is reapportioned from the Army to the departments most relevant in a conflict with China: the Air Force and the Navy. Dr. Carter will have the Fiscal Year 2017 budget to do so. Secondly, within the Services, DOD must adequately fund and accelerate programs relevant in the most operationally stressing scenarios involving China. In many cases, these are crucial capabilities that the Services have been slow to develop for a variety of reasons. For instance, for the Navy, the ability to rapidly reload weapons while underway at sea; for the Air Force, a credible effort to harden and disperse airfields throughout the Western and Central Pacific; and, for the Army, the development of conventional intermediate-range offensive missiles similar to those currently fielded by China (and possibly Russia).
Dr. Carter's second priority should be advocating for the nation to return defense spending to pre-sequestration levels. Former Secretary of Defense Leon Panetta warned that allowing sequestration to happen would be like, "Shooting ourselves in the head." The Department's own Quadrennial Defense Review warned that, under sequestration-level cuts, risks to our nation "would grow significantly." After these cuts took place, DOD slashed readiness and force structure in order to preserve a modicum of modernization funding. This has resulted in an increasingly hollow force incapable of appropriately facing the nation's increased scale of threats in Eastern Europe, the Middle East, and the Western Pacific. While increased funding for DOD alone is insufficient, it is perhaps Dr. Carter's most challenging priority given a seeming lack of interest and will in Congress and the White House.
His third priority should be ensuring DOD funds are spent efficiently. The dramatic rise in DOD overhead costs, such as pay, benefits, and bases, is crowding out funding available for warfighting. This is producing a military that is better compensated than ever before, but dangerously unprepared for a major war. Dr. Carter must convince the President and Congress to enact significant military compensation reform and a new round of Base Realignment and Closure (BRAC). The opening of hearings on the congressionally-mandated Commission on Military Compensation and Retirement Modernization represents a bipartisan opportunity for Congress to take action against spiraling personnel costs. As with a new round of BRAC, Congress will need to demonstrate bipartisan leadership to overcome pressure from interest groups, allay the concerns of current and retired military members, and enact these essential reforms.
The security challenges facing our nation are numerous and unrelenting, not the least of which is continued combat in Afghanistan. With only two years in office, it is unlikely Dr. Carter will be able to reform the entire defense enterprise and address every threat. However, by focusing on these three priorities, he can surprise skeptics and set the DOD on the right course to appropriately providing for our nation's defense.
Timothy A. Walton is a principal of Alios Consulting Group, a Washington, DC-based defense and business strategy consultancy. He specializes in Asia-Pacific security dynamics.