The Southern Tide
Written by W. Alejandro Sanchez, The Southern Tide addresses maritime security issues throughout Latin America and the Caribbean. It discusses the challenges regional navies face including limited defense budgets, inter-state tensions, and transnational crimes. It also examines how these challenges influence current and future defense strategies, platform acquisitions, and relations with global powers.
"The security environment in Latin America and the Caribbean is characterized by complex, diverse, and non-traditional challenges to U.S. interests." Admiral Kurt W. Tidd, Commander, U.S. Southern Command, before the 114th Congress Senate Armed Services Committee, 10 March 2016.
By W. Alejandro Sanchez
Nowadays, non-governmental organizations (NGOs) and private military companies (PMCs) are deploying their own vessels to the open seas in order to have a greater role in protecting maritime traffic or the maritime ecosystem. When it comes to Latin America, one NGO in particular has made a name for itself in the past decade and a half: the Sea Shepherd Conservation Society.
Activities
Sea Shepherd is arguably most well-known for Whale Wars, a television show broadcasted by Animal Planet documenting activities by the organization's vessels as they attempt to stop Japanese whale hunters in the Antarctic. However, Sea Shepherd also carries out operations around the world. When it comes to Latin America, the organization has been active throughout region, especially in Central America, Ecuador, and Mexico.
Regarding Central America, Sea Shepherd was first active in Guatemala in 2002, when the Ocean Warrior, commanded by the famous Paul Watson (founder and president of Sea Shepherd), attempted to crack down on illegal fishing in the Caribbean. The operation ended with an incident between Watson and the Costa Rican government that has had repercussions to this day (we will discuss it in the following section).
Sea Shepherd returned to Guatemala the following decade: in 2014 the organization's 35 meter interceptor, the Brigitte Bardot, helped crack down on marlin poachers. A 2014 article in the Tico Times explains how "for the next several weeks, the Brigitte Bardot will be based out of Port San José, on Guatemala's southern Pacific coast in the department of Escuíntla, with eight Sea Shepherd crew on board, along with Guatemalan Naval and police officers." The presence of local security officials aboard the vessel is an important fact as they are ultimately in charge of arresting suspects.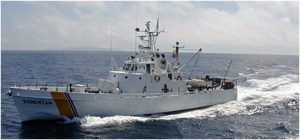 As for Ecuador, Sea Shepherd has been in the South Pacific for over a decade to protect the Galapagos Islands. As early as 2002, the organization's Sirenean was active in the Galapagos against illegal fishing. Years later in 2007, Sea Shepherd's activists worked with Ecuadorean law enforcement to crack down on sea cucumber poachers. The bilateral relationship took a leap forward this past March, when Sea Shepherd signed an agreement with Quito to support the protection of the islands for the next four years. A March 11 press release explains,
"Sea Shepherd has previously used an innovative approach to conservation needs that have been used in cooperation with public institutions such as the Galapagos National Park, the National Police and the legal system…Sea Shepherd's previous conservation work in the Galapagos includes the installation of an AIS system, donation of a patrol vessel, police communications equipment, a legal reform and capacity building program and a marine conservation book."
There already appear to be quick results, as in May Sea Shepherd and Ecuadorean authorities presented a new environmental penal code.
Concerning Mexico, the organization's sailing ketch Martin Sheen participated in 2015's Operation Milagro, which focused on "protecting the endangered vaquita in Mexico's Sea of Cortez." The operation occurred as part of an agreement between Sea Shepherd and Mexico's National Commission of Natural Protected Areas (CONANP) and the Federal Attorney for Environmental Protection (PROFEPA) to protect the vaquita (a porpoise) and other marine fauna. The apparent success of Operation Milagro prompted a new initiative this year: Operation Angel de la Guarda, via which Sea Shepherd's "anti-poaching vessel, the M/V Farley Mowat, is partnering with the Mexican Navy and environmental protection agency PROFEPA to patrol against totoaba poaching."
Finally, it is worth mentioning that Sea Shepherd also participates in regional conferences that address environmental crimes. For example, in 2013, the organization presented a video on shark fishing at the Fifth Latin-American Congress of Environmental Prosecutors, held in Bogotá, Colombia.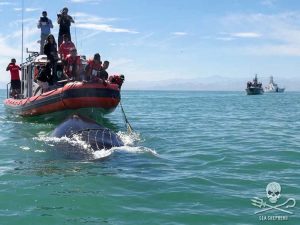 The Costa Rica Incident
In spite of successful partnerships and initiatives with various Western Hemisphere nations, it is important to stress that Sea Shepherd's relationship with the region has not been trouble-free. Namely the organization's founder Paul Watson is wanted by the Costa Rican government.
A brief summary of the 2002 incident should suffice: the Ocean Warrior, commanded by Paul Watson, patrolled Guatemalan waters looking for vessels engaged in shark fishing. It was in this mission that Watson located a Costa Rican vessel, the Varadero I. There are conflicting reports on what happened afterwards: the Ocean Warrior detained the Varadero I, and either the fishing vessel managed to flee, or Guatemalan authorities requested Watson to release the fishing boat. Watson then docked the Ocean Warrior in Costa Rica, where local authorities arrested him and charged him with attempted murder and shipwrecking. The charges were ultimately dropped, but because of Watson's failure to appear in court for subsequent hearings, "Costa Rica court declared Watson as a rebel and issued a warrant of arrest for violation of ship traffic."
To this day there is a request for Watson's extradition by the Costa Rican government. He was detained in Germany in 2012 as INTERPOL posted a Red Notice, or international wanted person alert, for him (he is also wanted by Japan) but he was later freed. Watson filed a petition of his own against San Jose in the Inter-American Commission on Human Rights in 2015.
The Future of NGOs and Maritime Security
Several NGOs, both international and domestic, operate in Latin America to address maritime affairs; however, Sea Shepherd appears to be the only entity that has vessels helping Latin American governments. The one arguable exception would be Greenpeace as its vessel, Arctic Sunrise, docked in Argentina in the late 1990s and early 2000s to protest river pollution and promote wind energy. Nevertheless, the difference is that Greenpeace's vessel was utilized as a publicity stunt to bring attention to an issue, while Sea Shepherd has deployed its vessels to Latin American waters to actively combat illegal fishing.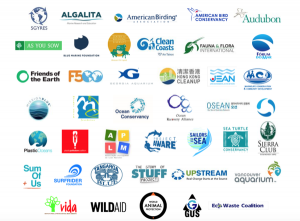 Thus, Sea Shepherd serves as an important precedent for future partnerships, as states may request maritime conservation support not just from other governments and multinational organizations, but also from NGOs. A key issue for future agreements will probably be that local security officers must be aboard any NGO vessels to carry out arrests. For example, Sea Shepherd's Brigitte Bardot embarked Guatemalan law enforcement in 2014, probably to avoid another Costa Rica-type incident. A similar situation occurred in Ecuador in 2003 when the Sirenean, with Galapagos National Park Rangers and Ecuadorian Naval crew aboard, stopped a poaching ship.
Another issue that may hinder future agreements is whether governmental objectives are in harmony with those of Sea Shepherd or other organizations. Without a doubt, there is always the possibility of an incident derailing a partnership.For example, while the Quito-Sea Shepherd alliance appears strong, there was at least one incident between them in 2007 when Sea Shepherd representative Sean O'Hearn was deported from Ecuador.
Final Thoughts
In the 21st century, maritime enforcement affairs are no longer confined to governments and their maritime forces, be they navies or coast guards. Economic and technological development as well as vibrant civic societies have helped create global NGOs that do more than organize mailing campaigns or protests ashore, they are also acquiring platforms to take their activities to the open seas.
In spite of the Costa Rican incident and the legal limitations this places on Sea Shepherd founder Paul Watson, his organization has managed to make a positive name for itself among governments in Ecuador, Guatemala, and Mexico. Case in point, a 2015 press release by the Mexican Ministry of Natural Resources announcing the partnership with Sea Shepherd to protect the vaquita explains that "[Sea Shepherd] has great experience regarding the protection of maritime resources, it has recently collaborated with Ecuador to stop illegal fishing." In other words, Sea Shepherd's success in Ecuador is helping it gain new allies in the region, the problem with Costa Rica notwithstanding.
Partnerships akin to what Sea Shepherd has accomplished in these nations may become a model for other Latin American and extra-hemispheric governments to imitate in the near future, if they can find NGOs with appropriate naval platforms, acceptable modus operandi, and similar objectives.
*The author contacted Sea Shepherd Conservation Society for input to this analysis but has not yet received a response at time of publication.
**The idea for this analysis came from a discussion entitled "A New Role for Non-State Actors in the Growing Competition for Strategic Marine Resources," co-hosted by the Center for a New American Security (CNAS) and the Center for International Maritime Security (CIMSEC).
W. Alejandro Sanchez is a researcher who focuses on geopolitical, military, and cyber security issues in the Western Hemisphere. Follow him on Twitter: @W_Alex_Sanchez. The views presented in this essay are his sole responsibility and do not necessarily reflect those of any institutions with which he is associated.
Featured Image: Sea Shepherd negotiators and crew pose on the Brigitte Bardot in port at San José, Guatemala, after a joint patrol agreement was reached with the government. (Courtesy Water Quest)