Australia's Defence White Paper, submarines and scotch? Sounds like a recipe for a fun time.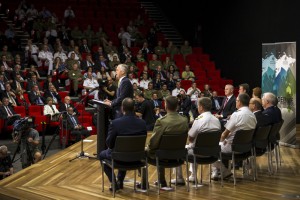 Get ready for a special joint episode with the Perth USAsia Centre's Perspectives podcast series. In this episode, Kyle Springer, Program Associate at the Perth US Asia Centre, asks Natalie Sambhi, host of Sea Control: Asia Pacific, and Reed Foster, retired US Army officer and defence capabilities analyst at IHS Jane's, to share their thoughts on the newly-released Australian Defence White Paper 2016. Kyle asks whether Australia faces any conventional threats, and the trio also discusses major capability acquisitions planned by the white paper including submarines, international engagement with countries like the US and Indonesia, and ponders a hypothetical scenario posed by a ballistic missile-capable North Korea.
This week's episode features the guests sipping on Bowmore 12-year old Scotch Whisky.
CIMSEC Australia Defence White Paper 2016
Image courtesy of the Australian Department of Defence.