The Algerian Navy has been on a buying frenzy in recent years, amassing a significant maritime force. In September 2014, representing the culmination of a longer term procurement project, Italy's Orizzonte Sistemi Navali (OSN) delivered Algeria's new flagship, an 8,800-tonne amphibious assault ship called the Kalaat Beni-Abbes. But newer projects than OSN's are currently underway. A shipyard in Saint Petersburg, Russia is building two new Kilo-class diesel-electric submarines for Algeria, while two MEKO A200-class frigates, three F-22P Zulfiquar-class frigates, and two Tigr-class corvettes are being produced for service in the Algerian National Navy at shipyards ranging from Kiel to Karachi.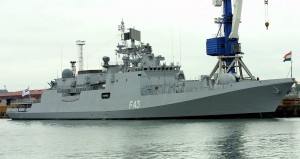 This vastly outpaces the procurement projects of Algeria's neighbours. In 1993, Algeria and Tunisia successfully resolved their maritime boundary dispute and have since launched several joint energy exploration projects. Tunisia's 2010-2011 revolution and concerns in Algeria that the uprising might bring an Islamist regime to power created some uncertainty, but the bilateral relationship remains on the whole quite positive. Although the nearby Strait of Gibraltar has seen some heightened tension between British and Spanish maritime forces, Algeria is not a party to any of these confrontations. In this context, the aggressive expansion of the Algerian National Navy must be rather confusing.
However, it is possible that Algeria is preparing for a significant counter-piracy role. NATO's Operation Unified Protector devastated the Libyan Navy. Currently, that country's maritime forces consist of one Koni-class frigate, one Natya-class minesweeper, and two Polnocny-C landing ships. NATO air strikes in May 2011 totally destroyed Libya's naval bases at Sirte, Khoms, and Tripoli. While the maritime forces loyal to the Libyan government are small in number and poorly equipped, rebels continue to hold a few ports in Libya's east, though most were freed in a series of offensives during the summer and autumn of 2014. Earlier, in March 2014, one rebel militia succeeded in loading an oil tanker in defiance of the Libyan authorities, prompting the ouster of Prime Minister Ali Zeidan.
If the Libyan authorities are struggling to secure their own ports, it is conceivable that rebel groups in the country's eastern regions could engage in piracy in future years. Such a situation would jeopardize Algeria's economic growth as it seeks to become a major energy exporter to Europe and Asia. In March 2014, Algerian officials announced plans to increase oil and natural gas production by 13% to 220 million metric tonnes of oil equivalent in two years. The resulting increase in tanker traffic on North Africa's coast would present plenty of prime targets for Libyan pirates.
Yet it remains unclear whether it is indeed a counter-piracy role that is envisioned for the Algerian National Navy. Algeria is not officially cooperating with Operation Active Endeavour, which is NATO's counter-terrorism and counter-proliferation force in the Mediterranean Sea, though five ships assigned to the NATO Mine Counter-Measures Group did make a port visit to Algiers in September 2014 prior to joining Active Endeavour. In order to avoid conflict from emerging between Algeria and Libya over the security of international shipping routes, it may be necessary for NATO officials to aggressively pursue a closer relationship with both countries.
Through the Mediterranean Dialogue, NATO established an Individual Cooperation Program (ICP) with Israel in 2006, which allows for Israeli participation in Operation Active Endeavour and other mutually beneficial initiatives. Other ICPs were completed with Egypt in 2007 and Jordan in 2009. Securing ICPs with Algeria and Libya, however, will be an uphill battle; Algeria has participated in NATO's Mediterranean Dialogue since 2000 but Libya has yet to even respond to a 2012 invitation to join. Nonetheless, it is still an effort worth attempting as it may help to avoid much hardship and conflict in the future. For now, Algeria seems to be bracing for impact.
Paul Pryce is a Research Analyst at the Atlantic Council of Canada. His research interests are diverse and include maritime security, NATO affairs, and African regional integration.
This article can be found in its original form at Atlantic Council of Canada.