By Vidya Sagar Reddy
The frequency and intensity of natural disasters that beset the Indian Ocean region is rising, owing to both natural and man-made causes. The sectarian and geopolitical complications undermining the stability of West Asia is also bearing direct economic and security problems for this region. The incapacity of least developed countries like Bangladesh, Myanmar, Nepal etc. at responding effectively to these disasters compounds the problem.
India is playing a decidedly critical role in this context. Its geographic position in the Indian Ocean, diasporic relations and energy dependence on West Asia, economic interdependence with East Asia, requisite for a stable and developing neighborhood, and the availability of a dedicated navy are key natural imperatives for the country to assume responsibility during Humanitarian Assistance and Disaster Relief (HA/DR) contingencies.
Prompt and efficient HA/DR relief across this vast region is best guaranteed through the deployment of naval assets owing to their global reach via the maritime global commons. Naval ships of various countries deployed for routine goodwill, flag-showing and trade protection tasks on the high seas can immediately be called upon to provide relief. India's Operation Sukoon is a case in point where naval ships returning from a goodwill visit to the Mediterranean were redeployed to evacuate civilians from the 2006 Lebanon crisis.
Immediate requirements such as communications, airlift logistics, search and rescue, and command and control can be secured with minimum delay as shipboard weather and communication posts are resilient and have secure access to space-based assets. More importantly, the personnel are trained to serve under pressing circumstances.
The prompt response by the American aircraft carrier USS Carl Vinson ordered to relieve Haiti devastated by a 7.0 magnitude earthquake in 2010 and the resilience of Australian patrol boats HMAS Advance, HMAS Assail, and the submarine HMS Odin in relieving the city of Darwin after it was struck by cyclone Tracy stand as two key examples. The teamwork of US airmen, Pakistani soldiers, and Ukrainian aid workers unloading relief supplies from a Russian military transport plane marks the optimism in coordination and communication that can be achieved between rival militaries during natural disasters.
The relief operations undertaken by the Indian Navy (IN) during the 2004 Indian Ocean tsunami is a watershed moment for both the service and the country. Although itself a victim, India simultaneously mounted three external relief operations sending naval ships with medical supplies, food and water, and electric generators towards Sri Lanka, Maldives and Indonesia.
These operations earned India international recognition and opened new avenues for cooperation. India was invited to join the United States, Japan and Australia forming a 'core group' for relieving the tsunami disaster. Its recovery efforts have been praised as "reversing historic patterns of vulnerability and discrimination." As such, India's capabilities and HA/DR management proved its emerging reliability in handling such contingencies across the region.
The unique capabilities of a naval ship once again came to light when the water generation plant in the Maldivian capital became dysfunctional in December 2014 affecting over 100,000 people. India dispatched the large fleet tanker INS Deepak with 900 tons of packed water and provided the capability of producing 100 tons of water every day using onboard reverse osmosis equipment. It joined INS Sukanya which had already been rushed to Male with 35 tons of packed water. While the Maldives issued distress calls to the US, China, and Sri Lanka, prompt response from New Delhi was vital. A statement from the Ministry of External Affairs highlights India's proactive attitude towards relieving HA/DR problems in its immediate neighborhood.
In 2008, when the military rulers of Myanmar refused permission for the American warship USS Essex and a host of international aid agencies during cyclone Nargis, India managed to send two naval ships INS Rana and INS Kirpan which braved rough seas to provide relief. Thereafter, India was able to impress upon Myanmar's military administration the need to accept international aid. This highlights India's growing confidence in utilizing diplomacy for securing the trust of its extended neighborhood.
West Asia is one broader geographic realm that preoccupies India's HA/DR resources. India has experience in evacuating citizens amid armed conflicts where local governments could have been overthrown as well as negotiating transport corridors such as in Kuwait in 1990, Lebanon in 2006, and Libya in 2011. India has mounted proactive relief operations, exemplified by Operation Raahat.
The IN ships Mumbai, Tarkash and Sumitra were the front-line platforms that braved shelling to evacuate civilians and escort other ships reaching safe zones from war-torn Yemen during March-April 2015. India also deployed the Minister of State for External Affairs, Gen. V. K. Singh, to Djibouti for coordinating the operations.  Along with 4,748 Indians, 1,962 foreign nationals from 26 countries including Bangladesh, Nepal, Pakistan, Myanmar, the United Kingdom, Germany, France and the US were also rescued. Although possessing a large forward deployed fleet and other assets in the region, the US urged its citizens to approach the Indian officials for safe evacuation. This mission won hearts and minds of many countries across the world for India.The successful conclusion of this operation is also a graduation for the country marking its ability to offer assistance even for the developed world in such dire humanitarian situations.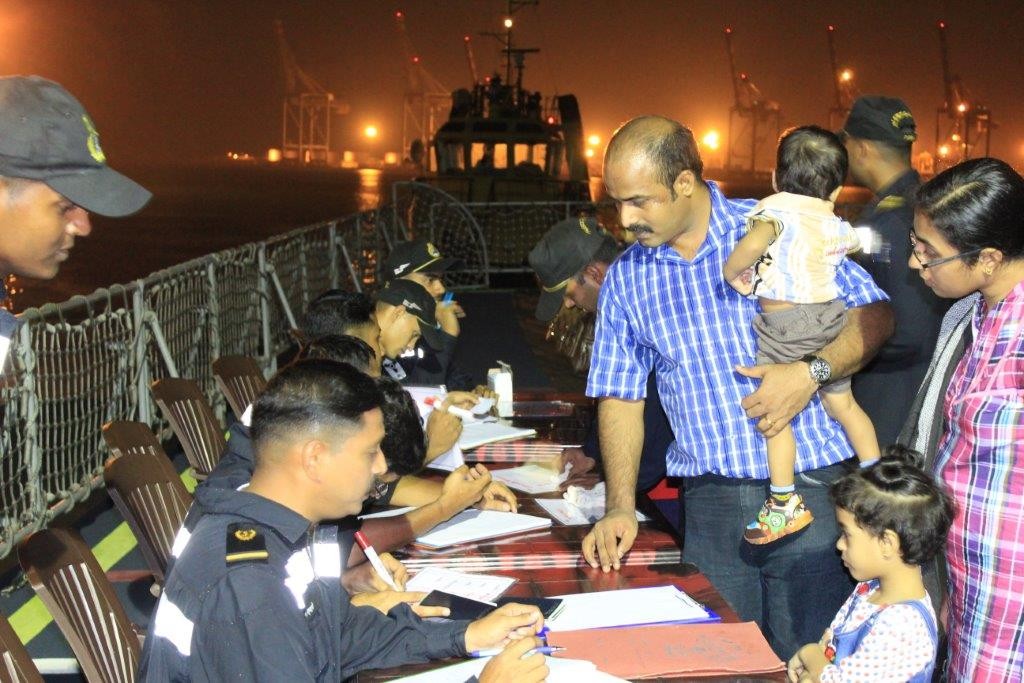 While these operations have already been conceptualized into the 'benign role' to be performed by the IN, its leadership is taking proactive, region-wide measures in this realm. India's chief of naval staff attended the recent Indian Ocean Naval Symposium (IONS) in Bangladesh and presented a guideline document for setting up a framework for coordinating HA/DR activities in the Indian Ocean region. This is in line with the principle objective of IONS for developing interoperability between member navies in terms of capabilities and operational procedures.
IN ships routinely participate in HA/DR simulations conducted within the services as well as bilateral and multilateral exercises like Varuna, Milan, ASEAN Regional Forum Disaster Relief Exercise, and RIMPAC for proving readiness. The IN could respond to disasters in landlocked circumstances by flying in experienced medical teams, divers, and salvage experts who have fought the 2013 Uttarakhand floods, 2014 Kashmir floods, 2015 Nepal earthquake, and the recent floods in southern India.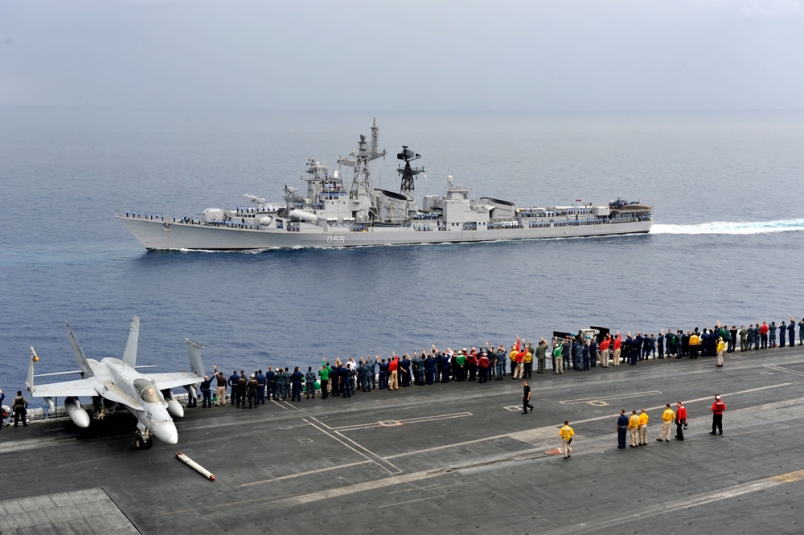 India's image has been elevated from an aid recipient country to that of an international donor owing to these developments. However, the most impressive achievements can only be perceived at home. The political class in New Delhi is willing to assign the IN for HA/DR response across the Indian Ocean region and the bureaucracy has become comfortable with executing these operations. The IN continues to exercise a high level of joint readiness with sister services and relevant civilian organizations in this domain.
India's success at breaking through rigid political barriers during critical periods can certainly be attributed to its altruistic ideology of peace and friendship, and by respecting territorial sovereignty of other countries, a common source of contention during HA/DR operations. The IN's operating mindset and responsibility has made it a dependable partner for ensuring peaceful development, bolstering regional stability, and enhancing the international prestige of India.
Vidya Sagar Reddy is a researcher at the Observer Research Foundation, New Delhi.
Featured image: INS Vikramaditya in Baltic Sea during her trials in 2013. Source: Indian Navy.