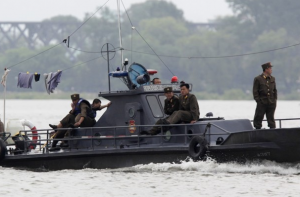 While some adversaries come to the aid of each others' mariners in distress, some supposed friends have squabbled over claims of officially hostaged fishermen. A good Washington Post article details the fate of Chinese fishermen who ran afoul of the North Korean navy with new interviews from those aboard. While it isn't clear whether the fishermen were illegally poaching in North Korean waters, their treatment at the hands of a purported ally is markedly different from that they've received in recent similar disputes with Japanese and Filipino authorities, among others.
Significantly, the hostile reaction of the Chinese public towards North Korea in this incident mirrors the online anger that erupted against the Philippines earlier this month over the Scarborough Shoal stand-off. As can be expected, the indignity voiced is especially acute for the fact that the two nations are often considered each others closest allies. Said one Chinese internet-user: "We raised a dog to watch the door, but were bitten by the crazy dog!"
However, few experts believe this latest row is likely to shake an alliance cemented more for fear of the second-order consequences of a collapse in the North and strategic reasons than an enduring affinity between the two people.