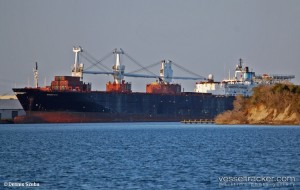 The Maersk Texas repelled a pirate attack on Wednesday in the Gulf of Oman around noon local time, before continuing on its voyage to the U.S.:
Maersk Line, Limited confirms its U.S. flag vessel, Maersk Texas, thwarted an attack by multiple pirate skiffs at noon local while transiting the Gulf of Oman, northeast of Fujairah.  All hands onboard are safe and unharmed, and the vessel is proceeding on its voyage. Numerous skiffs with armed men in each boat quickly closed on Maersk Texas. Maersk Texas activated defensive measures per the U.S. Coast Guard-approved Vessel Security Plan. Despite clear warning signals, the skiffs continued their direct line toward Maersk Texas and the embarked security team fired warning shots. The pirates then fired upon Maersk Texas, and the security team returned fire per established U.S. Coast Guard rules of engagement.
Of particular note:
Many small craft and fishing boats were in the area and were not involved in the incident.
According to gCaptain the U.S. Office of Naval Intelligence issued a warning for the area following the attack, and while it doesn't specifically mention the Maersk Texas, seemed to indicate that pirates may be using "white" merchant traffic to blend in and disguise their presence:
Merchant vessels operating in the Gulf of Oman, Gulf of Aden, Arabian Sea, Persian Gulf, Red Sea, and Somali Basin are advised to maintain vigilance against and report abnormal or atypical small boat behavior, to include potential surveillance. This includes merchant vessels at anchorage either in or near territorial waters. Merchant vessels are encouraged to differentiate between fishing vessels from potential bad actors intertwining themselves within legitimate fishing activity. If fishing gear or actual fishing activity is not observed, take all appropriate counter-piracy and force protection measures to prevent piracy, illegal boardings, and/or waterborne attacks. In accordance with Best Management Practices (BMP), please maintain communications with UKMTO and report any abnormal incidents.
The incident is also notable due to early rumors surrounding the attack, including on one hand that up to 20 skiffs took part in the engagement, and on the other, according to EU NAVFOR, that there were no pirates.
The response to the incident is also a sign of the strength of the spirit of international maritime cooperation in the region. While HMAS Melbourne launched a helicopter to aid the Maersk Texas, it was beat out by the Iranian navy, which was the first to respond to the ship's distress call. ThinkProgress states that the Iranians "offered guidance to the crew of the ship by radio," (but was never physically on scene).
Although the value or necessity of this guidance is debatable given the Maersk Texas' on-board security team and U.S. Coast Guard transit preparations, the symbolism of the assistance comes at an opportune time for Iran, in the midst of another round of nuclear talks. Like the U.S. Navy's earlier rescue of Iranian fishermen this year, this episode demonstrates that the shared value of aid to mariners in distress at sea can help humanize some of the most wary of adversaries.
A final interesting tidbit from gCaptain:
Maersk Line, Limited reportedly employs Trident Group security teams onboard their vessels, the same group shown in a viral video shooting "warning shots" at approaching pirate skiffs.  If it was a Trident team on the vessel, we know there is some video of the attack that will likely be reviewed, and up to Maersk on whether or not it will be released.