This post originally featured on The Diplomat and was republished with permission. You may read it in its original form here. 
By Col Michael W. "Starbaby" Pietrucha
Last year, the Air Force achieved a little-noticed aviation milestone: the first-ever drop of a winged, precision guided aerial mine. Almost fifty years after Texas Instruments slapped a laser guidance kit on a M117 dumb bomb, the Air Force added a guidance kit to a dumb mine, and greatly expanded the potential for aerial mining. The late arrival of precision capabilities to the antiship mine is no less revolutionary than it was for the advent of precision bombs in the first place, allowing precise placement of mines and improving the survivability of the employing platform. This development has the potential to revitalize aerial mining and add immeasurably to joint countermaritime operations.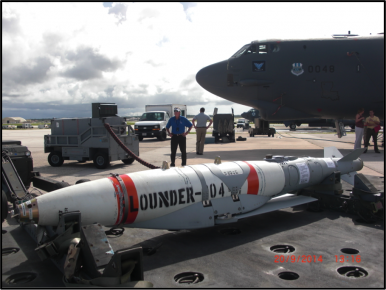 The Mines
Since Vietnam, the standard naval bottom mine has been a variation of the 500-lb. Mk-82 or 1000-lb. Mk-83 General Purpose bomb. The same bomb bodies are used for Laser Guided Bombs (GBU-12 and GBU-16) or JDAMs (GBU-38 and GBU-32). The change that turns a bomb into a mine is the replacement of the fuze (which detonates the bomb on or just after impact) with a target detection device (TDD), which detonates the mine when a ship passes within lethal range. Mine assembly is completed with the addition of a safe/arm device in the nose and a parachute-retarder tailkit in the back (see Fig. 2), turning a 500-lb. Mk-82 into the Mk-62 Quickstrike and the 1000-lb. Mk-83 into a Mk-63 Quickstrike. All Quickstrike mines are air-delivered.
Read the rest here.