It was the Maldives's turn to receive a sermon on the Maritime Silk Road (MSR) from China. Chinese President Xi Jinping invited Maldivian President Abdulla Yameen to participate in the 21st Century MSR, expand cooperation in tourism, trade and infrastructure, and enhance maritime cooperation. Apparently Yameen assured Xi that his country would "respond to the Chinese initiative." Ali Hameed, former vice foreign minister of the Maldives, too had stated that the MSR was of interest to the Maldives. Earlier, Xi had approached Sri Lanka to consider the MSR, and Colombo indicated that it would actively examine the proposal. The MSR was also raised during Indian Vice President Hamid Ansari's visit to China a few months ago.
Unlike in Sri Lanka and the Maldives, the MSR has sent the Indian strategic community into a tizzy. A number of articles, commentaries, op eds, discussions and sound bites have concluded that the MSR is nothing but a Chinese ploy to get a naval 'foothold' in the Indian Ocean and reflects China's creeping influence in the region. These reactions are quite natural given that China has aggressively pursued the agenda of building maritime infrastructure in friendly countries such as Pakistan (Gwadar), Sri Lanka (Hambantota) and now the Maldives – that are seen as bases/facilities to support People's Liberation Army Navy's future operations in the Indian Ocean and also the Chinese attempt to 'encircle' India.
However, it will be useful to examine the MSR through the prism of maritime infrastructure development and explore if India can leverage the MSR to its advantage. China has developed a sophisticated concept of marine economy that has been facilitated by its long coastline. Nearly 40 per cent of the Chinese population, 5 per cent of cities, 70 per cent of GDP, 84 per cent of direct foreign investment and export products are generated within 200 km of coast. In 1998, the Chinese government published a White Paper on marine economy which identified twenty different sectors for the development of the national economy. The China Ocean Information Center announced that the marine output in 2013 grew 7.6 per cent year on year to 5.43 trillion Yuan ($ 876 billion) accounting for 9.5 per cent of the national economy. In essence, the coastal provinces have contributed substantially to the overall national strength in terms of economic growth and play an important role in developing an export-oriented economy.
Today, China figures among the top countries in shipbuilding, ports (particularly container cargo), shipping, development of offshore resources, inland waterways, marine leisure tourism, and not to forget it is one of the top suppliers of human resources who are employed by international shipping companies.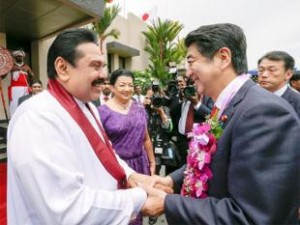 China's shipbuilding capacity is notable and is supported by plentiful of cheap labour and domestic ancillary industry which is endowed with exceptional engineering skills. Seven of the top ten global container ports are in China and the Chinese shipping fleet of 6,427 vessels ranks second behind Japan with 8,357 ships. Similar successes are seen in China's fisheries production which is projected to reach about 69 metric tonnes by 2022 and it will continue to be top world exporter with 10 metric tonnes by 2022. Likewise, China ranked third as a tourist destination in 2012. The coastal regions are dotted with marinas, water sport parks and beach resorts and Sanya, Qingdao and Xiamen are home to the growing yacht and luxury boating industry.
These capabilities have been built over the past few decades and has placed China among the major maritime powers of the world and top Asian maritime powers – beating both Japan and South Korea. China is leveraging these capabilities and offering to develop maritime infrastructure in friendly countries that are willing to accept the offer – which at times makes an attractive investment opportunity, and can help these exploit the seas to enhance economic growth, and ensure food and energy security.
There is a sea change in the maritime strategic thinking of China and India. While the former has harnessed the seas to build its power potential, the latter needs to undertake a strategic evaluation of its maritime potential. India needs to make major policy changes to develop maritime infrastructure, offshore resources and exploit these on a sustainable basis. Although India is pursuing the path of building a modern three-dimensional navy with nuclear submarines, a new appreciation of the multifaceted maritime economic activity needs New Delhi's attention.
India lacks maritime infrastructure and technology to exploit offshore marine organic, mineral and hydrocarbon resources that are critical to ensure sustained economic growth – which is high on the current government's agenda. It would therefore be prudent to understand the MSR through the prism of an opportunity.
Dr Vijay Sakhuja is the Director, National Maritime Foundation, New Delhi. The views expressed are those of the author and do not reflect the official policy or position of the Indian Navy or National Maritime Foundation. He can be reached at director.nmf@gmail.com. This article was cross-posted by permission and appeared in its original form at the Institute of Peace and Conflict Studies.