Notes to the New CNO Topic Week
By Captain John Cordle, USN (ret.)
Admiral Gilday, we are classmates from the Naval Academy, SWOSDOC, and the PCO course. I have watched and admired your career for nearly four decades. You are the right person at the right time to make crew endurance a priority. After the tragic deaths of 17 Sailors in 2017, the Navy made progress in this direction, but there is still much left to do. Now is the time to accelerate the learning process and leverage the benefits of circadian watches and crew endurance policies into a Navy-wide mindset that values and prioritizes personal readiness.
Like you, I have studied — and lived with — sleep deprivation, fatigue, and their pernicious effects for decades. While in command of San Jacinto (CG-56), I used a circadian watch bill at sea, and the performance and morale of my crew made me a believer. While not a perfect cure for everything, it works. 
Navy researchers like Dr. Nita Shattuck and Dr. Kimberly Culley have amassed a mountain of research to support the safety, operational, and long-term health impacts of circadian-based schedules, and many current commanding officers have seen the benefits. Although the human body needs at least seven hours of good quality sleep, a commanding officer studied by Dr. Shattuck slept on average only 5.2 hours per 24-hour period, including naps, which resulted in a state of chronic fatigue while deployed. Additionally, he spent approximately 15 percent of the deployment at a fatigue level equivalent to a person with a blood alcohol concentration of 0.08 percent, i.e., "legally drunk." (See Figure 1.) Many studies show that the averages are not much different for the Sailors as well.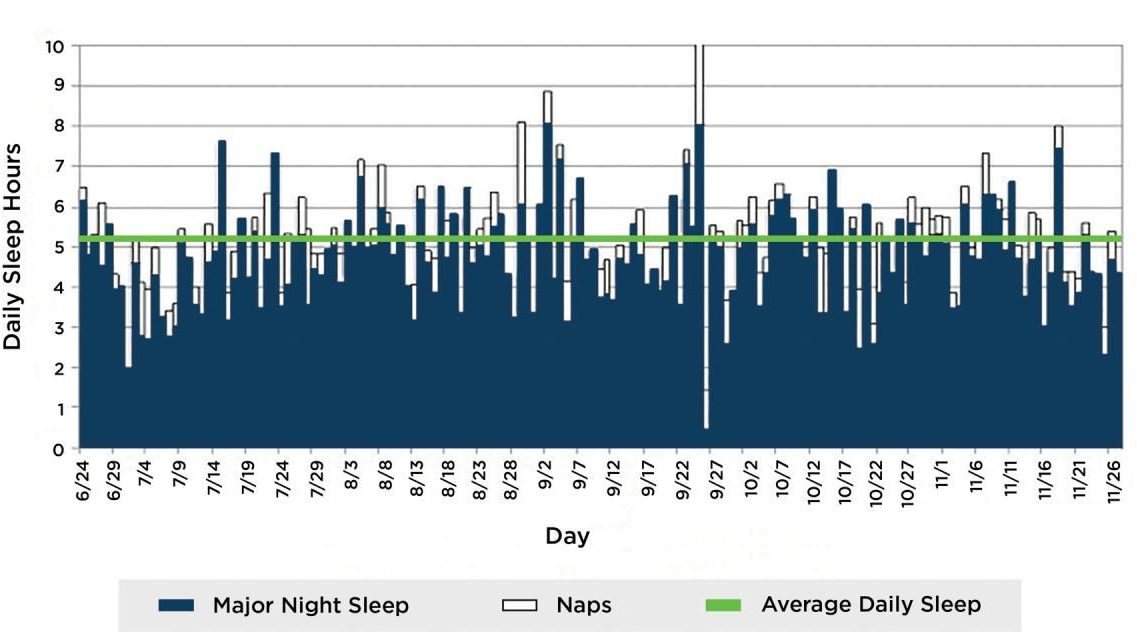 I challenge my two friends and shipmates, you and Chief of Naval Personnel Admiral John Nowell, to prioritize crew rest and endurance as a warfighting imperative. This can be done through several initiatives.
Launching a Crew Endurance Panel to chart the progress on combating fatigue across the Navy. Bring in experts and operational commanders to create momentum in training the force on human requirements for sleep, the operational benefits of it, and the best practices for ensuring rest on shore and at sea. There are too many independent efforts that are not coordinated. Your leadership can change this.
Promulgating a Crew Endurance Policy by the end of 2019 to convert the guiding principles of circadian watch rotations, daily routines built around the watchstanders, and best practices to mitigate fatigue into operational priorities for the entire Navy. SUBFOR and SURFOR have paved the way; their instructions and NATOPS (the aviators have always gotten it!) can be used as models.
Establishing a Center of Excellence to craft educational products, track implementation, and train the force in the science of sleep, always striving to keep the minds and bodies of Sailors sharp. The Naval Postgraduate School would be the perfect place. Establish the SWOS and Senior Enlisted training that was recommended by the CR, but is still not yet in place two years hence.
The Navy owes Sailors a culture that maintains its people with the same rigorous mindset and planning as the maintenance of its ships and aircraft. Proper crew rest and sleep hygiene not only improve the daily performance and long-term endurance of our personnel in stressful environments, but best practices will lead to better long-term health outcomes when our Sailors leave the service. This aligns perfectly with (and in reality, is a necessary prerequisite for) other recent initiatives, such as "mindfulness" and "toughness." You can recapture the sense of urgency that we all felt in the summer of 2017 but has since waned. Standing by to help!
Captain Cordle retired from the Navy in 2013 after 30 years of service. He commanded the USS Oscar Austin (DDG-79) and USS San Jacinto (CG-56), and received the U.S. Navy League's Captain John Paul Jones Award for Inspirational Leadership in 2010.
Featured Image: PACIFIC OCEAN (Sept. 11, 2019) Sailors transit through Pearl Harbor aboard Independence-class Littoral Combat Ship USS Gabrielle Giffords (LCS 10) during sea and anchor detail. (U.S. Navy photo by Mass Communication Specialist 2nd Class Kenneth Rodriguez Santiago/Released)