India's Role in the Asia-Pacific Topic Week
By Ajaya Kumar Das
Since becoming the Prime Minister of India, Narendra Modi has swiftly reached out to India's smaller neighbors and, more boldly, to Pakistan. He has turned India's vision from "Look East" to "Act East." Modi has wooed large investments from China while simultaneously deepening its partnership with the US.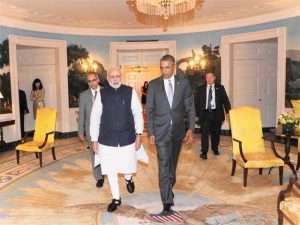 While not disregarding other key bilateral partnerships, he has taken India-Japan relations to a new level. He asked his diplomats to "shed old mindsets" and position India as "a leading role, rather than just a balancing force globally." In articulating foreign policy for a leading power, India prefers to see a multi-polar Asia as well as a multi-polar world and expresses desire "to shoulder greater global responsibilities." While under-performing in economics, Modi has surprisingly been most successful in pursuing a 'positive' foreign policy. This has attracted the strategic community in India and beyond to analyze prospects and limits of a potential leading or great power role for the nation. While India's ascendance to great power status will take time, owing to domestic constraints, how India positions itself in the Indo-Pacific balance of power and rises as a 'net security provider' will contribute significantly to its security and status.
India as a 'Swing State'

India, in its struggle for self-preservation and power, adopted balance of power policies in the mid-1950s, foreseeing conflict with China by courting the Soviet Union and pursuing non-alignment between the two Cold War superpowers on the foundation of weak hard power. After a brief period of alignment with the US following the 1962 border war with China, India became closer to the Soviet Union in the 1970s, following the rapprochement between China and the US. Indian nuclear tests in May of 1998 were to preserve Asian equilibrium challenged by the rise of China, thereby ensuring its future as an independent great power. Balancing China has become a sine qua non of India's own power and status.
The extant border dispute, power asymmetry, proximity, simultaneous rise and perceived strategic encirclement of India all factor in India's geopolitical approach to China. While its great power ambition has driven India to forge partnerships with like-minded states and regional ties with Southeast Asian nations, such policies also contribute positively to an Asian balance of power. The deepening mutual strategic relationship between India, the US, and Japan is primarily driven by the objective to preserve and augment their respective relative power and the shared goal of preventing Chinese hegemony in Indo-Pacific. According to one analysis, the combined share of global product in 2050 between the three democracies exceeds that of China with a much higher margin. Therefore, India's role is critical for an Asia-Pacific balance. According to such projections, India, while becoming a major independent power in 2050, will be the 'weakest' among other major powers and thus remaining essentially a balancing power (or swing state).
India's partnership with the United States is seen as an important element in India's strategy to balance China. While pushing defense cooperation with the US, India has agreed to Japan's participation in the Malabar exercise "on a regular basis," and has raised the trilateral diplomatic discussion with them to the ministerial level. It held the first ever trilateral dialogue with Japan and Australia in 2015. There is a renewal of interest among all four countries to revive the 'quadrilateral dialogue' and partnership, which emerged in 2007 and disappeared after the 2007 'Malabar' multilateral naval exercise after Chinese protests.
While both parties share concerns about the relative power of China and have signed a "joint strategic vision" for Asia, the US focuses more on South China Sea and India on Indian Ocean. India has rejected a US call for joint patrols in the South China Sea, which is its 'secondary' area of maritime interest. It knows that it can presently contribute very little militarily to the competition in the South China Sea. Therefore, some in India see logic in signing foundational defense agreements, including the logistics support agreement, to effectively partner with the US to face future Chinese challenges in the Indian Ocean. The trigger for much closer defense and security cooperation with the US would come from India's perception of a Chinese threat on the Himalayan border and in the Indian Ocean. While the relationship with the US is an important element in India's balance of power policies, the nation is also forging strategic relationship with other key powers in the region, such as Japan, Australia, Indonesia, Vietnam, and Singapore.
Balancing does not mean containment of China. Therefore, India has simultaneously engaged China at various levels, being careful not to discard officially its traditional nonaligned policy. If India has trilateral dialogues with the US, Japan, and Australia, it also similarly engages China and Russia trilaterally. To raise its material capabilities, India sees opportunity in a rising China, and thus pursues enhanced trade and investment relations with it like others. To become a more effective balancer, India also needs to enhance close economic relations with the US and Japan and join the emerging regional trading blocs in the Asia-Pacific.
India as a Net Security Provider
If India is to become a great power, it has to become a 'net security provider' in the Indo-Pacific, thereby enhancing its soft power and legitimacy.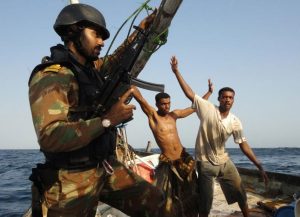 With great power comes expectations for contributing to international peace, security, and order. Instead of being a free-rider, Indian leadership now approves of India becoming a 'net security provider' in the Indo-Pacific. India's revised maritime strategy of 2015 talks of such provision in the Indo-Pacific, including "deployments for anti-piracy, maritime security, NEO [non-combatant evacuation operation] and HADR [humanitarian assistance and disaster relief] operations."
In joining the forces of the US, Japan, and Australia to engage in humanitarian and disaster relief operations after the 2004 Indian Ocean Tsunami, India gained credibility as a security provider and partner in the Indo-Pacific region. It has unilaterally combated pirates in the Indian Ocean to secure sea lines of communication, interdicted WMD-related materials, and has engaged in the past in non-combat evacuation operations in places such as Lebanon, Nepal, and Yemen. India is one of the world's largest troop contributors to UN peacekeeping operations. These efforts reinforce India's image as a security provider.
India has gradually expanded its defense diplomacy with several countries in Asia-Pacific, enhancing possibilities for greater power projection with a benign image of its rise in power. This has included defense cooperation agreements, joint exercises, training, high-level visits, service-to-service talks, port visits, and so on. Defense diplomacy involves several activities that in the past were described as military cooperation or assistance. The Indian Navy is at the forefront of Indian defense diplomacy. India has also embraced defense multilateralism, which includes initiatives such as the MILAN biennial exercise involving several countries of the Indian Ocean region, the Indian Ocean Naval Symposium (IONS), and the Malabar naval exercise. It has developed defense multilateral links by participating in the Association of Southeast Asian Nations Defence Ministers' Meeting (ADMM-Plus).
The US was the first party to invite India to become a security provider in the Indian Ocean and beyond. India now conducts more exercises with the US than with any other country, and in doing so has developed an alignment of interest in maritime security and maintaining open international commons, including in the South China Sea. India and the US support "rules-based order and regional security architecture conducive to peace and prosperity" in the Indo-Pacific. Finding a common cause with Japan on maritime security, India has agreed to the latter's participation in the Malabar naval exercise "on a regular basis." Such exercises enhance interoperability and capacity to act together in missions such as disaster relief or humanitarian assistance. The U.S. Department of Defense in its new strategic guidance of 2012 mentions: "The United States is also investing in a long-term strategic partnership with India to support its ability to serve as a regional economic anchor and provider of security in the broader Indian Ocean region." The US has offered sophisticated defense technologies to India, including aircraft carrier technology to enhance India's power-projection capabilities.
India will continue to show greater concern over security issues in proximity to its frontier, rather than in distant areas such as the South China Sea. This is commensurate with its capacity and strategic significance. As one analyst concludes, "India has acquired the nucleus of a substantial [power projection] capability, but it remains limited in number and in terms of specific enablers."[5] India fails in many measures in responding to requests made by some Southeast Asian nations to contribute to maritime security and assistance. There is hesitancy in India for joint patrols with the US in South China Sea. Does India aspire to build its inter-service expeditionary capability that will make it appear as an effective security provider in the Indian Ocean region? While the answer is "yes," it is more likely that as India expands its economic, political, and strategic relations with East and Southeast Asia, it will contribute to peace and security beyond the Indian Ocean.
In 2003, India seriously considered sending its troops to participate in the stabilization of Iraq. The growing India-US military ties and India's defense diplomacy with countries such as Japan, Australia, Vietnam, Indonesia, and Singapore will help India project power and contribute to extra-regional security. India's decision to sign the logistic support agreement with the US will help boost their power projection capability. While India will choose its role in its national interest, it will contribute to peace and security under the UN and outside of it as it has done in the past with its growing power and rise to great power.
In short, while there remains presently ambiguity in India's role as "a net security provider," India's rise to great power will slowly position the nation to contribute to public goods– be it stable balance of power in Asia, maritime security, or freedom of international commons in the Asia-Pacific.
Ajaya Kumar Das is a Researcher at the Guangdong Institute for International Strategies (GIIS), Guangdong University of Foreign Studies, P.R. China. He joined GIIS after a PhD from the S. Rajaratnam School of International Studies (RSIS), Nanyang Technological University, Singapore. The views expressed are his own and do not reflect the official policy or position of GIIS. He can be reached at ajayadas123@gmail.com.
[1] "PM to Heads of Indian Missions," Press Information Bureau, Government of India, February 7, 2015, http://pib.nic.in/newsite/PrintRelease.aspx?relid=115241.
[2] S. Jaishankar, India, the United States, and China, IISS-Fullerton Lecture, July 20, 2015, https://www.iiss.org/en/events/events/archive/2015-f463/july-636f/fullerton-lecture-jaishankar-f64e.
[3] See Ashley J. Tellis, "India as a Leading Power," Carnegie Endowment for International Peace, April 4, 2016, http://carnegieendowment.org/2016/04/05/india-as-leading-power/iwf5.
[4] "India-United States Joint Statement on the visit of Secretary of Defense Carter to India April 10-13, 2016," U.S. Department of Defense, April 12, 2016, http://www.defense.gov/News/News-Releases/News-Release-View/Article/718589/india-united-states-joint-statement-on-the-visit-of-secretary-of-defense-carter.
[5] Shashank Joshi, "Indian Power Projection: Ambition, Arms and Influence," Whitehall Papers 85:1(2015): 140.
[6] Joint Statement on India and Japan Vision 2025: Special Strategic and Global Partnership Working Together for Peace and Prosperity of the Indo-Pacific Region and the World, Ministry of External Affairs, Government of India, December 12, 2015, http://www.mea.gov.in/bilateral-documents.htm?dtl/26176/Joint_Statement_on_India_and_Japan_Vision_2025_Special_Strategic_and_Global_Partnership_Working_Together_for_Peace_and_Prosperity_of_the_IndoPacific_R
Featured Image: BAY OF BENGAL (Sept. 7, 2007) – An F/A-18F Super Hornet assigned to the Strike Fighter Squadron 102, left, and an F/A-18E Super Hornet from Strike Fighter Squadron 27, foreground, fly in formation with two Indian Navy Sea Harriers, bottom, and two Indian Air Force Jaguars, right, over Indian Navy aircraft carrier INS Viraat (R 22) during exercise Malabar 07-2. U.S. Navy photo by Mass Communication Specialist 2nd Class Jarod Hodge.