In the midst of dead-end innovation week, an innovative success beyond compare.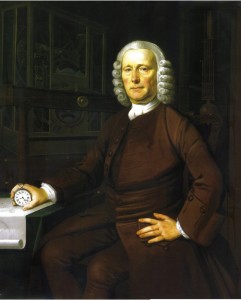 Today marks the 321st Anniversary of the birth and the 238th Anniversary of the death of John Harrison, the inventor of the marine chronometer.
During the age of sail, accurately establishing your position at sea could be a dangerous problem. North/South coordinates were easy; east/west coordinates were difficult. When approaching land, sailors would use dead reckoning to ID known points or landmarks. However, many times positions were wrong, or navaids could not be seen, and many times were incorrectly identified. Errors like these often led to shipwrecks and wasted time; ship owners were losing cargo and great sums of money.
After a major shipwreck that accounted for over 200 deaths along with many other ships, the British Parliament offered a prize for the person who could accurately measure longitude; it was called quite simply, "The Longitude Prize," which had a reward of 20,000 pounds (4.25 million today).
John Harrison was a self-taught carpenter and clock maker; he made it his life's work to solve the problem by creating a reliable time piece unaffected by changes in temperature, humidity, or pressure. It would also keep accurate time during long distances, resist corrosion, and keep working on a moving ship in all weather conditions. The front runner to win the prize was an astronomer who would use celestial navigation to calculate a ships longitude. John understood that a reliable, easy-to-use time piece was the best method of measuring time, and thereby knowing longitude.
John created five versions of his chronometer, H-1 thru H-5. With H-1 being the largest and H-5 the size of a pocket watch; each kept very accurate time. John died without being awarded the prize, but he did receive funding from the English Parliament to continue his work on after the success of H-1.
His story is not as exciting as other great people in history, but more than most, his contribution in navigation made possible those exciting sea voyages that discovered other far off lands. Reading his story, he became one of my heroes. So if you would please, lift a toast to a great man on his Birthday. Cheers!
Erek Shanchez currently resides in Central Florida and is the Director of Operations for the Central Florida Warriors Rugby League. Retired from the US Navy in 2007 as a Rescue Swimmer and crewman on a 11m RHIB (SWCC).