By Sally DeBoer
In late May of this year, NATO, along with Sweden and Finland, participated in the Arctic Challenge Exercise (ACE) 2015. The aerial exercise, which included more than 100 aircraft and 4,000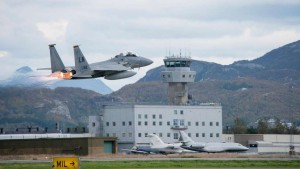 personnel, predictably ruffled a few feathers in Moscow; Russia responded by mobilizing their nascent but formidable 'Arctic Brigade' for an unannounced inspection. Russia's ambitions in the Arctic (and in general) are thinly – if at all – veiled. Russia unabashedly considers itself the preeminent actor in the High North. Recent remarks by U.S. Coast Guard Commandant Paul F. Zukunft seem to codify this self-assessment. On July 8th, Zunkunft conceded that the U.S. is "not even in the same league as Russia right now" (this assessment was based on a comparison between U.S. and Russian Arctic investment and infrastructure). The discussion of the changing Arctic landscape is hardly new, nor is it limited to re-freezing Cold War tensions. The United States, NATO, and their Nordic allies have a vested interest in building and sustaining a meaningful presence in the High North. While a good start, ACE and other exercises like it won't be sufficient to secure not only these actors' self-interested notions but also the idea of the Arctic (and its rapidly opening maritime corridors) as a freely accessible extension of the global commons. The U.S. and their arctic-minded allies should encourage NATO to make the Arctic a higher priority now.
NATO's stance on the Arctic has, to this point, been non-committal. As recently as 2013, NATO outright rejected idea of establishing a strong direct military presence in the Arctic High North, citing laudable diplomatic hopes that cooperation would win out over confrontation in the region. It's possible, but unlikely, that a lack of meaningful counterweight in the High North will lead to more cooperative regimes or greater adhesion to existing legal precedents. The Arctic is dynamic and should be treated as such. The following analysis provides just a few reasons to support a defined, consistent, and robust role for NATO in the Arctic.
Arctic actors, including many NATO member states like the U.S., Iceland, and Norway, have much to gain economically from a rapidly opening Arctic in terms of both resources and newly navigable shipping routes. The Arctic is often described as a vast storehouse of resources – oil and natural gas, other minerals, fisheries, and forests- and the prospect that climate change will permit increased exploration for, and exploitation of, these presumed resources has generated a great deal of interest, both public and private.[1] The High North has long been a lynchpin of the Russian petro-state. Indeed, as of 2013 eleven percent of Russia's GNP, 93 percent of its natural gas, and 75 percent of its oil came from the Russian Arctic.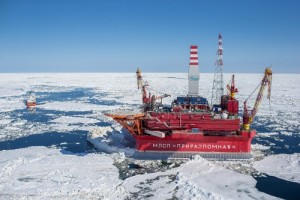 With access to these lucrative resources increasing and costs to exploit them decreasing, so too will conflict over access to those resources increase. In addition to tangible reserves, climate change has also opened previously impassable shipping lanes, some of which overlie disputed sovereignty claims. The national interests of NATO and allied actors with either Arctic real estate or interests would be best served by a consistent, cohesive NATO policy on the Arctic that would serve as a counterweight to Russia's economic ambitions; a prospect that has thus-far eluded the alliance.
A sustained allied naval presence has been, over the past several decades, been the primary arbiter of freely accessible global maritime arteries as an extension of the global commons. This protection must extend to the Arctic, particularly as new shipping routes progressively open. The Northwest Passage just to the north of Canada could become an economically viable shipping route, passable most of the year, by mid-century. Russia's rather extensive territorial claims in the Arctic encroach on the Northern Sea Route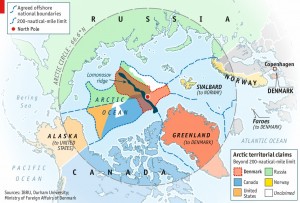 above Siberia, an issue of particular concern to the U.S. Thus far, efforts to resolve disputes over the High North have been cooperative and civil, but that civility has never been significantly challenged. As the Heritage foundation's Luke Koffey and Daniel Kochis argue, "NATO should consider the implications of Russia's recent aggressive military behavior; NATO is a collective security organization with five members that are also Arctic countries and two close allies (Finland and Sweden) with Arctic territory. NATO's commitment to a consistent and robust presence in the High North would be the surest protection of continued rules-governed behavior if (and likely when) tensions rise. Rather than contribute to tensions in the High North (which, this author predicts, will be the narrative Russia will pursue in response to a more cogent NATO Arctic policy), NATO's presence and prescience, if such a policy is meaningfully pursued, would be a stabilizing force that would ensure free access to newly navigable waters and accessible resources in accordance with international law and orderly management of territorial claims.
The practicalities of achieving the consensus necessary within NATO to move forward with such a step cannot be overlooked. Historically, the alliance has struggled with a general scarcity of consensus. U.S. leadership on the issue of the Arctic will be indispensable in convincing member states with no direct Arctic interests (and plenty of competing security concerns) to move forward with policy and action on the High North, as well as convincing fellow arctic actors that non-Arctic member states deserve their share of influence in NATO's Arctic policies. Despite any challenges inherent in alliance operations, supporting a greater and more carefully defined role for NATO in the changing Arctic remains far preferable, in this author's estimation, to a unilateral attempt to provide a counterweight in the High North.
A possible first step might be to cooperatively drafting a statement of intention on NATO's intentions and intended role in the Arctic, officially acknowledging NATO's interests and stakes in the region. Further, continued and broader participation in exercises like ACE send a clear signal to Arctic allies like Finland and Sweden, along with the international community at large, that NATO is prepared to face the unique challenges inherent in Arctic operations. The sooner that NATO can find cohesion and take action on their Arctic policy, the better. Already playing from behind in terms of investment and strategy, a comprehensive NATO Arctic policy and presence will provide the best chance to sustain not only for NATO members' and allies' economic interests but also the concept of the changing Arctic as an extension of the global commons.
[1] Le Miere, C., & Mazo, J. (2013). Economic Opportunities. In Arctic Opening: Insecurity and Opportunity. The International Institute for Strategic Studies.
Sally DeBoer is an associate editor for CIMSEC.  She is a graduate of the United States Naval Academy and a recent graduate of Norwich University's Master of Arts in Diplomacy program. She can be reached at Sally.L.DeBoer(at)gmail(dot)com.