Andreas Rupprecht and Tom Cooper. Modern Chinese Warplanes: Combat Aircraft and Units of the Chinese Air Force and Naval Aviation. Houston: Harpia Publishing, 2012. 256pp. $64.95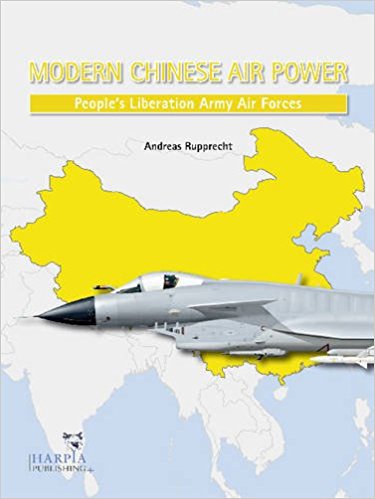 By Lieutenant Commander David Barr, USN
Over the past two decades, the term "modernization" has been widely used by foreign affairs experts, military and political leaders, and intelligence analysts to describe the startling rapidity of the Chinese military's rise from an arguably primitive force to one of the most technologically-advanced militaries in the world. In his article, "China: A Threat or a Challenge: Its Air Power Potential", Indian Air Marshall RS Bedi describes modernization as "a dynamic process to keep abreast with the latest" (Bedi, p3). By applying lessons learned from its military actions against U.S. forces during the Korean War and observations made during later conflicts such as Operation Desert Shield/Desert Storm, NATO operations in the Balkans, and Operations Enduring Freedom and Iraqi Freedom, the PLA have kept abreast of the significant role of airpower in modern warfare. Accordingly, both the People's Liberation Army Air Force (PLAAF) and People's Liberation Army Naval Air Force (PLANAF) have quickly progressed through this "dynamic process" and have emerged as a force capable of countering American and regional neighbor land- and sea-based airpower, including aircraft carriers, cruise missiles, and long-range bombers. Via informative writing and a litany of glorious, colored and black & white photographs, Modern Chinese Warplanes leads readers along the PLA air forces' progressive path toward today's modernized force. Chock full of vivid and informative photographs, readers are immediately transfixed. To invoke a classic adage, if a picture speaks a thousand words, then even a cursory flip through the pages reveals a stunning, photographic summary and leaves the reader eager to investigate the accompanying text.
The first chapter of Modern Chinese Warplanes is dedicated to describing the origins, progressions, and even setbacks of both the PLAAF and the PLANAF, thus providing succinct yet informative context toward understanding how remarkable the modernization of China's air forces has been. Although the PLAAF and PLANAF were established in 1949 and 1952 respectively, it could be argued that the modernization of today's force was born from the compelling wake-up call presented to Chinese Communist Party (CCP) and People's Liberation Army (PLA) leadership during the 1991 U.S.-led military operations in Iraq. Using Rupprecht and Cooper's description, U.S. operations in Iraq "shocked the PLA into the realization that it had to become capable of engaging in high-tech warfare or otherwise face the certainty of falling ever further behind other modern militaries." This marked a momentous shift in Chinese national military strategy and the subsequent 1993 issuance of the "The Military Strategic Guidelines for the New Period" by the CCP and PLA. Thus, if 1993 can be considered the start of China's current military modernization period, the mere 24-year rise in military capabilities of the PLA, arguably now on par with the world's leading military forces, is even more remarkable.
After Chapter 1's useful historical context, Rupprecht and Cooper use Chapters 2 through 6 to succinctly present the book's stated objective: to provide "a summary of the Chinese air arms as they are today, what equipment they operate, and how this equipment is organized." Chapters two and three both describe and illustrate China's modern combat aircraft, combat support aircraft, and associated armament. Chapter two's introductory pages aptly describe Chinese aviation nomenclature and unique designations but then seemingly gloss over China's numerous aircraft manufacturing companies. Admittedly this area is outside the scope of Modern Chinese Warplanes; however, readers seeking additional information regarding Chinese aircraft manufacturing companies would benefit by combining this book with The Chinese Air Force; Evolving Concepts, Roles, and Capabilities by National Defense University Press (Hallion). The remainder of Chapters two and three however, present information that is well-researched and effectively organized into an almost encyclopedic presentation of each aircraft's unique characteristics, performance parameters, and weaponry. The vibrant pictures and charts are wonderfully placed and provide ample relevance. An especially intriguing inclusion within Chapter 2, especially to military analysts and aircraft enthusiasts, is the sections entitled "Future" at the conclusion of each aircraft's narrative. These paragraphs provide the reader with tantalizing hints regarding future aircraft developments, variants, and designations – details that would need to be expounded upon in a possible update. Additionally, Chapter four provides a highly-informative explanation of PLA aircraft markings and serial number systems – information neither readily available nor widely understood.
The only thing going against Modern Chinese Warplanes is time, for today the term "modern," as the book's title implies, is especially fleeting regarding the modernization of the Chinese military and its air forces. Since the book's 2012 publication date, further reflected in the 2012 Order of Battle in chapters five and six, numerous changes have occurred within China's political and military structures that, if the authors and publisher do not address, will quickly render this book irrelevant: In November 2012, Xi Jinping assumed China's presidency and chairmanship of the Central Military Commission (CMC), quickly embarking on a campaign to reorganize the PLA, including restructuring the existing military regions. This effort was realized in February 2016 as the seven military regions described in Modern Chinese Warplanes were reorganized into five theater commands – a reorganization which also affected the subordinate command structures (Wuthnow). Additionally, in 2013–2014, China initiated substantial dredging and land reclamation projects in the Spratly and Paracel Islands.
These efforts continued, despite international backlash and in the face of a ruling by an international tribunal in The Hague in July 2016 which officially stated that China's expansive claim to sovereignty over the waters of the South China Sea (SCS) had no legal basis. Today, these projects have resulted in three highly-functional artificial islands which are strategically located in the southern portion of the SCS and are fully capable of hosting Chinese military aircraft (Kyodo). Furthermore and more specifically, the PLA has accelerated its 4th and 5th-generation aircraft and armament development programs; therefore, many of the programs or technologies only hinted at within the pages of Modern Chinese Warplanes such as the Chengdu J-20 stealth fighter, Shenyang J-15 aircraft carrier-based fighter, and the Xian Y-20 heavy transport aircraft have rapidly progressed to the point of entering service in the PLAAF and/or PLANAF (Adams).
Finally, the PLA continues to initiate or expand military aviation and armament developmental programs. Modern Chinese Warplanes needs to be updated to further reflect the ongoing advances in PLAAF and PLANAF aviation platforms and technologies such as the Shenyang J-31 "Gyrfalcon"/"Falcon Hawk" stealth fighter (Fisher), the CJ-20 long-range land-attack cruise missile (LACM), and the YJ-12 long-range anti-ship cruise missile (ASCM) (Roblin).
In Modern Chinese Warplanes, the authors do not dive deep into foreign affairs or military strategy, nor do they embark on theorizing on how the aircraft are or will be operationally integrated into the PLA – foreign affairs experts, military analysts, and political strategists will find little usefulness here. Readers seeking to expand into air power operational integration would benefit by also reading Chapter five of China's Near Seas Combat Capabilities by Peter Dutton, Andrew Erickson, and Ryan Martinson (Dutton). However, military analysts, history buffs, and even aircraft model aficionados will discover a wonderful and colorful addition to their collection – as a quick reference or an immersive interlude – likely resulting in many dog-eared pages. For any military enthusiast looking to expand his or her knowledge of modern Chinese aviation, this book is certainly a handy reference; however, it should not stand on its own but rather serve as a springboard toward additional research. If not already in the works, this reader personally hopes the authors and publisher collaborate and embark on revised editions that includes updated information and equally stunning photographs so that the 2012 version of Modern Chinese Warplanes will not be lost to the annals of time but rather, much like the PLA itself, will continue "in a process of sustained reform and modernization."  
LCDR David Barr is a career intelligence officer and currently within the Directorate for Intelligence and Information Operations for U.S. Pacific Fleet. His opinions do not represent those of the U.S. Government, Department of Defense, or the Department of the Navy.
References
Adams, Eric. "China's New Fighter Jet Can't Touch the US Planes It Rips Off"; Wired; 07 NOV 2016. https://www.wired.com/2016/11/china-j-20-fighter-jet/
Bedi, R.S. "China: A Threat or a Challenge:  Its Air Power Potential"; Indian Defense Review; 08 March 2017. http://www.indiandefencereview.com/print/?print_post_id=35227
Dutton, Peter, Andrew S. Erickson, and Ryan Martinson. China's Near Seas Combat Capabilities. Newport: U.S. Naval War College; China Maritime Studies, 2014.
Fisher, Richard D Jr. "New details emerge on Shenyang FC-31 fifth-generation export fighter"; IHS Jane's Defence Weekly; 09 NOV 2016. http://www.janes.com/article/65359/new-details-emerge-on-shenyang-fc-31-fifth-generation-export-fighter
Hallion, Richard, P., Roger Cliff, and Phillip C. Saunders. The Chinese Air Force: Evolving Concepts, Roles, and Capabilities. Washington, D.C.: National Defense University Press, 2012.
Kyodo News. "China tests 2 more airfields in South China Sea"; posted 14 July 2016. http://news.abs-cbn.com/overseas/07/14/16/china-tests-2-more-airfields-in-south-china-sea
Roblin, Sebastien. "China's H-6 Bomber: Everything You Want to Know about Beijing's 'B-52' Circling Taiwan"; The National Interest; 18 DEC 2016. http://nationalinterest.org/blog/the-buzz/chinas-h-6-bomber-everything-you-want-know-about-beijings-b-18772
Rupprecht, Andreas, and Tom Cooper. Modern Chinese Warplanes: Combat Aircraft and Units of the Chinese Air Force and Naval Aviation. Houston: Harpia Publishing, 2012.
Wuthnow, Joel and Phillip C. Saunders. "Chinese Military Reform in the Age of Xi Jinping: Drivers, Challenges, and Implications"; National Defense University Press; March 2017. http://ndupress.ndu.edu/Portals/68/Documents/stratperspective/china/ChinaPerspectives-10.pdf?ver=2017-03-21-152018-430
Featured Image: A J-31 stealth fighter (background) of the Chinese People's Liberation Army Air Force lands on a runway after a flying performance at the 10th China International Aviation and Aerospace Exhibition in Zhuhai, Guangdong province, in this November 11, 2014 file photo. (Reuters/Alex Lee)