By Admiral Elmo "Bud" Zumwalt
PERSONNEL RETENTION AND MOTIVATION
FAMILY SEPARATION

COMPENSATION

HOUSING/FACILITIES

JOB SATISFACTION
There are several critical areas that must be dealt with directly before retention rates can be improved and shortages in experience corrected.
First, family separation must be reduced significantly. Second, pay must be raised to a level that reflects the unique problems associated with a Naval career. Third, Naval personnel support facilities must be improved. Last—and more generally—we must find new ways to restore the zest, challenge, and fun of a Naval career.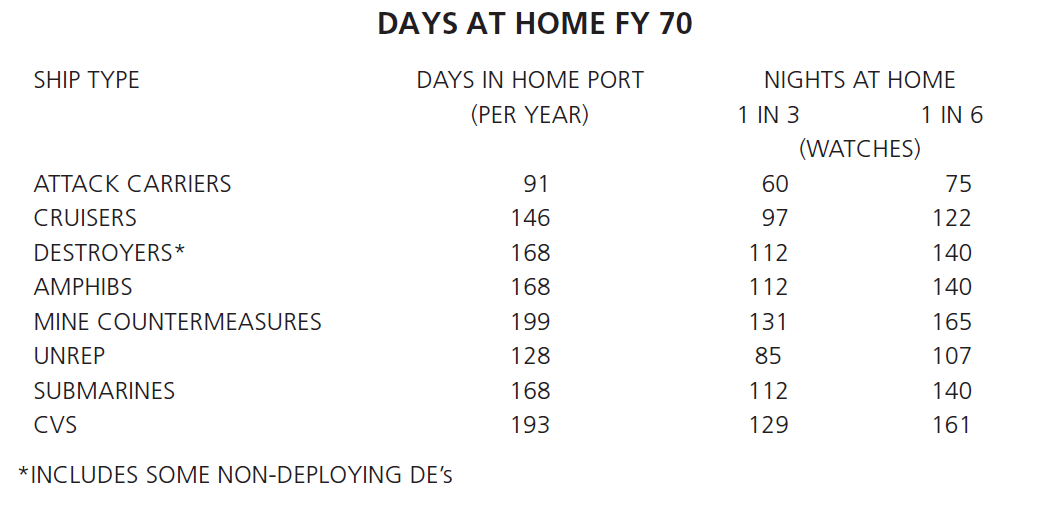 Our surveys have shown consistently that family separation is a key factor in the career decisions of most Navymen. This slide shows the average number of days spent by our ships in their home ports last year. Some of our career men in deprived ratings are at sea for more than 7 years at a stretch on schedules such as these.
ACTION TAKEN TO MINIMIZE FAMILY SEPARATION
CONUS IN-PORT POLICIES

30 DAYS LEAVE FOR ALL CHANGES OF DUTY STATION

LEANER WATCH SECTIONS

ADDITIONAL ADMINISTRATIVE AND WATCH STANDING SUPPORT BY SHORE COMMANDS FOR TENANT SHIPS

LEAVE FOR 50% OF ALL CREWS DURING POST-DEPLOYMENT PERIOD

IMPROVED PIER FACILITIES TO PROVIDE UTILITIES FOR ALL POST-DEPLOYMENT SHIPS

IMPROVED IN-PORT STABILITY BY 40% REDUCTION OF SCHEDULE CHANGES

OVERSEAS POLICIES

CONUS LEAVE FOR 5% OF DEPLOYED CREWS

NAVAL-SPONSORED/COORDINATED FLIGHTS TO MED FOR DEPENDENTS
Here are some actions we have initiated—or intend to initiate—to increase the amount of time that Navymen can spend with their families. We are willing to accept the slight reduction in our CONUS training and readiness as the price of increases in time at home—"family" time.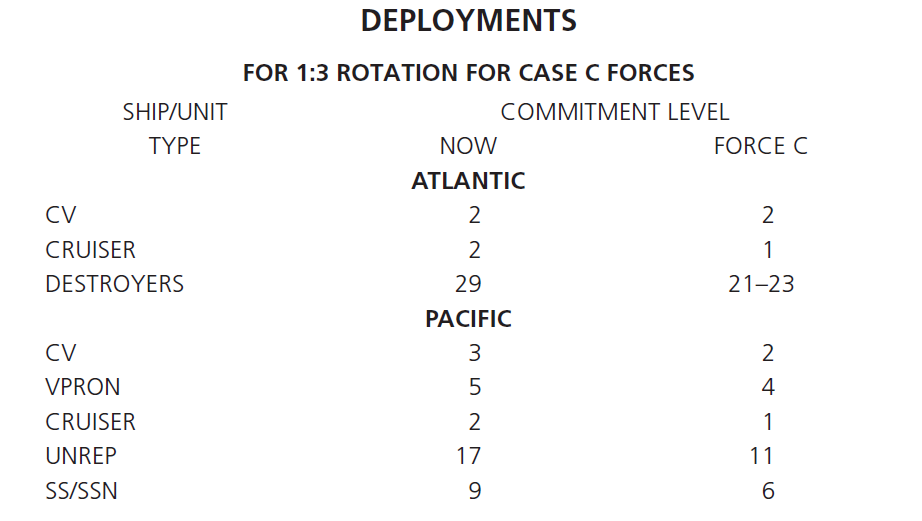 These actions are clearly inadequate, however, unless they are coupled with real reductions in Naval commitments commensurate with reductions in force levels. Consequently, if force levels are reduced further, we will ask the Joint Chiefs of Staff to support a selective reduction of our forward deployments, to ensure a one-in-three rotation policy for deployable units. The resultant reductions in our deployed forces for Case C, based on a budget $1B lower in expenditures than the fiscal guidance, are shown here. The main effect, of course, would be to reduce further the number of attack carriers in the SEVENTH Fleet to only 2. There would be no significant decrease in our Mediterranean commitment. At a ratio of 1:3, or at the more desirable peacetime 1:4, we would retain the capability of a strategic contingency force for quick reaction.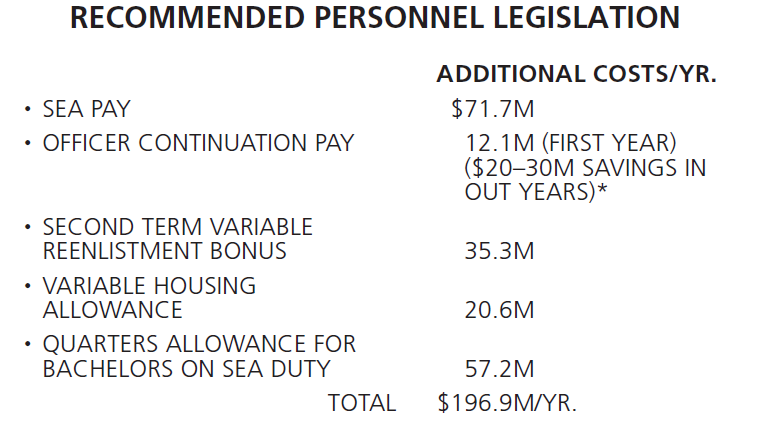 Raising pay requires your personal support more than any other single subject. In the absence of comprehensive salary reform legislation, I solicit your support toward the enactment of legislation in each of these areas.
Sea Pay constitutes the single most important "people legislation" sponsored by the Navy, because it identifies and provides compensation for the unique, hardship aspect of a Navy career. We had sea pay before 1949. It amounted to 10% and 20% of the base pay of officers and enlisted men respectively. In 1949, payment of sea pay to officers was discontinued, and the enlisted entitlement was changed to a flat rate; for a typical second class petty officer, it is now 4.3% of base pay. Our proposal, which is also for a flat rate, increases entitlement (to 12.6% of base pay for the second class petty officer), extends it to officers, and relates increases in sea pay to years spent at sea rather than seniority. This legislation has been returned from the Bureau of the Budget with the recommendation that it be studied further. We will discuss this matter with you separately and need your support in gaining approval of this vital proposal. The other recommended legislation is concerned with specific trouble spots in retention and puts the money where the problems are.
A compensation-related problem is the poor condition of many of our housing units and training facilities. We are exploring ways to engage the Seabees and other self-help forces more actively in such construction forces. To stretch our construction dollars, we are investigating innovative financial approaches. As an example, the Navy Relief Society has agreed to extend a $2M low-interest loan to construct personnel facilities. The shortfalls in our current facilities are so acute that we are recommending changes in our MILCON, even at the price of smaller forces today.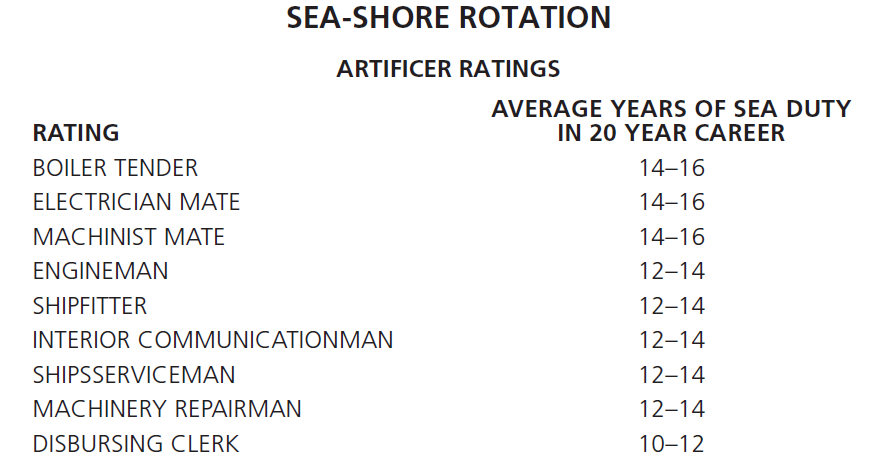 The family separation problem is especially acute in artisan enlisted ratings for which there is a paucity of shore assignments in the Navy. Many of these petty officers have skills that are usable in other areas of government—such programs as the Job Corps and VISTA, for instance. As an interim objective, I request your support in helping to ease our severe rotation problems by the authorization of 4,000 additional billets ashore. We would try to make as many of them reimbursable as possible, that is, other government agencies would repay the Department of Defense. But even if the entire cost came from the Navy's budget, I would regard the expenditure as well worth our while.
INITIATIVES TO INCREASE JOB SATISFACTION
IMPROVED JOB ASSIGNMENT POLICIES

INCREASE ATTENTION TO OFFICER JOB

PROVIDE INDIVIDUAL ATTENTION TO JOB ASSIGNMENTS FOR ENLISTED

CREATE MORE CHALLENGING ASSIGNMENTS FOR THE 500 TO 600 ENLISTED MEN WITH ADVANCED

EARLIER RECOGNITION AND GREATER RESPONSIBILITY FOR TOP PERFORMERS

DISSOLVE CONVENTIONAL CAREER "PATTERNS" FOR TOP TEN PERCENT

DOUBLE NUMBERS OF PEOPLE PROMOTED EARLY

SUBSTANTIALLY INCREASE COMMAND OPPORTUNITY FOR LIEUTENANTS

ESTABLISH TRIAL PROGRAM TO INCREASE RESPONSIBILITY IN GRADE IN ONE DESTROYER AND FOUR AVIATION SQUADRONS

EXCHANGE DUTY ASSIGNMENTS BETWEEN AVIATORS AND SURFACE OFFICERS TO BREAK DOWN TRADITIONAL ASSIGNMENT CONSTRAINTS
To restore the zest of going to sea, we have initiated a number of programs; some are outlined here. I hope that the net effect of these and related initiatives will be to dissolve conventional—and now obsolete—career patterns, encourage greater latitude and more personal attention in both officer and enlisted assignments, provide increased responsibility earlier, encourage a bolder and more innovative philosophy of command, and open new avenues of communication.
The turbulence associated with rapid force reductions has a very real bearing on retention. To achieve lowered budget targets, we have had to take personnel release and redistribution actions that degrade fleet readiness and undercut our retention efforts. In my opinion, if we drop below 575,000 in FY 72, we will jeopardize seriously our ability to "put people first." Yet, force mixes A, B and C all could be as low as 550,000 depending on actions taken in the shore establishment. Even a figure of 575,000 would require stringent personnel actions, starting this year. Further reductions would have severe and lasting effects on the Navy's readiness and retention.
ALTERNATIVE ACTIONS TO REDUCE MILITARY MANPOWER

SECDEF SUPPORT NEEDED IN FOLLOWING RETENTION-RELATED AREAS:
SELECTIVE REDUCTION OF FORWARD DEPLOYMENTS TO INSURE ONE-IN-THREE ROTATION POLICY THIS YEAR AND ONE-IN-FOUR POLICY BY F Y 72

DISSOLUTION OF FIXED COMMITMENTS, TO PERMIT GREATER NAVAL  FLEXIBILITY IN EXTENDING PEACETIME PRESENCE

BILLETS IN GOVERNMENT AGENCIES FOR RATINGS WITH INADEQUATE SEA/SHORE ROTATION

SPECIFIC PAY LEGISLATION

FORCE STRENGTH NO LOWER THAN 575,000
These, in sum, are the areas related to retention in which we will need your personal support.
SUMMARY
This completes the detailed part of my presentation. I would like now to summarize my main points. It is from these that our proposals will originate in the immediate future; we will request your support.
---
THE SOVIET NAVY HAS ATTAINED SIGNIFICANT WORLDWIDE CAPABILITIES
IT IS CONTESTING U.S. FOR CONTROL OF THE SEAS

ITS FORCES ARE GROWING IN QUALITY AND QUANTITY

WITH ITS PRESENT MOMENTUM, FUTURE IMPROVEMENTS ARE CERTAIN
---
1. The Soviet Navy has attained significant worldwide capability toward controlling the seas. The Soviet forces are increasing in quantity and quality and have a momentum of development that suggests further sharp improvements in the future.
---
IF U.S. NAVAL FORCES ARE REDUCED BELOW THE END FY 70 LEVEL, SIMULTANEOUS TASKS AGAINST THE SOVIETS IN THE PACIFIC AND ATLANTIC MAY NO LONGER BE FEASIBLE
---
2. The Soviets have a two-ocean Navy. If our Naval forces are reduced below the level of end FY 70, we will no longer be able to oppose them simultaneously in the Atlantic and Pacific Oceans.
---
SEA CONTROL MISSION SHOULD HAVE PRIORITY OVER PROJECTION OF POWER ASHORE

PROJECTION FORCES SHOULD BE STRUCTURED TO:

SUPPORT NIXON DOCTRINE IN ASIA

PROVIDE STRATEGIC CONTINGENCY FORCE
---
3. The Soviet Naval threat, our commitments abroad, and the credibility of our sea-based strategic deterrent demand that the sea control mission be assigned priority of resources at the expense of projection of power This action will reduce the capability of our projection force to support the Nixon Doctrine in Asia and to serve as a strategic contingency force.
---
IF THE SOVIETS CHALLENGE THE U.S. AT SEA, OUR CHANCE OF DEFEATING THEM IS:

55% WITH PRESENT FORCES
30% WITH POM-72 FORCES 
---
4. If the Soviets challenge us at sea, either as an adjunct to conflict on land or in a war restricted to the sea, we will have, in my judgment, a 55% chance of defeating them with our present forces. The forces at the POM-72 level, even after optimization, reduce my confidence of success to about 30%. The U.S. may thus be unable to support or hold together the Free World alliance in the face of a conflict with the Soviets at sea.
---
WE ARE PROPOSING ACTIONS THAT CAN, WITHIN FISCAL CONSTRAINTS:

INCREASE OUR CAPABILITY FOR SEA CONTROL

RETAIN SOME PROJECTION FORCES TO SUPPORT NIXON DOCTRINE

INCREASE COMBAT EFFECTIVENESS

THESE ACTIONS CANNOT:

OFFSET FORCE REDUCTIONS

REVERSE THE CONSEQUENTLY ADVERSE POWER RELATIONSHIP WITH THE SOVIETS
---
5. We propose a number of actions designed to increase our capability for sea control while retaining some forces for projection of power ashore in support of the Nixon Doctrine—all within the fiscal restraints we face. These actions are intended to increase combat effectiveness within a given force structure and funding level, but do not offset the potential force reduction or reverse the critically adverse power relationship with the Soviets implicit in that reduction.
---
GIVEN CURRENT AND POTENTIAL FY 72 FISCAL GUIDANCE, THE NAVY:

MUST CUT FORCES TO MAKE FUNDS AVAILABLE FOR:

DEVELOPMENT OF NEW WEAPONS SYSTEMS
MODERNIZATION OF FORCES 
---
6. Under the current and potential FY 72 Fiscal Guidance, we see no alternative to accepting some further reduction in force levels, so that development of new weapons systems and modernization of forces can continue.
---
NAVY WILL PAY ATTENTION TO ALL HIGH-COST PROGRAMS; SOPHISTICATION WILL BE ADDED ONLY WHERE IT IS NEEDED TO MATCH THE SOVIET THREAT.
---
7. We shall pay particular attention to all high-cost programs, adding sophistication only where the threat makes it necessary. The high quality of some of the Soviet systems, particularly in submarines, missiles and air defense, sets some limits to that objective.
---
U.S. SHOULD ENCOURAGE APPROPRIATE ALLIES TO BUILD UP THEIR SEA CONTROL FORCES

U.S. MUST REALIZE THAT THE COMMITMENT OF EVEN OUR CLOSEST ALLIES WILL DEPEND ON THEIR COMPARATIVE ASSESSMENT OF U.S. AND SOVIET NAVAL POWER
---
8. We must engage the understanding and commitment of appropriate allies to build up their own sea control forces. This objective should be coordinated closely with our capabilities. In pursuing this course, we must realize that the commitment of even our closest friends will depend on their assessment of our naval power, compared with the Soviets.
---
FUNDING ASSISTANCE IS REQUIRED FOR ULMS IOC IN LATE 1970's
---
9. We shall require assistance in funding an acceleration in ULMS, if directed to achieve an IOC in the late 1970's.
---
DEVELOPING PLAN OF ACTION TO INCREASE 6th FLEET DEFENSIVE CAPABILITIES
---
10. We are examining the situation in the Mediterranean, to develop a plan of action that will increase the defensive capabilities of the SIXTH Fleet in the event of hostilities, to permit it to carry out its offensive mission. 
---
CENTRALIZED CONTROL OF EW & COMMAND & CONTROL AREAS
---
11. We are establishing an office with the necessary authority and responsibility to centralize direction of electronic warfare and command and control. 
---
SURVEILLANCE IMPROVEMENTS WILL PROVIDE LARGE RETURNS IN COMBAT CAPABILITY AT LOW COST
---
12. We anticipate large returns in combat capability at low cost by taking strong actions to improve our capabilities for satellite and underseas surveillance.
---
THE PERSONNEL SITUATION REQUIRES IMMEDIATE ATTENTION:

TO REDUCE COSTS NOT RELATED TO COMBAT STRENGTH

TO INCREASE READINESS

TO REEMPHASIZE PURPOSE

NAVY

IS GIVING THIS AREA THE CLOSEST ATTENTION

WILL SACRIFICE FORCE LEVELS NOW IN EXCHANGE FOR LONG-TERM GAINS IN PERSONNEL READINESS
---
13. The most urgent action within the Navy, to reduce costs that are not related directly to combat strength, to increase readiness, and to reemphasize purpose lies in the personnel field. We are giving this area the closest attention. Some proposals have gone forward to you; others are in process. We are prepared to make some sacrifices in immediate force level in exchange for potential gains in personnel readiness. Your support in this key and vital matter is essential.
We are not presenting specific matters for your approval today. However, the actions we are taking or plan to take to set the new direction, will be introduced into the budget process. As these, and related, papers go forward we will request your support in each instance.
Admiral Elmo "Bud" Zumwalt served as the nineteenth Chief of Naval Operations of the U.S. Navy, from 1970-1974. 
Featured Image: Stuttgart, West Germany, May, 1970: Adm. Elmo R. Zumwalt, Jr., on a worldwide tour of U.S. installations before taking over as Chief of Naval Operations, ponders a question during a press conference in Stuttgart. (Lloyd Borguss/Stars and Stripes)