Green, Michael. By More Than Providence: Grand Strategy and American Power in the Asia Pacific Since 1783. New York City: Columbia University Press, 2017, 760pp. $45.00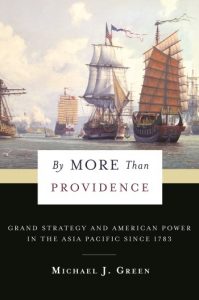 By Mina Pollmann
Introduction
Michael Green's latest contribution to the field of strategic studies is, first and foremost, a history. By More Than Providence (Columbia University Press, 2017), the first comprehensive history of U.S. statecraft in the Asia-Pacific since Tyler Dennett's Americans in Eastern Asia (1922), is a much-needed attempt to answer the question: can the U.S. have a grand strategy in the Asia-Pacific? Green does this by asking whether the U.S. has ever had a grand strategy in this region.
Green concludes that U.S. grand strategy may have been "episodic and inefficient," but not only does it exist, "in the aggregate[,] it has been effective." Furthermore, he argues, whether or not the U.S. was able to "[muster] the willpower, focus, and resources to prevail when access to an open order in the region [had] been fundamentally challenged" depended not on the U.S.'s "preponderance of power," but on "[U.S.] leaders' clarity of purpose and deliberate identification of ends, ways, and means." He reaches this conclusion through 15 superbly well-researched chapters.
American Strategy In Asia
Beginning from the 1780s to the present day, each chapter is similarly structured, opening with the introduction of the main cast of characters in the administration under study. Green tastefully offers vignettes of each individual, covering a range of information that shaped the individual's worldview in policy-relevant ways, whether it is where the statesman grew up, what schools the statesman attended, or what religion they practiced. Each chapter also delivers solid overviews of the interpersonal and interagency dynamics that facilitated – or hindered – the administration's ability to craft and implement a coherent grand strategy.
From there, Green delves into the narrative of events, interspersed with surveys of what other historians have had to say on the subject, sharing insights from classics, such as David Halberstam's The Best and Brightest on the Vietnam War, to the most cutting-edge research, including Rana Mitter's Forgotten Ally on the Sino-Japanese War.
But the book's real strength is in each chapter's concluding evaluation of the effectiveness of the administration under study's grand strategy. 548 pages of this sweeping history is thematically tied together by the five "tensions" that Green identifies and traces over time.
The five tensions in U.S. grand strategy are: Europe versus Asia; continental (China) versus maritime (Japan); forward defense versus Pacific depth; self-determination versus universal values; and protectionism versus free trade. Green does not leave readers guessing how these tensions ought to be resolved – he forcefully advocates for a U.S. grand strategy that appreciates the preeminence of Asia in world affairs, elevates the importance of the U.S. relationship with Japan, does not allow for any retreat, loudly proclaims the ultimate triumph of democratic values, and vigorously pursues an open trading order.
Though unapologetically realist while critiquing administrations that failed to understand the hard logic of balance of power, Green also brings a nuanced appreciation of the importance of ideas to the table.
For example, while Green praises Theodore Roosevelt for "[achieving] an effective balance of realism and idealism," he faults the "blatant hypocrisy" of the U.S.'s position in Asia during Roosevelt and William McKinley's administration. McKinley annexed Hawaii over the opposition of native Hawaiians, and Guam and Samoa went decades without self-government. The U.S.'s repression of Filipinos fighting for independence also hurt the U.S.'s image as a democracy promoter. As such, "the anti-imperialist tradition in American political culture created a vulnerable center of gravity that could be targeted by insurgents – as Ho Chi Minh did to great effect six decades later."
Green credits Woodrow Wilson for being on the "right side of history" for recognizing the Republic of China and setting the Philippines on course for independence, noting that the problem was not with Wilson's push for such ideals, but pushing for such ideals in a unilateral and piecemeal manner that left Asian leaders ranging from Yoshinda Shigeru to Ho Chi Minh disillusioned with "American moral leadership."
The U.S. fared less well under Dwight Eisenhower, when the U.S. could only be "reactive and ineffective" due to a failure to understand the power of ideas – of the nationalist and anti-colonial sentiment sweeping the region. A division soon emerged in Japan policy, between those policymakers who wanted a Japan that was "liberal but neutral" and those who saw Japan as "a critical asset in the struggle against the Soviet Union." Though the immediate postwar era saw the first group ascendant, the priority gradually shifted towards fostering Japan's economic growth to bolster Japan's own defense. While the U.S. never gave up its goal of remaking Japan as a democracy, and in this, achieved some success, the U.S.'s Japan policy during this period was characterized by the sobering recognition that Japan's security was tied to access to its former imperial spaces in Korea and Southeast Asia.
In his effusive praise for Reagan, Green highlights Reagan's ability to "fuse interests and ideals; to focus on strengthening the institutions of freedom rather than just weakening the hold of authoritarian leaders; to ensure that allies were better governed at home so that they would be more resilient against imperialism from abroad; and to stay on the right side of history." While Reagan had come into office a critic of Jimmy Carter's human rights-focused approach, at least in Asia, Reagan found himself increasingly supporting democratization of key allies – such as South Korea and the Philippines.
Speaking of the George W. Bush administration, in which Green served on the National Security Council (2001-05), he raises the examples of the U.S. response to crises in Nepal, Vietnam, and Burma to argue that "We saw no contradiction between American idealism and self-interest." He is harsh, but articulately so, on the Obama administration for signaling that violations of human rights and democratic principles would not impose costs on the violator's relationship with the U.S. And this, perhaps, ought to concern us most about the current U.S. administration's Asia policy (or more accurately, lack thereof).
Strategic Themes from the Current Administration
Donald Trump dismayed human rights advocates when a leaked transcript of his call with Philippine President Rodrigo Duterte showed that he had made remarks praising Duterte's controversial and violent war on drugs, which has killed more than 7,000 Filipinos. Trump said to Duterte: "I just wanted to congratulate you because I am hearing of the unbelievable job on the drug problem. Many countries have the problem, we have a problem, but what a great job you are doing and I just wanted to call and tell you that." The call ended with an open-ended invitation to the Oval Office.
Similarly, Trump's invitation to Thai Prime Minister General Prayuth Chan-ocha, who came to a power in a military coup, is causing consternation. Though Prayuth had initially promised elections in late 2014, they are unlikely to be held until 2018 at the earliest. Even when the elections are held, democratic government will be diminished as the new constitution provides a role for the junta in the unelected upper house, investing it with authority to invoke emergency powers, and restricts the power of the elected lower house. Politicians and activists have been detained, and Amnesty International scrapped a planned report on torture after receiving threats from the police.
The lack of contact between Trump and Myanmar's de facto leader Aung San Suu Kyi is unsettling for the opposite reason – because Myanmar has been taking steps towards democratization. While concerns about Aung San Suu Kyi's silence on the abuses and atrocities directed against Rohingya Muslims in the Rakhine State are valid, Myanmar is a successful case of U.S. engagement encouraging democratization. If Trump does not reach out to Aung San Suu Kyi, offering continued U.S. support despite the bumps on the road toward democratization, we could easily see Myanmar falling back into Beijing's orbit. The pattern that emerges under the new administration is not a pretty one.
This is not to say that the U.S. had a perfect, or even remotely perfect, track record on the issue before Donald Trump. Historically, the U.S. has condoned extrajudicial killings and violations of democratic principles when it meant advancing U.S. security interests. Morally, the U.S. is reaching bankruptcy – both abroad and domestically. But that is no excuse to stop pushing for the democratic ideals that the U.S. professes.
Conclusion
Balance of power is the hard logic that has most often led to success in crafting U.S. grand strategy in the region. It disciplined resource allocation, and focused U.S. leaders on the appropriate opportunities. The U.S. doesn't have a perfect track record when it comes to upholding ideals, and its credibility is declining in the region. However, in the present day, as the U.S. becomes stretched thinner, it must consider how it can best utilize non-material sources of power – such as ideals and principles – to pursue its objectives as well.
In the coming decades, our alliances will only become more important to dissuade a challenge by the rising hegemon. Japan, South Korea, Australia – all our allies and partners want the U.S. to stay engaged not only because of the U.S.'s capabilities to balance China, but also because they inherently prefer the U.S. as a partner because of what the U.S. has stood for as the world's first democracy. If the U.S. wants to remain the preferred partner of states that will help us balance against China, the U.S. also needs to take a position in the balance of ideas shaping Asia today.

Mina Pollmann's research interests focus on Japan's security and diplomacy, U.S. foreign policy in East Asia, and international relations in the Asia-Pacific. She received her Bachelor's from Georgetown University's School of Foreign Service, and will be beginning her PhD studies at MIT's Department of Political Science this fall. She also writes for The Diplomat's Tokyo Report. Follow her on Twitter @MinaPollmann. 
Featured Image: PACIFIC OCEAN (Dec. 10, 2010) U.S. Navy and Japan Maritime Self-Defense Force (JMSDF) ships underway in formation as part of a photo exercise on the final day of Keen Sword 2011. The exercise enhances the Japan-U.S. alliance which remains a key strategic relationship in the Northeast Asia Pacific region. Keen Sword caps the 50th anniversary of the Japan-U.S. alliance as an "alliance of equals." (U.S. Navy photo by Mass Communication Specialist 3rd Class Jacob D. Moore/Released)