Littoral Arena Topic Week
By Aaron Jensen
Military operations in the littoral domain are typically associated with the navy and the marines. In the future however, the U.S. Army will also play a key role in maritime and littoral operations. Developments such as the Joint Concept for Access and Maneuver in the Global Commons (JAM-GC)[1], as well as the Asia Pivot, have compelled the army to consider how it can best contribute to possible future conflicts. One area where the army is seeking to contribute is in the maritime domain. The army has been preparing its rotary-wing assets, especially the AH-64 Apache attack helicopter, to fight in the maritime environment.
In recent years, Apache units have begun to train with their navy counterparts. In 2013, the Texas Army National Guard's 36th Combat Aviation Brigade began testing its helicopters for operations at sea. From March through August, soldiers spent time aboard the amphibious transport docks Ponce and Green Bay, dock landing ship Rushmore and aircraft carrier John C. Stennis. During this time army aviators practiced deck landings, as well as live-fire practice.[i] In 2014, the Army sent eight Apaches from Fort Carson, Colorado to the U.S. Navy's RIMPAC (Rim of the Pacific) exercise where they conducted deck landings and simulated attacks against enemy ships.[ii]
The Apache's impressive offensive capability is well suited for operations against smaller vessels at sea. In 2011, the British Army demonstrated the Apache's lethality against maritime threats. During tests aboard the HMS Ocean, British Apaches fired nine Hellfire missiles (AGM-114) and 550 rounds from its canon against seaborne targets, achieving a 100% success rate.[iii]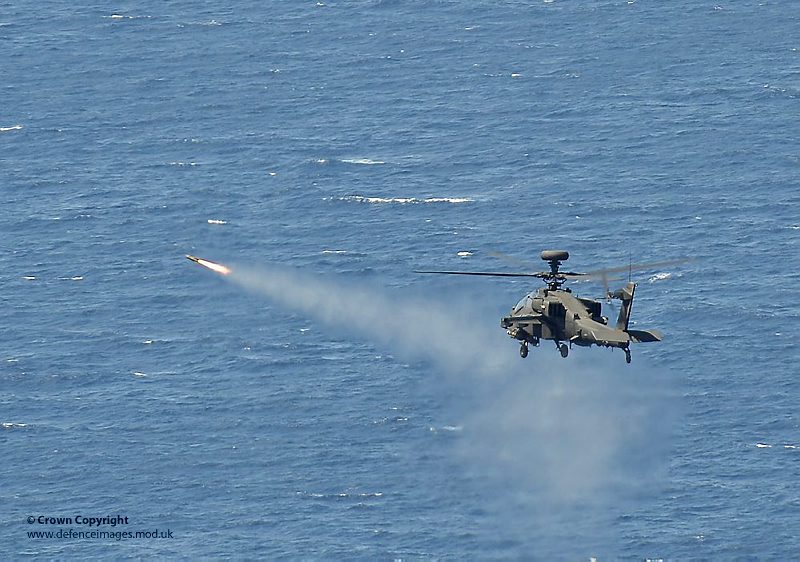 Tests by the U.S. Army have also verified the Apache's ability to execute missions in the maritime domain. In August, 2014 the Army Test and Evaluation Command (ATEC) conducted a series of tests on the Apache in different environments and mission tasks. For the maritime segment, Apaches were tasked to secure a shipping lane by defending against swarms of small enemy attack boats. The attack boats carried man-portable infrared missile-simulators to simulate a typical threat that would be posed by small boats. Threat radar systems were also simulated in several cases to simulate the danger from radar-guided missile launches. Over eight maritime mission tests, the Apaches performed well, receiving a score of 4.3 (out of a maximum score of 5) and nearly achieving complete success.[iv]
The Apache has also shown that it can operate from ships to attack land targets. During the 2011 military intervention against Libya (Operation Ellamy), several British Apaches operating from the HMS Ocean successfully destroyed targets in Libya. Utilizing Hellfire missiles and 30mm cannon fire, the Apaches destroyed a radar site and a military checkpoint.[v]
The army is modifying the Apache so that it will function better in a maritime environment. The Apache's fire control radar will be upgraded so that it can more effectively detect and target small ships. Additional upgrades will also give the Apache the ability to better communicate and share information with assets from other services through a connection with LINK 16, a digital data link used widely by the U.S. Air Force and Navy.[vi] Further upgrades for operations at sea may also be necessary. The British Army is seeking to configure its Apaches with flotation devices to enable crew members to ditch in the event of an emergency over water.[vii] As U.S. Apaches move toward maritime operations, similar modifications may be necessary.
The Apache's lethality is further amplified by its ability to interface with unmanned aerial systems under the manned-unmanned teaming (MUM-T) concept. The army is in the process of integrating the RQ-7B Shadow tactical unmanned aerial system into Apache units.[viii] Under this arrangement, Apache crews can receive data from the Shadow, and even take control of the drone itself. The development of MUM-T capability appears to be paying off for the Apache. In Afghanistan, some Apache units have received help from drones in 60% of direct fire missions.[ix] The ability to receive information from UAVs will provide Apache crews with greater situational awareness and improved ability to detect targets.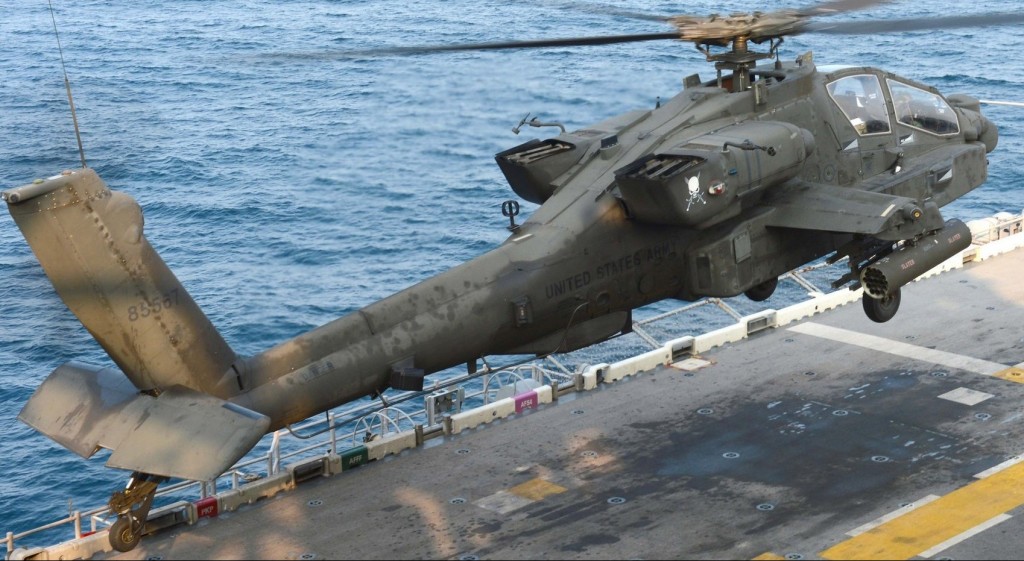 In preparation for its new mission, army aviators have been working with their navy counterparts to develop Tactics, Techniques and Procedures (TTP) to effectively utilize Apaches in a maritime role. In 2014, the South Carolina Army National Guard's 1-151st Attack Reconnaissance Battalion (ARB) sent several aviators to the Naval Strike and Air Warfare Center (NSAWC). During the exchange, U.S. Navy Rotary Wing Weapon School instructors shared information on Strike Coordination and Reconnaissance (SCAR) tactics to protect navy vessels in confined littoral waters.[x] Similarly, the Texas Army National Guard's 36th Combat Aviation Brigade has also been developing TTPs for operations against small attack craft.
The threat from swarms of fast attack craft operated by countries like Iran poses a serious challenge to the U.S. Navy. The deadly asymmetric which fast attack craft present to larger ships was well documented during exercise Millennium Challenge 2002 (MC02). In this scenario, a Middle Eastern nation conducted attacks on the U.S. Navy with swarms of fast attack craft and anti-ship missiles. The results of the test were disastrous as sixteen ships, including an aircraft carrier and two amphibious assault ships were destroyed.[xi] The intent of countries to employ swarms of small attack boats against larger ships was vividly illustrated in February, 2015 when the Iranian Revolutionary Guard Corps Navy (IRGCN) conducted a live-fire exercise against a mock-up of an aircraft carrier. Expressing confidence in their ability, Admiral Ali Fadavi of the IRGCN boasted that his forces could sink American aircraft carriers.[xii]
In the Pacific, modern fast-attack craft such as the People's Liberation Army Navy's (PLAN) Type 022 'Houbei' could also present a serious threat to the U.S. Navy. In recent naval exercises, the PLAN has emphasized the use of the Type 022 fast attack craft against aircraft carriers using multi-axis attacks.[xiii] The Type 022 packs a powerful punch for its size, carrying eight YJ-83 anti-ship cruise missiles with a 135 nm range.
With growing challenges to U.S. military operations in areas such as the Persian Gulf and the South China Sea, the military will need to fully utilize and integrate the full range of its assets. The inclusion of maritime and littoral operations into the Apache's mission spectrum constitutes an important step in furthering joint operations.
Aaron Jensen is a PhD student in the International Doctoral Program in Asia-Pacific Studies (IDAS) at National Chengchi University (NCCU) in Taipei, Taiwan.
[1] JAM-GC is the successor to the Air-Sea Battle concept.
[i] Meghann Myers, "Army helicopters fly from Navy ships, test joint ops," Navy Times, September 5, 2103. http://archive.navytimes.com/article/20130905/NEWS/309050004/Army-helicopters-fly-from-Navy-ships-test-joint-ops 
[ii] William Cole, "Army tests Apaches during RIMPAC exercises at sea," The Honolulu Star-Advertiser, July 28, 2014. http://www.stripes.com/news/pacific/army-tests-apaches-during-rimpac-exercises-at-sea-1.295581/apache-rimpac-2014-1.295605
[iii] "Army's Apache fires first Hellfire missiles at sea," UK Ministry of Defence, May 13, 2011.
https://www.gov.uk/government/news/armys-apache-fires-first-hellfire-missiles-at-sea
[iv] "Lot 4 AH-64E Apache Attack Helicopter Follow-on Operational Test and Evaluation (FOT&E) Report" Director, Operational Test and Evaluation (DOT&E), December 15, 2014. http://www.dtic.mil/dtic/tr/fulltext/u2/a617060.pdf
[v] Kim Sengupta, "Libya: Flashes of orange and shattering noise as Apaches go to war" The Telegraph, June 4, 2011. http://www.telegraph.co.uk/news/worldnews/africaandindianocean/libya/8557266/Libya-Flashes-of-orange-and-shattering-noise-as-Apaches-go-to-war.html
[vi] Kris Osborn, "Army Configures Apaches for Sea Duty," DOD Buzz, October 13, 2014.
http://www.dodbuzz.com/2014/10/13/army-configures-apaches-for-sea-duty/
[vii] Andrew Chuter, "Flotation Equipment slotted for U.K. Apaches," Defense News, February 8, 2013. http://archive.defensenews.com/article/20130208/DEFREG01/302080018/Flotation-Equipment-Slotted-U-K-Apaches
[viii] Beth Stevenson, "US Army establishes first manned unmanned unit," Flightglobal, March 24, 2015. https://www.flightglobal.com/news/articles/us-army-establishes-first-manned-unmanned-unit-410504/
[ix] Richard Whittle, "MUM-T Is The Word For AH-64E: Helos Fly, Use Drones" Breaking Defense, January 28, 2015. http://breakingdefense.com/2015/01/mum-t-is-the-word-for-ah-64e-helos-fly-use-drones/
[x] Matt Summey, "1-151st Attack Reconnaissance Battalion holds strong bond with U.S. Navy," South Carolina National Guard, March 13, 2014. https://www.dvidshub.net/news/printable/121969
[xi] Brett Davis, "LEARNING CURVE: IRANIAN ASYMMETRICAL WARFARE AND MILLENNIUM CHALLENGE 2002," Center for International Maritime Security (CIMSEC), August 14, 2014. https://cimsec.org/learning-curve-iranian-asymmetrical-warfare-millennium-challenge-2002-2/11640
[xii] Thomas Erdbrink, "Iran's Navy Blasts Away at a Mock U.S. Carrier," The New York Times, February 25, 2015. http://www.nytimes.com/2015/02/26/world/middleeast/in-mock-attack-iranian-navy-blasts-away-at-replica-us-aircraft-carrier.html?_r=0
[xiii] John Patch, "Chinese Houbei Fast Attack Craft: Beyond Sea Denial," in China's Near Seas Combat Capabilities, edited by Peter Dutton, Andrew S. Erickson, and Ryan Martinson, China Maritime Studies Institute, February 2014. https://www.usnwc.edu/cnws/cmsi/publications