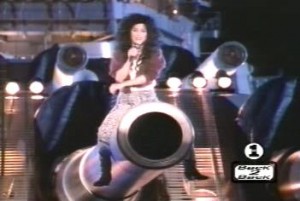 I'm expecting a flood of Battleship-related posts in the near future with the U.S. opening this weekend. For instance, I've been promised a humorous take of this hard-hitting documentary over at USNI blog, so I'll take a more straight-faced look at battleships.
As nukes are to the egos and deterrent calculus of nations today, so were battleships in the first half of the 20th Century. While the fact that today's navies no longer possess battleships may be lost on this weekend's moviegoers, what's even more shocking is that after conducting extensive Wikipedia research, I uncovered no instances in which a battleship was sunk due to alien action.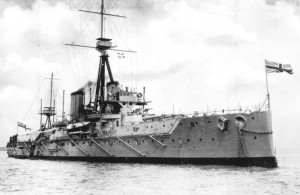 This is an inexcusable error on the part of the filmmakers, but I thought our readers might nonetheless like to know the truth behind battleship sinkings. Below are the rough figures of the fates of post-Dreadnought battleships (excluding battlecruisers). Those not listed were scrapped, turned into a museum, taken to sea by Stephen Seagal, or commandeered by Cher (see photo above).
Doing some rough, back-of-the-envelope calculations, it looks like the number one cause of a sinking during a conflict (granted due primarily to the exceptional actions at Scapa Flow) was the hands of a ship's own crew.
Sunk by Aircraft – 12 – 27%:
Scuttled to Prevent Enemy Use – 15 – 33%:
Surface Fire or Surface Torpedoes – 4 – 9%:
Torpedoed by Submarine – 2 – 4%:
–        SMS Szent István                                      1918 (h/t Chuck Hill)
–        HMS Royal Oak                                        1939
–        HMS Barham                                             1941
Sunk as Breakwater – 2 – 4%:
–        HMS Centurion                                        1944
–        Courbet                                                        1944
Sunk after Running Aground – 1 – 2%:
–        España                                                        1923
Sunk by Frogmen – 1 – 2%:
–        Viribus Unitis                                           1918
Sunk by Claimed Sabotage – 2 – 4%:
–        RN Leonardo da Vinci                          1916
–        Jaime I                                                        1937
Sunk by Mines – 2 – 4%:
–        HMS Audacious                                      1914
–        España                                                       1937
Sunk by Internal Explosion – 4 – 9%:
Sunk by Aliens – 0 – 0%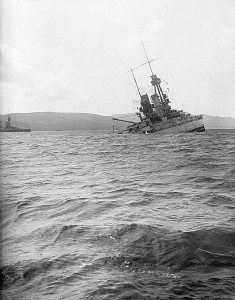 Sunk During Peacetime
Scuttled at Sea:
Sunk after Running Aground
–        France                                                        1922
Sunk During Target Practice:
Sunk During Underwater Nuclear Test
–        Nagato                                                       1946
–        USS Arkansas                                         1946
Unknown Cause:
–        Novorossiysk                                          1955
Sunk due to Weather:
–        São Paulo                                                  1951