Weekend Round-up:
Future Tech

:

Bryan McGrath posted his third in a series on Directed Energy/Electromagnetic Weapon Systems on Information Dissemination, discussing Chinese advances in the field and their possible parity with/lead over American developments.
Cyber Warfare

:

Cyber warfare received prominent coverage this week thanks to Stuxnet, Flame, and revelations of backdoors embedded in Chinese-produced chips. A Washington Post's article discussed the authorship of Stuxnet, which demonstrated the potential of cyber warfare to shut down industrial machinery (like a ship's engines). DefenseTech reported on Flame, an intel-gathering piece of malware that can be reprogrammed to disrupt its target's functions like Stuxnet. Another DefenseTech post claimed proof that military grade chips produced in China contain backdoors for future exploitation, and detailed their wide use in the hardware of Western militaries.
Conflicts

:

The U.K. and Spain had row after a confrontation between fishing vessels and maritime authorities in the waters off Gibraltar. Like China and the Philippines in Cambodia this week over the South China Sea, both sides agreed to work towards a peaceful resolution.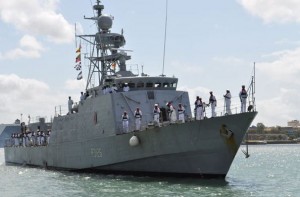 Two Kenyan naval patrol boats shelled Kismayo a Somali town held by the Al-Shabaab militia, after the militia reportedly fired on the vessels with 106mm recoilless rifles.
U.S. Navy

:

At USNI blog LT Rob McFall called for a focus on tactics among junior officers. LTJG Matt Hipple responded on the problem with learning and innovating tactics at the junior officer level. Questions raised in the discussions that ensued debated the incentive structure, formal structures to test and innovate tactics, and ability to capture lessons learned.
Seamanship

:

gCaptain published an update on a European Commission-funded study on the effects of sleep deprivation on maritime watchstanders and some sobering findings from previous research.
Events

:

4-7 June – Maritime Security Conference 2012
"Delivering Maritime Security in Global Partnership: Identify Cooperative Strategies for Future Maritime Security Engagement"

Sponsored by NATO's Combined Joint Operations From the Sea (CJOS) Center of Excellence (COE). $250

Halifax, Nova Scotia, CA 
6 June – Junior Leader Innovation Symposium 2012
"Engaging and Empowering Junior Leaders to Regain our Innovation Advantage"

Sponsored by the Navy Warfare Development Command. Free and open to all U.S. Navy E-5s through O-4s.  

NWDC HQ, Naval Station Norfolk, VA, and via Defense Connect Online