By Peter Swartz
In Prof. James Holmes's recent CIMSEC review of CAPT Pete Haynes's splendid new book on U.S. Navy strategic thinking since the end of the Cold War, he called for bringing the U.S. Coast Guard (USCG) into the Maritime Strategy narrative.
He's in luck: The same set of CNA [Formerly Center for Naval Analyses] studies that CAPT Haynes used for his book also addresses that very issue. The CNA studies were written in 2007 in the wake of the publication of the U.S. Cooperative Strategy for 21st Century Seapower (CS21) maritime strategy and were completed in 2011, while CS21R (the maritime strategy's revision) was in gestation. They cover the development of U.S. Navy strategy from 1970 to 2010, the context to same, and include sections on USN relationships with each of the other services, including the USCG.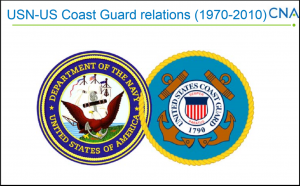 As designed, the CNA studies are being used as an adjunct to the Navy's current Strategic Enterprise initiative and as a basis for a burgeoning literature on recent U.S. naval strategy, including CAPT Haynes's dissertation and book, and Dr. Sebastian Bruns's masterful dissertation (in English) at the University of Kiel. A copy of the material on USN-USCG relationships, extracted from four of the studies and then integrated as a discrete stand-alone document, is available here.
Peter Swartz is a retired U.S. Navy Captain and for more than 20 years has been with CNA, which includes the Navy's Federally Funded Research and Development Center (FFRDC). He is the author of the U.S. Navy Capstone Strategies series, a comprehensive analysis of the Navy's capstone strategy, policy, and concept documents from 1970 to 2010. He has also authored other studies on U.S. Navy and U.S. Coast Guard plans, policy and operations, and is the CNA scientific analyst for the Navy's OPNAV Strategy and Policy Division (N51).