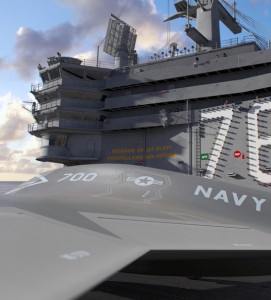 On Friday Lockheed Martin announced its entrant, the Sea Ghost, in the hunt for the Unmanned Carrier-Launched Airborne Surveillance and Strike (UCLASS) contract. On Sunday, Northrop Grumman's X-47B, winner of the contract to demonstrate the feasibility of a carrier-based drone "launched from Pax River and flew for a planned 35 minutes. The aircraft reached an altitude of 7,500 feet and an air speed of 180 knots during its flight over the Chesapeake Bay before successfully landing back at Pax River." The X-47B is testing operations in a land-based simulated carrier environment. Next year it will start carrier-based testing, followed by a demonstration of autonomous aerial refueling in 2014. The Navy expects whatever frame wins the UCLASS prize to enter the fleet in 2018. I'd like to take the moment to share a few unsolicited thoughts on the battle for the U.S. Navy's carrier drone contract. With LM's revelation, the field of contenders has most likely solidified into four, backed by well-known names:
Lockheed Martin's Sea Ghost
Boeing's

X-45C Phantom Ray

(or some follow-on design)
General Atomics'

Sea Avenger

Northrop Grumman's

X-47B Pegasus
Wired's Danger Room has a good review of the contestants, and one similarity is worth noting. All but the Sea Avenger are of the "flying wing" variety, similar to the USAF's B-2. This design confers some advantageous stealth properties through a reduced radar cross section, but comes at some cost of stability and handling. Instead, the Sea Avenger is essentially a souped-up version of General Atomic's famous Predator drone.
While Navy has yet to release the contract's request for proposal (RFP), detailing the requirements and criteria by which the contenders will be judged, the NAVAIR website states the Navy is looking for an, "aircraft system providing persistent Intelligence, Surveillance, and Reconnaissance (ISR) and strike capabilities." This closely matches the capabilities highlighted by the aforementioned companies' websites.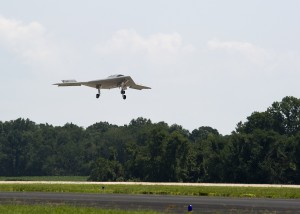 With this, and with the shrinking range of carrier-based strike aircraft in general, in mind, the most attractive attributes will be stealth, range, mid-flight refueling (to further extend range), ISR capabilities, and the ability to carry stand-off weapons. By eliminating the weight and crew limitations of a strike aircraft, a UAV can greatly increase its range. But this does not eliminate the costs of crews, it merely shifts the crews' location, tentatively increasing their safety and reducing some training and replacement costs. In fact, with extended ranges and increased ISR collection, each airframe may require more pilots and analysts than traditional manned craft.
The current state of UAV technology will allow the military to demand many automated functions in the UCLASS including carrier landings, following flight plans, and executing pre-approved weapon strikes. Unlike drones like the predator, the UCLASS is expected to be able to follow flight plans, essentially executing its mission devoid of human input unless an emergency or unexpected situation arises, in a way similar to how tomahawks or other missiles execute their strike packages. Technology has its limitations however. UAVs are not yet designed to perform intercept missions, or air-to-air combat. They can conceivably be programmed to use counter-measures such as executing limited defensive maneuvering or deploying chaff in the event of a certain input, such as detecting an inbound enemy missile. Yet because the UCLASS won't be shooting its way through high-threat environments, it will have to rely on either escorts (limited by their range), the distance of its stand-off weapons, or stealth.
As pointed out at Information Dissemination by Rep. Randy Forbes, stealth can be quite expensive, and may have diminishing returns. The CNO also singled out the pursuit of stealth perfection as the potentially errant end of the cost-curve in an article in the U.S. Naval Institute's Proceedings, "Payloads over Platforms," widely (mis)perceived to be a critique of the F-35. In the context of the carrier battle, the single most important determinant beyond technological maturity may rightly be cost. To steal a common refrain from the debate over shipbuilding, quantity matters. Determining whether the ability to carry out deep penetration strikes far into an enemy's territory will be better served by larger numbers of less-stealthy drones or a smaller number of super-stealthy drones will be an interesting exercise in analysis. That is until the drones are cleared for air-to-air combat, which could either be accomplished by human pilots taking temporary direct control, or eventually by programming the UAVs to fight themselves. Some final factors that will drive navies towards endowing their carrier drones more complete autonomy (see the writings of Adam Elkus for more on the ethical discussions surrounding such a move) are the vulnerabilities that satellite-based comms links with the UAVs will introduce, and the difficulty of maintaining and securing those links.
While the players for the first big U.S. Navy UAV contract may be familiar, there is room for innovative new companies to capitalize on emerging technologies like 3D printing to cheaply create UAVs tailor-made to the requirements of the Navy. Without the risk of human casualties, being willing to accept the loss of a few less-costly drones for an overall increased strike capacity is a trade-off worth exploring.
LT Scott Cheney-Peters is a surface warfare officer in the U.S. Navy Reserve and the former editor of Surface Warfare magazine. He is the founding director of the Center for International Maritime Security and holds a master's degree in National Security and Strategic Studies from the U.S. Naval War College.
The opinions and views expressed in this post are his alone and are presented in his personal capacity. They do not necessarily represent the views of U.S. Department of Defense or the U.S. Navy.